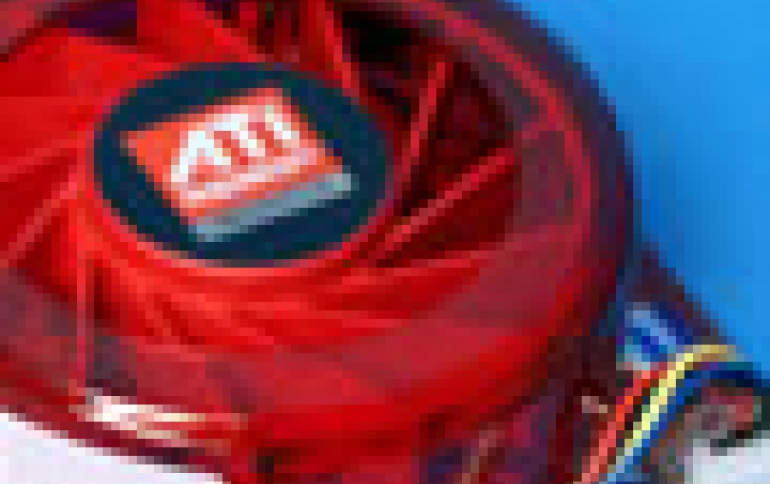 AMD Unveils ATI Radeon HD 3800 Series of GPUs
AMD announced on Thursday the ATI Radeon HD 3800 line of graphics chips meant for use within personal computers with up to four accelerator cards. ATI Radeon HD 3800 is the world's first series of graphics processors to deliver Microsoft's DirectX 10.1 support, 55nm process technology and tri and quad multi-GPU support with ATI CrossFireX.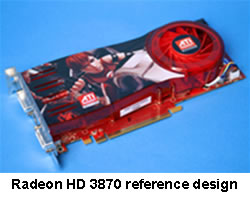 The ATI Radeon HD 3800 series will be introduced in two variants at launch, from US $179 MSRP, the ATI Radeon HD 3850 with 256MB of GDDR3 memory and from US $219 MSRP, the ATI Radeon HD 3870 with 512MB GDDR4 memory.
Both the HD 3850 and the HD 3870 graphics cards feature 320 streaming processors and 16 texture units. Radeon HD 3870 runs at 775 MHz (GPU clock) and its memory clock is set at 2.25 GHz. Radeon HD 3850 runs at 670 MHz and memory is clocked at 1.66 GHz.
The new series of graphics products also represent the first step in the launch of AMD?s upcoming enthusiast platform codenamed "Spider."
"Through a flawless transition to 55nm and Microsoft DirectX 10.1, we can deliver an unprecedented level of scalable performance, image quality enhancements and power efficiency at the sub- $200 segment that rivals today?s most expensive graphics processors and opens up enthusiast gaming to more end users than ever before," said Rick Bergman, Senior Vice President and General Manager, Graphics Product Group, AMD.
The ATI Radeon HD 3800 series introduces the world to ATI CrossFireX, AMD?s next-generation multi-GPU technology that offers support for two, three and four graphics processors in CrossFire configurations. At launch, the ATI Radeon HD 3800 series will support dual-GPU CrossFire with tri and quad-GPU support scheduled for January 2008.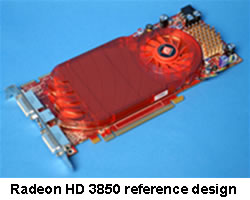 Graphics bandwidth is also enhanced with the introduction of PCI Express 2.0. Delivering over 16 gigabytes per second of bi-directional bandwidth, PCIe 2.0 doubles the bus data rate over the previous generation.
The ATI Radeon HD 3800 series GPUs are the first graphics processors to use TSMC's 55nm process technology. The transition to 55nm has allowed for a 12X increase in performance-per-watt over the previous generation with a significant reduction in die size, AMD claims.
In addition to 55nm, AMD has also added its patented ATI PowerPlay technology to the ATI Radeon HD 3800 series to provide increased control over the graphics processor in multiple power states. With PowerPlay technology users can benefit from dynamic adjustment of clocks and voltages depending on their usage scenario.
With the launch of the ATI Radeon HD 3850 and ATI Radeon HD 3870, AMD has answered the call of HD video enthusiasts with top-to-bottom support for the 2Unified Video Decoder (UVD). The addition of UVD ensures platform efficiency and image quality in HD-DVD and Blu-ray decoding for both H.264 and VC-1 specifications. HDMI functionality also continues on this series of products with integrated HDCP and audio for HDMI video.
The ATI Radeon HD 3800 series launches with availability from AMD's Add-in-Board (AIB) and Systems Integrators (SI) partners. AIB partners building boards based on the ATI Radeon HD 3800 series include Asus, Club 3D, Diamond Multimedia, Gigabyte, HIS, Info-Tek, MSI, Palit, Sapphire, Tul and Visiontek. Systems integrators launching ATI Radeon HD 3800 series include ABS, Alienware, AMAX, Canada Computers, CyberPower, Extreme PC Corporation, Falcon-Northwest, iBUYPOWER, Maingear, Systemax, Ultra Gaming and Velocity Micro.