AMD Focuses on Fusion CPU/GPU Concept
AMD Corporate Vice President and Chief Technology Officer Phil Hester unveiled AMD's plans to focus on a the CPU/GPU concept for future chips, rather than racing for new multi-core silicon approaches. In its presentation at AMD's 2006 Analyst Day (December 14, 2006 New York, NY), Hester claimed that the industry can be side-tracked by the number of cores in CPUs, claiming that "homogenous multi-core" chips will become "increasingly inadequate" over the next few years.
He talked about AMD's plans to accelerate what it currently calls the "Fusion" concept. The company unveiled plans for a new type of processor, which it calls "Accelerated Processing Unit" (APU). APU's are expected to be multi-core chips that include any mix of processor cores and other dedicated processors. APU's will also feature an integrated memory controller, and clearly indicate AMD's plans to leverage ATI's graphics technology as an integral part of future multi-core processors. AMD believes that APU's will bring more performance and increased power efficiency.
Fusion processors are expected to be part of mobile, server or desktop devices, "ranging from palmtops to petaFLOPS," as Hester said. First Fusion products are expected to be part of mobile devices in 2009, according to AMD's roadmap.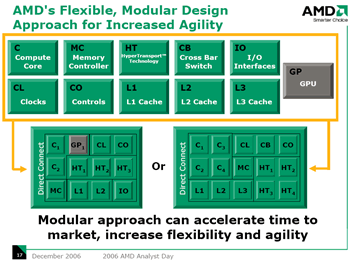 Server, Mobile and Desktop roadmaps
AMD also provided details about its upcoming products. On the server side, the company said it will introduce the "Shanghai" processor in early 2008, as an update of the "Barcelona" quad-core, which is scheduled for a mid-2007 release.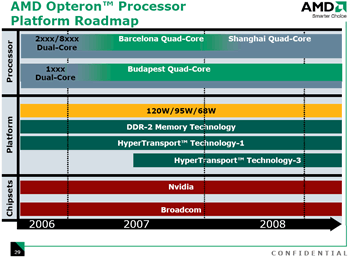 Barcelona will be the first CPU to use Hypertransport 3, while it will keep using DDR2 memory and maintain a power envelope between 68 and 120 watts.
On the desktop there were several new announcements for 2008: The company will transition to socket AM3, which will be using DDR3 memory. Single-, dual- and quad-core will cover the company's product portfolio from entry-level machines to enthusiast computers.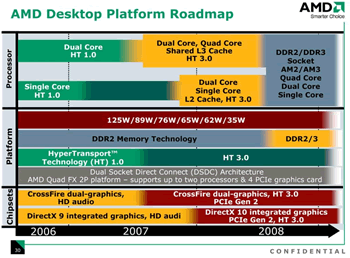 For 2007, we will see the introduction of Hypertransport 3, a continued offering into the dual-socket technology QuadFX as well as new chipsets and graphics: The graphics unit is set to introduce its first DirectX10 graphics chip codenamed "R600," which will go head-to-head with Nvidia's GeForce 8800 series. DirectX 10 will be supported by AMD chipsets later in 2007, the company said.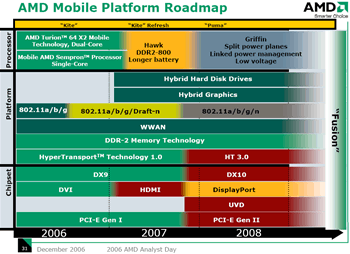 In the mobile segment, AMD also unveiled the "Dynamic Graphics Power Switching" technology for notebooks. When a notebook is battery-powered (DC mode), the notebook's graphics are supported by the processor's internal GPU, to maximize battery life. When the notebook is plugged to the AC, graphics are handled by the notebook's external graphics core, with no re-boot required.
For additional information, visit the AMD Analyst Day 2006 website at
http://www.amd.com/us-en/Corporate/InvestorRelations/0,,51_306_14668,00.html
.