Amazon Unveils 4K Amazon TV, Echo Spot, New Echo and Echo Plus
Amazon on Wednesday unveiled a new Echo products. The Amazon Fire TV with 4K Ultra HD and High Dynamic Range (HDR), Echo Spot, a newly designed Echo that costs $100 and a $150 Echo Plus.
New Amazon Fire TV
The all-new Fire TV is featuring 4K Ultra HD, High Dynamic Range (HDR), and Alexa Voice Remote. it is forty percent more powerful than Fire TV Stick and works with 4K Ultra HD or HDR compatible TVs giving you high picture quality and sound, 60 fps, HDR, and Dolby Atmos audio - for $69.99.
With the accurate voice search on a streaming media player, you can ask your Alexa Voice Remote to find, launch, and control content. Press the button on the Alexa Voice Remote and say, "Find dramas," and Alexa will show you results from apps like Netflix, Hulu, SHOWTIME, Amazon Video, and more. Plus, you can pair Fire TV to any of your Echo devices to enjoy hands-free, far-field voice control, powered by Alexa.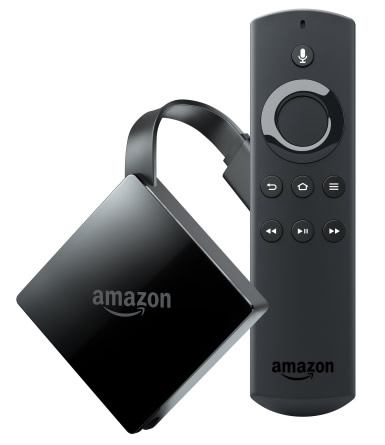 Fire TV is also a place to enjoy Amazon Video's collection of movies and TV shows, including the largest selection of 4K/UHD content available to stream today.
The new Amazon Fire TV is available for pre-order starting today from www.amazon.com/firetv and will begin shipping on October 25.
Basic features:
Powered by a 1.5 Ghz quad-core processor and dual-band 802.11ac Wi-Fi.
High picture quality from 4K Ultra HD titles from Amazon Video, Netflix, and more when connected to a 4K Ultra HD or HDR compatible TV.
Amazon is working with Hulu, SHOWTIME, Sony's PlayStation Vue, CBS All Access, NBC, Bravo, CNBC, and NBC News to allow Amazon customers use the app to rewind, fast forward, and play content with voice commands.
Fire TV connects to your HDTV's HDMI port. You can connect via Wi-Fi or directly from your router using the optional Amazon Ethernet Adapter and start streaming content.
Echo Spot
Amazon's Echo Spot is the newest addition to the Echo family. Echo Spot delivers everything you love about Alexa with a smaller design and the convenience of a circular screen so that Alexa can show you things. The Echo Spot is $129.99 and is available for pre-order now. It will begin shipping in December.
Echo Spot fits easily into any room of your home. The size and viewing angle of the screen make Echo Spot ideal for use on a nightstand or desk as a smart alarm clock that can also turn your lights on and off, watch a video flash briefing, show your commute time, get the weather, or show your calendar. Or use Echo Spot in the kitchen to set and view timers, call friends and family, see shopping and to do lists, and more.
Echo Spot features second generation far-field technology with four microphones, acoustic beam-forming technology, and enhanced noise cancellation so it can hear you from across the room. If you have more than one Echo, Alexa responds from the Echo you're closest to with ESP (Echo Spatial Perception).
Put an Echo Spot in each room so you can drop in on the kitchen to ask when dinner will be ready, or drop in on the family room to see how homework is going. Just like Echo Show, you can also use Echo Spot to start a voice or video call, or send a message.
Alexa can talk to you and play music directly on Echo Spot through the built-in 2W speaker. Echo Spot can directly connect to speakers through Bluetooth or using a 3.5mm stereo cable, enabling you to add Alexa to your home entertainment system. Then, use your voice to control Amazon Music, Prime Music, Pandora, Spotify, iHeartRadio, TuneIn, and more. Plus, with the new multi-room music feature, you can play your favorites throughout your home, with synchronized music across all of your Echo devices.
New Echo and Echo Plus
Today, Amazon also introduced the new Echo with improved sound and a new design for just $99.99; the new Echo Plus with a built-in smart home hub for $149.99.
Echo brings all the features you love about Alexa, now with a new design, improved sound with Dolby processing, and a lower price.
Echo Plus has a built-in smart home hub to connect your smart devices - set up and start controlling lights, locks, and more in minutes - $149.99, with a Philips Hue smart lightbulb included while supplies last.
With an new compact design, Echo fits into any room in your home while delivering far-field performance and improved sound. It will be available in a variety of shell colors and finishes - choices include charcoal, sandstone, heather gray, oak veneer, walnut veneer, and silver.
Echo combines a new speaker architecture, a dedicated tweeter, a 2.5" down-firing woofer, and Dolby processing. Alexa can play music from services like Amazon Music, Pandora, Spotify, iHeartRadio, TuneIn, and more. It uses Amazon's second generation far-field technology, which features better wake word processing, improved beamforming technology, and enhanced noise cancellation. The Echo far-field technology works to detect the wake word from across the room even in the noisiest parts of your home.
With its built-in smart home hub, Echo Plus makes connecting to compatible smart home devices easy. Just say, "Alexa, discover my devices," and Echo Plus will automatically discover and set up compatible lights, locks, plugs, switches, and more without the need for additional hubs or apps. This simple set-up works with a variety of ZigBee products from brands such as Philips Hue, GE, Kwikset, and more.
Echo Plus has enhanced 360-degree omni-directional audio, with Dolby processing. You can play music from Amazon Music, Pandora, Spotify, iHeartRadio, TuneIn, and more. With Amazon Music, you can search for music by lyrics, time-period, or let Alexa pick the music for you. Like the new Echo, Echo Plus features second generation far-field technology for even better performance.
Routines allow you to automate a series of customizable actions using a single voice command of your choice. For example, say, "Alexa, good night," and Alexa will turn off the lights, lock the door, and turn off the TV. You can also create Routines based on the time of day - for example, you can create a Routine that has Alexa turn on the kitchen lights, start the coffee maker, and read the weather forecast at 6 a.m. every weekday and at 9 a.m. every Saturday and Sunday.
Routines are compatible with Amazon Alexa lights, plugs, switches, and door locks from leading brands like TP Link, Philips Hue, Wemo, and August, and will be available for all Alexa devices starting next month.
Four months ago, Amazon introduced Alexa calling and messaging. Now, Amazon is expanding this feature to include support for free outbound calling to phone numbers within the United States, Canada, and Mexico. Just say "Alexa, call Mary's mobile," and Alexa will call Mary's mobile phone from your smartphone's contact list. Alexa can also dial phone numbers that you speak to her so that you can reach people or businesses that aren't in your contacts. Calls to 911 are not supported. This feature is available for all Echo, Echo Dot, and Echo Show owners starting today in the US.
Amazon also introduced Echo Connect, a new Alexa accessory that turns your Echo into a high quality, hands-free speakerphone for your home phone line. Echo Connect works with your existing home phone service - either landline or VoIP. Without touching a single button, ask Alexa to call anybody from your contact list - when you call, they will see your home phone number as the caller ID. When someone you know calls your home phone, Alexa will announce their name from your contacts list-just ask Alexa to answer to start the conversation.
Echo Connect is easy to set up-simply connect it to your home Wi-Fi network and home phone jack or VoIP adapter, and use the Alexa app on your mobile phone to set up Echo Connect. Echo Connect is just $34.99 and will be available later this year.
Echo Buttons
Echo Buttons are new devices that deliver ways for customers to play games with friends and family using Alexa. The buttons illuminate and can be pressed to trigger a variety of multiplayer and interactive game experiences. There will be a number of new Echo Button-compatible skills available this holiday season including Sounds Fun with Mike Epps, Buzzer Beater Basketball Trivia with Karl-Anthony Towns, Fourth Down Football Trivia with Philip Rivers, Full Count Baseball Trivia with Buster Posey from Ground Control, as well as Beat the Intro from Musicplode. Echo Buttons will come in a two-pack, priced at $19.99, and will arrive in time for the holidays in the US, UK, and Germany.