Amazon Introduces 8 New Echo Devices, New Alexa Features, Smart home Experiences
Today, Amazon introduced a new line-up of Echo devices that give you even more ways to add Alexa to your daily life—whether at home or on-the-go.
Amazon also announced new Alexa features, smart home experiences, developer tools, and devices and services from eero, Ring, and other Alexa device makers.
New Echo devices include:
New Echo: Featuring an updated fabric design and even better sound, still only $99.99.
Echo Flex: The most affordable way to add Alexa to any space in your home, this plug-in smart speaker is wireless and only $24.99.
Echo Dot with clock: This new option for Echo Dot includes a bright LED display that shows the time, outdoor temperature, timers, and alarms—only $59.99.
Echo Show 8: The latest addition to the Echo Show family with an 8-inch display, powerful sound, and a built-in camera shutter for added peace of mind for $129.99.
Echo Studio: Amazon's best-sounding Echo ever, with five directional speakers, room adaptation technology, and a built-in smart home hub for $199.99.

Echo Buds: Wireless earbuds with Bose Active Noise Reduction Technology and hands-free access to Alexa for $129.99.

Day 1 Editions products include:
Echo Frames: All-day glasses with hands-free access to Alexa, available by invitation for $179.99.

Echo Loop: A smart ring that provides quick access to Alexa on-the-go, available by invitation for $129.99.
New Echo—Updated fabric design for $99.99
The next-generation Echo features an updated fabric design with color options for any style—including Twilight Blue, Charcoal, Heather Grey, and Sandstone. Echo has the same audio architecture as Echo Plus, including a 3-inch woofer and increased back volume.
Echo Flex—A plug-in smart speaker with Alexa for $24.99
Echo Flex is the most affordable way to add Alexa to any space in your home. It plugs directly into a standard electrical outlet, making it perfect for those places in your home where cords can be a hassle like the hallway, garage, or bathroom. Simply ask Alexa to control compatible smart home devices, make an announcement, or check the score of a favorite sports team, and responses will come through the small speaker on the device that's been optimized for Alexa's voice. Echo Flex also has a built-in USB port so you can charge your phone or add an optional accessory, like a Smart Night Light or Motion Sensor, all while using only one outlet.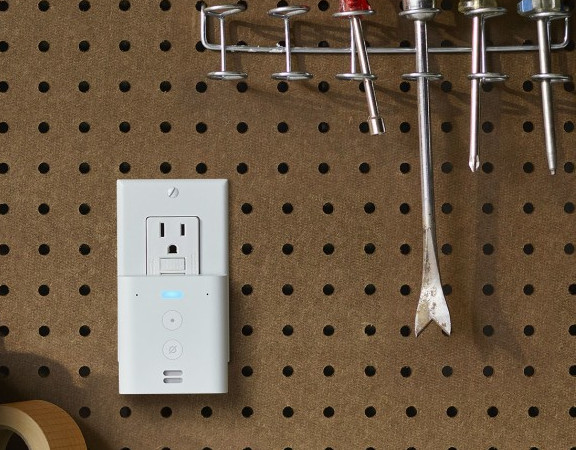 Echo Dot with clock—Now with a LED display for $59.99
Echo Dot with clock starts with the best-selling Echo device ever, and adds a simple LED display. The LED display automatically adjusts based on the brightness of the room, so you can see the time or ask to see the temperature outside, as well as set a morning alarm or pasta timer. Plus, you can tap the top of the device to conveniently snooze an alarm.
Echo Show 8— 8-inch HD display, powerful audio, and a camera with a built-in shutter for $129.99
Echo Show 8 comes with a 8-inch HD display, powerful audio, and a built-in camera shutter. Simply ask Alexa to play your favorite episodes of The Marvelous Mrs. Maisel or Carnival Row on Prime Video. Plus, through a new integration with Food Network, you can watch episodes of cooking shows from Bobby Flay, Giada de Laurentiis, and more—and when you see a recipe you like, all you have to do is ask Alexa to save the recipe to view it later. Food Network Kitchen subscribers will also be able to take live and on demand cooking classes from Food Network chefs, get step-by-step cooking instructions, and have access to recipes.
With the addition of the Echo Show 8, Amazon customers can now choose from three screen sizes – from 5.5-inches all the way up to 10-inches.
Echo Studio— 3D audio, pairs with select Fire TV devices for audio playback, and a smart home hub for $199.99
With five built-in directional speakers, Echo Studio has been engineered to create premium sound with space. It uses a 5.25-inch woofer and 330W of peak power. Echo Studio has a 1-inch tweeter and three 2-inch midrange speakers delivering dynamic midranges and high frequencies. Plus, it has a 24-bit DAC and a power amplifier with 100 kHz of bandwidth for high-res, lossless music playback, available via Amazon Music HD. Echo Studio also automatically senses the acoustics of your space and fine-tunes audio playback to deliver optimal sound—no matter where you put the device in the room.
Echo Studio is the first smart speaker to deliver a three-dimensional (3D) audio experience using Dolby Atmos and Sony's 360 Reality Audio. Universal Music Group, Warner Music Group, and Sony Music Entertainment are bringing a library of new music, current hits, and legendary tracks to these formats. Native 3D music will be available on Echo Studio with a subscription to Amazon Music HD. Coming next year, it will also be available through TIDAL HiFi. To sample native 3D music on Echo Studio and Amazon Music, simply ask "Alexa, play the best of 3D music."
One or two Echo Studio devices can be paired with select Fire TV devices for audio playback with multi-channel sound and support for Dolby Atmos, Dolby Audio 5.1, and stereo audio. Echo Studio also has a built-in Zigbee smart home hub which can be used to control compatible smart home devices.
Echo Buds—Wireless earbuds with Bose Active Noise Reduction Technology and hands-free access to Alexa for $129.99
Echo Buds are an easy way to access Alexa hands-free while on-the-go. Each earbud has two outer microphones and one inner microphone that work together to reduce ambient noise so Alexa can hear you whether you're walking to class, on your lunch break, or commuting home on the train. All you have to do is ask to hear your favorite playlist, find the nearest coffee shop, or order an Uber. Coming later this year, ask Alexa if Whole Foods Market has what you want and she will tell you if it's in-stock and which department and aisle to find it in.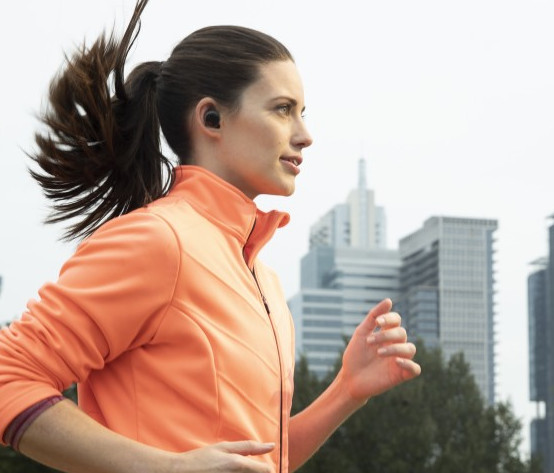 Echo Buds have two balanced armature drivers in each earbud. This design makes Echo Buds perfect for listening to your favorite music, Audible book, podcast, or radio station. Plus, with Bose Active Noise Reduction Technology, you can choose to minimize the noise around you. If you're in a crowded coffee shop or working in an open office space, double tap either earbud to turn Active Noise Reduction on. When you are walking down a busy street or at the train station—places where you want to hear the world around you—double tap either earbud again to turn Passthrough Mode on.
Echo Buds come with three different sized ear tips and wing tips for a secure fit you can wear throughout your day. Each earbud is IPX4-rated to withstand splashes, sweat, or light rain. And with one full charge, Echo Buds have up to five hours of music playback or four hours of call time. The included charging case holds up to three additional charges—15 hours of music playback or 12 hours of call time. Echo Buds connect to Alexa through the Alexa app on your mobile device and use your existing device's data plan to access a range of features such as music, navigation, calling, and more. You can also tap and hold your Echo Buds to access your phone's native voice services—Siri or Google Assistant.
Day 1 Editions
Amazon is launching Day 1 Editions, a new way for the company to get new products out in limited volume, to customers, and to get real feedback.
The first Day One Edition product is Echo Frames - Alexa-enabled glasses that let you get more done and be more present. They look like regular prescription glasses (without a prescription, but you can add one), and they're weighing only 31 grams.
While wearing the frames, just ask to make phone calls, set a reminder to pick up dry cleaning when you leave work, add call the mechanic to your to-do list, listen to your favorite podcast, or control compatible smart home devices. Echo Frames have a VIP Filter, which allows you to select and hear only the phone notifications that matter most, while filtering out the rest. When an alert comes through, simply swipe on the temple to listen.
They don't have a camera or display to get in the way—they're all about all-day access to Alexa on-the-go while keeping your hands, ears, and eyes free to engage with the world around you.
The frames have four beamforming micro speakers that use Amazon open-ear audio technology to direct sound towards your ears, while minimizing the sound heard by those around you.
After purchasing Echo Frames, visit your preferred eyewear professional to add prescription lenses or adjust the fit of the frames. Check with your vision insurance provider to see if you're eligible for out-of-network reimbursement. In addition to Alexa, you can also use Echo Frames to access Google Assistant; simply long press on the temple.
Through the invitation period, Echo Frames will be available for a special price of $179.99. It is only compatible with Android phones.
The second Day 1 Edition product is called Echo Loop. It's an Alexa-enabled smart ring packed with ways to stay on top of your day. It has 2 micropones activated by a button tap.
Echo Loop has a two-microphone, the smallest speaker ever on an Echo device, and a haptic engine that vibrates discreetly when you receive notifications or an incoming call, or to signal that the button has been pressed and Alexa is streaming your request to the cloud. It's a ton of technology packed into this small form factor.
Paired with your phone, this ring lets you access information throughout the day. It's easy to connect with Alexa without breaking stride or digging out your phone, for those simple things like turning on the lights or calculating the tip on your lunch bill. Simply press a button talk softly to Alexa and then the answer comes discretely through a small speaker built into the ring.
Echo Loop can last for an entire day of use with one charge, and the included charging cradle recharges it completely in 90 minutes. Echo Loop is scratch-resistant and water-resistant—meaning it can handle hand-washing and splashing. It connects to Alexa through the Alexa app on your smartphone and uses your existing device's data plan. To access your phone's native voice services—Siri or Google Assistant—press and hold the action button for one second.
Echo Loop will be available in a black titanium finish. It comes in a limited range of sizes—S, M, L, and XL—and will be available in liited quantities. Through the invitation period, Echo Loop will be available for a special price of $129.99.
Smart Home
Amazon also announced an array of new programs, devices, and features that make it easier than ever for customers to find, setup, and enjoy connected devices in their homes.
Certified for Humans—smart devices for non-experts
Certified for Humans (www.amazon.com/certifiedforhumans) is a new program that helps Amazon's customers find smart home products that are easy to set up and work with Alexa. Every device that carries the Certified for Humans badge offers Frustration Free Setup, which cuts down on the number of steps needed to connect to Alexa. The Certified for Humans badge is available on select smart home devices starting this fall from brands including Amazon, Philips Hue, Hamilton Beach, Kasa Smart by TP-Link, and more.
What these devices have in common is we certified them based on over a dozen criteria.
A few of the criteria include:
The product uses Frustration Free Setup
They have background, silent over the air updates so the software is always up to date and secure
Amazon customers can set them up with the Alexa app they already have
Amazon Smart Oven—Voice-Controlled 4-in-1 Oven — $249.99 with Included Echo Dot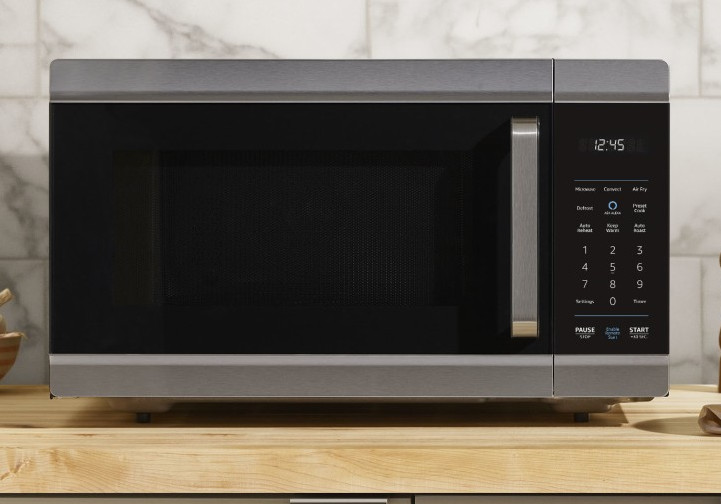 Amazon Smart Oven is a combination convection oven, microwave, air fryer and food warmer. When paired with an Echo, AMazon customers can ask Alexa to preheat the oven, start or stop cooking, and be notified when the oven is preheated or their favorite lasagna or fresh-baked cookies are ready. Amazon Smart Oven supports 30 cooking presets and comes with a temperature probe to make it easy to get crowd-pleasing cooking results. You can also use the scan-to-cook feature to make a great meal, every time. Using the Alexa app or, in the future, a compatible Echo Show device, you can scan the barcode on packaged foods and the Amazon Smart Oven will cook them just right. Scan-to-cook will work with hundreds of packaged foods from brands including Whole Foods Market, 365 Everyday Value, Gardein, Marie Callender's, and more.
Echo Glow—New Multi-Color Smart Lamp that Pairs with Alexa— $29.99
A new Echo companion device with fun and helpful features, Echo Glow is a multi-color smart lamp that pairs with Alexa. Just ask for a flickering campfire light for playtime, or a sleep timer that gradually dims as bedtime nears. You can also set Echo Glow to softly cascade through all the colors of the rainbow or, coming soon, ask for a dance party with music and a light show.
New Alexa Features
New Alexa Guard Smart Alert and Routines
With Alexa Guard, Amazon customers can keep their home safe when they're away. When you set Guard to Away mode, if an Echo device detects the sound of smoke alarms, carbon monoxide alarms, or glass breaking, Alexa can send you Smart Alerts, via notifications to your phone. Starting this fall, Guard will begin supporting a new Smart Alert that can notify customers if the sound of activity like footsteps, talking, coughing, or a door closing, is detected while Guard is in Away mode. Amazon customers can also create Alexa Routines that include Guard to provide even more peace of mind: set Guard to Away mode, lock the back door, and turn on the porch light with a simple phrase like "Alexa, I'm headed out." And, Amazon will add additional support for Guard integrations with home security systems from Abode and Scout Alarm.
Manage WiFi Access for Distraction-Free Family Time
Alexa will soon make managing WiFi access for family members easier. Instead of unlocking their phone and using an app, Amazon customers can use their voice and ask Alexa to pause WiFi access for the family when dinner is ready and unpause access once the dishes are done. Alexa will also help its customers manage WiFi access for a single device, or groups of devices, so access for individual family members can be paused quickly and simply. Alexa will also help its customers schedule specific WiFi access times, and even turn on or off guest WiFi access with a simple voice command. Alexa customers can use their voice to manage WiFi access on compatible eero, ASUS, Linksys, and TP-Link routers starting this fall.
Alexa Takes Reordering Household Supplies Off Your To-Do List
Later this year, Alexa will let Amazon customers know when supplies used by some of their favorite smart home devices are running low or need to be replaced. For example, Alexa will notify its customers when air filters need to be replaced, batteries in a smart lock need to be swapped out, or ink cartridges for a printer are running low. Amazon customers will receive a notification from Alexa when it's time to reorder, or they can set up smart reordering so that supplies are automatically reordered before they run out. These features will soon be available for customers to conveniently replace batteries for smart locks, security sensors, smart lights, and smart home cameras from August, Blink, Ring, Schlage, and Yale, air filters for Coway air purifiers, and more.
Another way Amazon is making your home smarter and more proactive is by expanding the ways Alexa can be more conversational. At re:MARS, the company spoke about conversational AI and the team wanted to explore how can it bring this to Ring Video Doorbells.
Even though you're connected to your doorbell all the time through the Ring app, maybe you don't have you phone or you're on a stage talking about doorbells. The Amazon team has been working on a doorbell concierge feature, which will be available starting on Ring Video Doorbell Elite next year.
Many homes have the home security box in their garage or basement, that's no longer in use. So, Amazon created the Ring Alarm Retrofit Kit—a DIY kit that the company's customers can connect to an existing security system hub already in their home, so they can use the sensors previously installed in their home and integrate easily with Ring Alarm.
The Alarm Hub and Alarm Retrofit Kit will be available together for $375.99, or just the Retrofit Kit for only $199.99. Ring Alarm Retrofit Kit will ship in November.
Amazon also announced the new Stick Up Cam. It works indoors and outdoors and can run off its battery, plugged into a wall, or from a solar powered accessory. It's got everything that the original Stick Up Cam has —1080p HD video, motion detection, night vision — all for 30% less than the current version. You can pre-order the All-new Stick Up Cam today, for $99.99.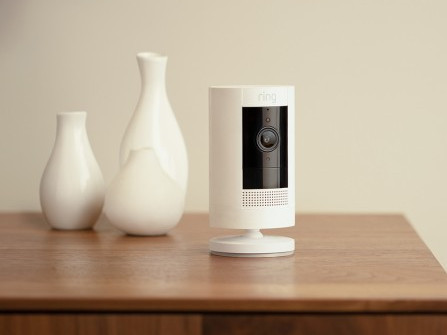 And Amazon is also adding an all new product to the lineup - the Ring Indoor Cam, our lowest-cost home security camera. It's compact design means you can mount it just about anywhere in the home. It, too, has everything you may like in Ring cameras, plus it will have those great modes I mentioned earlier so you can control when it records and when it's in "Home" mode.
Ring Indoor Cam will be available for just $59.99 and is available for pre-order today.
Amazon announced Sidewalk, a low bandwidth, highly secure network, that uses the free 900 MHz spectrum to first and foremost extend the distance at which you can control simple, low-cost, edge IoT devices.
Amazon hopes that developers will build all kinds of useful, low-cost products for this network. The company started with the obvious use case of lighting with Ring's smart lighting, but think about all the things that are far from your home WiFi that might use Sidewalk—weather stations to tell you how much rain you've gotten, a water sensor in your garden with your tomatoes, a little sensor in your mailbox that lets you know when the mail has been delivered.
As the Sidewalk network grows, it will be useful for keeping track of things. Amazon is going to build a reference design called Ring Fetch - a dog tracker that will use Sidewalk and ping you if your dog leaves a certain perimeter. This will be coming next year.
Amazon announced that General Motors is the first automaker to deliver a fully embedded Alexa experience based on the Alexa Auto SDK, and the breadth: Alexa will be available on millions of vehicles across all four GM brands – Buick, Cadillac, Chevrolet and GMC. It'll also be available to millions of existing vehicles on the road with a simple over-the-air update.
eero mesh WiFi system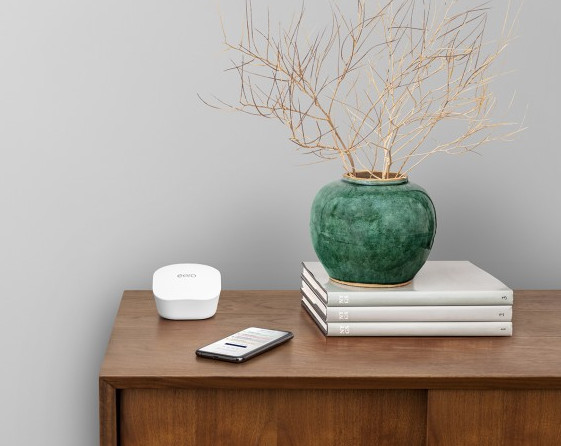 Amazon also introduced the newest addition to the eero family of devices. The new eero mesh WiFi system offers simple, reliable WiFi for streaming, gaming, and working from home—all for $99, or three for $249. eero is a mesh WiFi system that replaces your existing router and extends WiFi coverage throughout your home. A single eero plugs directly in to your modem, while additional eero devices extend your network's range wirelessly or via Ethernet connections. The all-new eero is available for US customers starting today.
Additionally, eero is expanding to Europe, and customers in France, Germany, Italy, Spain, and the United Kingdom will be able to try the all-new eero and eero Pro in early November.
Using the in-app instructions, setting up your eero takes just minutes. Simply unplug your old router, plug in your eero, sign in to the app, and you're ready to go—no expertise required. And, once your new eero is up and running, you can also connect your smart home devices to your WiFi network in fewer steps with Amazon's Frustration Free Setup.
Use the eero app to manage your network, pause the internet, share your network with friends or guests, and more—whether you're at home or on-the-go. A three-pack of the all-new eero should cover up to 5,000 square feet, but you can also choose to mix and match with eero Pro and eero Beacon to create a custom system that's just right for your unique home. Enable the eero Alexa skill to pause WiFi for specific profiles when screen time is over, you want the family to gather for dinner, or to find connected devices like phones—all with just your voice.
Amazon says that it collects "minimal network diagnostic information" that is used only to improve the performance, stability, and reliability of its products and services. eero's network security is constantly working in the background to keep your system safe and secure. Traditional routers require you to proactively search for, download, and install security updates. With eero, automatic software updates provide the latest security patches, bug fixes, and feature upgrades without you lifting a finger. For additional peace of mind, Amazon customers in the US can choose to add eero Secure or eero Secure+ to safeguard the devices that connect to their networks. eero Secure provides an added layer of security at home while eero Secure+ offers additional security whether you're at home or on-the-go.
The eero mesh WiFi system is available in the US starting today for $99 or $249 for a three-pack at amazon.com/eerosystem. It will be available in Canada for $139 or $349 for a three-pack by early November. The all-new eero and eero Pro will be available in France, Germany, Italy, Spain, and the United Kingdom in early November.
Alexa improvements
Starting today, Amazon is adding an auto delete option for its customers to the Privacy Hub. Amazon customers can now opt in to have their voice recordings older than three months or 18 months automatically deleted on an ongoing basis.
Amazon is also rolling out Multilingual Mode. This will be available in three pairs to start: in the United States - English and Spanish, in India - Indian English and Hindi, and in Canada - Canadian English and French. U.S. Spanish and Multilingual Mode will be available starting next month and we will continue to build.
For those who want to hear a different Alexa voice, Amazon announced the first celebrity voice for Alexa, brought to life using Neural TTS. Iconic actor and producer Samuel L. Jackson is the first celebrity voice for Alexa. He can tell you jokes, let you know if it's raining, set timers and alarms, play music and more – all with a bit of his own personality.
You'll be able to interact with Samuel L. Jackson later this year - and if you add this personality in 2019, you'll get a special price of $0.99.
Amazon has also developed a deep learning model to detect when its customers are frustrated, not with the world around them, but with Alexa. And when she recognizes you're frustrated with her, Alexa can now try to adjust, just like you or I would do. With this experience, Alexa understands the tone and inflection of the customer - and can acknowledge the frustration like a person would. This will start to roll out in the U.S. beginning next year.
Amazon is also introducing two new types of Alexa Hunches. Alexa will have Hunches about things that need replacing around your house. That might be batteries for your smart locks and security cameras, printer ink and even air purifiers, and even that always seems to run out at the worst time possible.
In addition, Alexa will also have Hunches about Routines that you may want to set up based on your daily habits. For example, if you set your alarm for 6 AM every day and then normally follow that up by asking for the weather and the score of the Cubs game. If you do that a few times, Alexa will understand and suggest that you may want to create a routine. All you have to do is say, "yes," and the routine will be created.