Alienware To Release New New Area 51 Gaming Desktop, Graphics Amp
Alienware's legendary Alienware Area-51 gaming desktop is returing this holiday season, along with the portable Alienware 13 gaming laptop. Alienware also revealed the Alienware Graphics Amplifier, giving gamers desktop graphics performance at home and high-performance mobile gaming with the Alienware 13. Starting at $999 the Alienware 13 features an Intel Core i5 processor and NVIDIA's GeForce GTX 860M with 2GB of dedicated GDDR5 graphics memory, all squeezed into a redesigned chassis, constructed with aerospace-inspired carbon fiber composite surfaces, that is 1-inch thin, weighs in starting at 4.5 pounds. The Alienware 13 will offer an optional display powering a 2560x1440 QHD resolution as well as touchscreen technology. The new LCD offering is designed with an IPS panel technology.
The Alienware Graphics Amplifier can be purchased by itself or alongside the Alienware 13 for $299, and users will have their choice of desktop graphics cards from both AMD and NVIDIA as options when purchased with an Alienware 13 laptop. The Alienware Graphics Amplifier connects directly to the Alienware 13 through dedicated PCI Express lanes, so any graphics card will have enough bandwidth to drive desktop graphics experiences. The Alienware Graphics Amplifier can house full length, dual-height graphics cards with up to 375 Watts of power. It also features four powered USB 3.0 ports, so gamers can plug in for access to their peripherals and output directly to their gaming displays.
Unfortunately, the Graphics Amplifier apparently does not work in concert with the Alienware 13's Nvidia GeForce GTX 860M graphics, disabling it to work with the integrated graphics provided by the notebook's Intel Core i5 processor. However, the range of desktop cards more powerful than the GeForce GTX 860M is sufficient to more than make up for this disabling.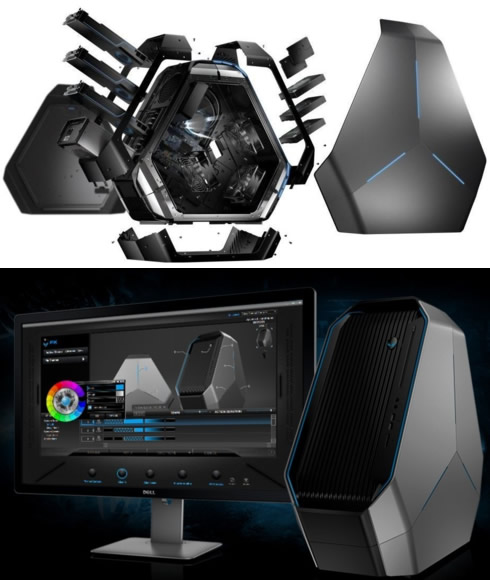 Revealed at PAX East, the Alienware Area-51 flagship desktop will be available to configure and order starting at $1,699. Every Area-51 comes loaded with Intel's latest six or eight core Haswell-E Core i7 K-series processors (factory-overclocked), liquid cooling, graphics options from both AMD or NVIDIA, DDR4 memory, Killer Gigabit Ethernet, Intel 802.11ac dual band WiFi and Windows 8.1. Every Area-51 also features the new Triad industrial design, which offers easy access to front and rear ports, provides DIY enthusiasts with an open chassis design for future upgrades, with each component laid out to optimize airflow.
Users can choose up to:
Intel Core i7-5960X Unlocked 8-Core Processor Overclocked to 4.0GHz with Turbo Boost
Graphics Options include Triple AMD Radeon 290X, Triple NVIDIA GeForce GTX 980 and even Dual NVIDIA GeForces Titan Graphics for Quad-GPU gaming
32GB of Quad Channel DDR4 at 2133MHz
512GB SATA 6Gb/s SSD main drive with a 4TB SATA 6Gb/s HDD Storage Drive
Killer Gigabit Ethernet NIC
Intel 802.11ac dual-band Wireless, WiFi and Bluetooth 4.0
Windows 8.1 Pro (64 Bit)
Alienware Command Center is also being updated to version 4.0 with new features in addition to existing features like AlienFX that allows for customized and interactive lighting triggered by events and scenes in-game. The newly expanded central control hub for Alienware systems, Alienware Command Center 4.0 now features detailed performance monitoring and tracking tools including single-click widgets that display vital information about many components including the CPU, GPU, memory and motherboard.
Alienware Command Center 4.0 now features custom tools for different systems, including a tutorial and the ability to track Graphics Amplifier connectivity and status on the Alienware 13. For the Area-51, Alienware Command Center 4.0 includes new overclocking controls and performance monitoring tools that enable users to automatically boost performance with the press of a button or have the granular controls necessary to tweak individual settings with built-in safeguards to push their systems to the max.
The Alienware 13, Alienware Graphics Amplifier and Alienware Area-51 will be available to configure and order online on October 28th with global availability this holiday season.