Acer At Computex 2016
Computex Taipei 2016 is opening its gates next week (May 31 to June 4) and highlights of Acer's booth include a professional 4K Monitor, new TravelMate notebooks, the V9800 4K projector, the Switch V 10 and Switch One 10 2-in-1 Notebooks, the Liquid Zest Plus smartphone as well as Acer's BeingWare solutions. Professional 4K Monitor and New TravelMate Notebooks
Acer's two new commercial products are the BM320 4K UHD monitor for graphics and video professionals, and TravelMate P2 series notebooks, equipped with Windows 10 Pro, in 14- and 15.6-inches for small and medium businesses.
The BM320's 32-inch panel delivers up to 4K UHD resolution (3840 x 2160) images with professional-grade color accuracy. It offers supports for 100% of the Adobe RGB color gamut, while video editors and directors can work with confidence as it covers 100% of the Rec. 709 color gamut and 90% of DCI-P3.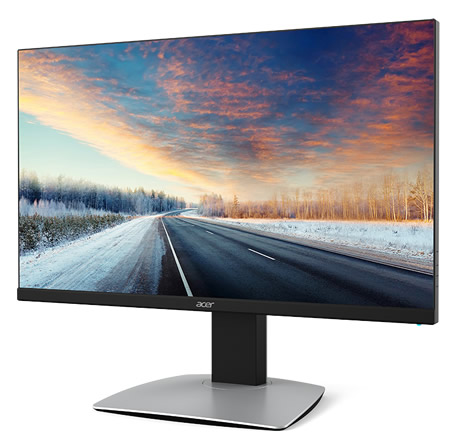 The BM320 supports 10-bit color depth, which provides 64 times more color depth over conventional 8-bit monitors, and every unit is factory pre-tuned and tested to ensure a Delta E<2 color accuracy. It comes with Uniformity Compensation to help reduce uneven brightness and color fluctuations across the screen.
The BM320 features a sleek ZeroFrame design which virtually eliminates the screen?s bezel. In addition, Acer's ErgoStand lets users tilt, swivel, pivot or adjust the height of the monitor.
Designed to meet the daily needs of small and medium businesses, Acer?s new 14-inch TravelMate P249 and 15.6-inch TravelMate P259 are built with 6th Generation Intel Core processors, NVIDIA GeForce 940M discrete graphics, up to 32GB DDR4 system memory, and ship with Windows 10 Pro.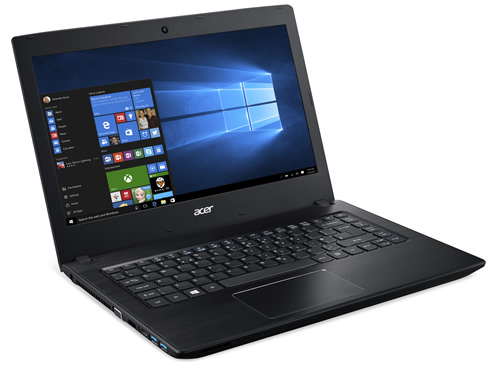 The notebooks feature Full HD backlit LED displays and support connection to three independent displays. An optional backlit keyboard option is available, while a DVD/CD-RW drive can be included.
The TravelMate P2 series includes a built-in fingerprint reader which allows users to log into the computer through Windows Hello, and a TPM 2.0 (Trusted Platform Module) for hardware-based encryption to secure user credentials, email and data. Acer's Office Manager is also bundled to allow small businesses to deploy security policies and monitor IT assets across the organization.
The TravelMate P2 series will be available in North America in Q4 starting at $599; in EMEA in August starting at €429; and in China in August.
Affordable 2-in-1 Notebooks: Switch V 10 and Switch One 10
Designed for students and budget-conscious families, the Acer Switch V 10 and Switch One 10 combine a full-featured notebook together with a removable tablet.
Both the Acer Switch V 10 and Switch One 10 feature Windows 10 and the latest quad-core Intel Atom processors. They include multi-touch 10-inch screens with IPS technology, while Precision Touchpads enable responsive navigation experiences, and support Windows 10 Precision Touchpad gestures.
With the Acer Snap Hinge latch-less magnetic hinge design, both devices utilize Continuum to easily transform into four usage modest: notebook, pad, tent and display.
The Switch V 10 will be available in multiple colors in North America in Q3 starting at $249; in EMEA in September; and in China in August.
Available with metal covers in five colors (Pearl White, Shale Black, Coral Red, Peacock Blue and Navy Blue), the Switch V 10 features a USB Type-C port. The touch display panel on Switch V 10 is covered by Antimicrobial Corning Gorilla Glass, which contains an antimicrobial agent.

The Switch V 10 has a built-in fingerprint reader which allows users to log into the computer through Windows Hello, while a dual-band MIMO 802.11ac wireless connection enables up to three times faster performance. The Switch V 10 is available in 32 and 64 GB storage configurations, and can be paired with a functional keyboard dock for an additional 500GB of HDD data storage and two extra USB Type-A ports, or a slim keyboard dock.
The Switch One 10 comes with a dark grey brushed-metal cover, and offers flexible 2-in-1 Windows 10 functionality at an attractive price-point. The Switch One 10?s tablet detaches to share with kids when they want to watch their favorite shows or play games, while also providing ample productivity when parents need to get some work done at home.
The Switch One 10 will be available in Metallic Gray in North America in July with prices starting at $199; in EMEA in July starting at €249; and in China in September.
V9800 4K Ultra-High-Definition Home Cinema Projector
The V9800 4K UHD home cinema projector supports a native Ultra-High-Definition (UHD, 3840 x 2160) resolution. Featuring a TI 4K DMD processor, the V9800 serves up more than 8 million pixels.
In addition, a super-resolution video engine allows the V9800 to upscale and enhance lower resolution content.
The V9800 follows the Rec 709 protocol set by the International Telecommunications Union for high-definition television. The Rec 709 specification digitally defines the color identity during post-production, which allows a compatible projector to recognize and decode the film's intended visual feeling.
The V9800 also features the industry-standard sRGB mode to guarantee consistency and high-quality contrast, while eliminating deviation in color temperature during playback.
In addition, Acer's ColorPurity technology is applied to the V9800, combining a RGBRGB color wheel with lamp control techniques, resulting in a wider color gamut and reduced rainbow effects. The V9800 operates at a low noise level of 20 dBA.
Liquid Zest Plus Smartphone
Acer's new LTE-enabled Liquid Zest Plus smartphone has been designed for explorers seeking to get the most out of their daily adventures.
The 5.5-inch Android 6.0 device features a high-capacity 5,000 mAh battery that offers up to 3 days' usage. When it is finally time to plug-in the Zest Plus, it quick-charges to 50 percent capacity in less than one hour for over a day's worth of power; in addition, USB OTG (On-The-Go) technology is supported which lets the Zest Plus share its power with a friend so they can charge their phone when they're running low.
The Liquid Zest Plus includes a 13-megapixel camera with a hybrid tri-focusing system. The camera intelligently focuses various scenes: phase detection auto-focusing (PDAF) for bright daylight scenes, laser focusing for dark scenes at short distances (such as restaurants), and contrast detection auto-focusing (CDAF) to capture subjects in low light. In addition to fast focusing, the Zest Plus features a front-facing 5-megapixel camera that takes 85-degree wide angle selfies. The camera app also features a "Pause N Shoot" selfie mode with automatic face detection, while a shake of the phone sets the timer for easy one-handed selfies with friends.
The smartphone also features DTS-HD Premium Sound as wellas other travel-friendly features like dual-SIM technology, FM Radio, an expandable Micro SD slot, and BluelightShield to reduce blue light emissions. With an optional flip case, the Liquid Zest Plus features a Flip UI which lets users access tools such as weather, messages, calendar, and camera.
The Liquid Zest Plus will be available in Moroccan Blue and Andes White colors in North America in July starting at $199, and in EMEA in July with prices starting at €199.
BeingWare showcase
Acer will showcase its BeingWare vision, which encompasses vertical business models with intelligent connected devices.
To help accelerate the development of connected cars, Acer announced abMax01, a new car IoT module which acts as a gateway to the cloud. The turnkey solution for automotive manufacturers enables secure fleet management and big-data analysis, allowing control centers to optimize operations by analyzing and processing streaming data in real-time, and even predicting the need of maintenance before failure through machine learning.
The module accommodates an integrated SIM card to give IT managers flexibility in bringing existing hardware systems to the cloud, and allows them to deploy over-the-air (OTA) software and firmware updates in both commercial and consumer-use scenarios: automobile navigation map updates, gaming machine updates, new songs on karaoke machines and music player systems, to name a few.

Acer's showcase at Computex 2016 offers a glimpse into what's possible on the industrial side of things under the BeingWare vision with two projects showcasing Smart City applications.
The first application includes cloud-connected street lamps with smart management to monitor energy usage and lower power consumption, while also featuring object detection to intelligently turn on or off, and environmental monitoring (air quality, temperature, humidity, noise and more) to send precise data back to the municipal service center. The second application shows Acer's BYOC module built into industrial air tanks for safe monitoring; by sending data over the cloud reduces service hours in the field (manpower) while also lowers risks by keeping workers out of potentially dangerous situations.
A number of BYOC consumer applications will also be on display at Computex 2016. A bread maker is in this year?s lineup to demonstrate how consumers can use the cloud to start their favorite recipe so it is ready and fresh by the time they wake up, and also fine-tune the taste to their liking with recipes from the cloud. A smart tracker can help users keep tabs on their loved ones, be it elders, children, or even pets, with geo-fencing alerts to know when they wander off limits, and an emergency button to call for help when needed.
Lauded for its CloudProfessor IoT education kit, Acer was nominated for a "Best Mobile Innovation for Education" at the Mobile World Congress in Barcelona earlier this year. Building on this success, Acer has introduced new CloudProfessor kits running on Windows 10, which adds support for the student-friendly Scratch programming language. A variety of new CloudProfessor kits for Windows 10 with Gigo construction brick themes such as Ball Bot, Robot Man, Scorpio Bot, and many more new hardware will be on display during Computex.

The potential of BeingWare is set to explore the world of virtual reality with the recent announcement of Starbreeze AB and Acer in signing a letter of intent to form a joint venture for head mounted displays (HMD). The two companies aim to cooperate on bringing the StarVR HMD to the professional- and location-based entertainment market, an exemplary of the BeingWare business model that integrates hardware, software and services for vertical markets.