2nd Generation AMD Ryzen Desktop Processors Arrive to Offer Great Value
AMD today is officlally making available its 2nd Generation Ryzen Desktop processors, starting with four models optimized for gamers, creators, and hardware enthusiasts: Ryzen 7 2700X, Ryzen 7 2700, Ryzen 5 2600X, and Ryzen 5 2600 processors.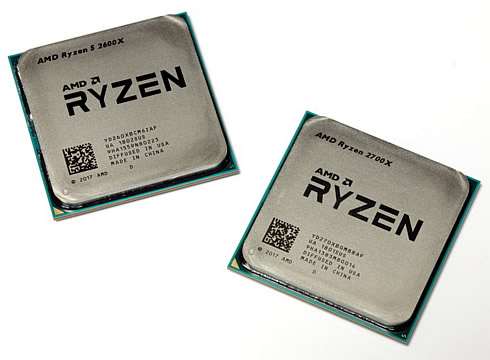 MODEL
CORES
THREADS
CLOCK SPEED
MAX BOOST/
BASE (GHZ)
Smart
Prefetch
Cache
TDP
COOLER
SEP (USD)
Ryzen 7 2700X
8
16
4.3/3.7
20MB
105W
Wraith Prism (LED)
$329
Ryzen 7 2700
8
16
4.1/3.2
20MB
65W
Wraith Spire (LED)
$299
Ryzen 5 2600X
6
12
4.2/3.6
19MB
95W
Wraith Spire
$229
Ryzen 5 2600
6
12
3.9/3.4
19MB
65W
Wraith Stealth
$199
The new 2nd-gen Ryzen chips are based refined CPU cores that AMD calls "Zen+." While the first-gen Ryzen chips were built on a 14nm process, 2nd-gen Ryzen uses GlobalFoundries's new 12nm process, which helped AMD increase the clock speed range over the original version.
GlobalFoundries has said that its 12LP process offers a 10% performance improvement and a 15% circuit density improvement over 14LPP. Fr it's part, AMD has claims that the move to 12LP has meant for the Ryzen 2000-series:
Top Clock Speeds lifted by ~250 MHz (~6%)
All-core overclocks around 4.2 GHz
~50 mV core voltage reduction
According to AMD, at the same frequency, its new Ryzen 2000-series processors draw around 11% less power than the Ryzen 1000-series. This translates to +16% performance at the same power, the company claims.
The actual CPU micro-architecture hasn't changed, but AMD said it has optimized the underlying circuits to decease latency. Aside from the manufacturing process node change and likely minor adjustments, the rest of the adjustments are in firmware and support:
Cache latency adjustments leading to +3% IPC
Increased DRAM Frequency Support to DDR4-2933
Better voltage/frequency curves, leading to +10% performance overall
Better Boost Performance with Precision Boost 2
Better Thermal Response with XFR2
Internally, the chip arrangements are the same. The 8-core parts use dual CCX designs joined by AMD's Infinity Fabric technology. The 2nd-gen Ryzen 5 chips do the same, but with one core per CCX disabled.
The Ryzen 2000-series processors also offer significant changes in terms of cache latency. AMD claims that they were able to knock one-cycle from L1 and L2 caches, several cycles from L3, and better DRAM performance. Because pure core IPC is intimately intertwined with the caches (the size, the latency, the bandwidth), these new numbers are leading AMD to claim that these new processors can offer a +3% IPC gain over the previous generation.
The numbers AMD gives are:
13% Better L1 Latency (1.10ns vs 0.95ns)
34% Better L2 Latency (4.6ns vs 3.0ns)
16% Better L3 Latency (11.0ns vs 9.2ns)
11% Better Memory Latency (74ns vs 66ns at DDR4-3200)
Increased DRAM Frequency Support (DDR4-2666 vs DDR4-2933)
The 2nd Gen Ryzen processors also feature soldered integrated heatspreaders for greater thermal transfer, and unlocked multipliers for simple overclocking control. Performance tuning, enabled by the new Ryzen Master software, is easier than ever before, and now offers per-core overclocking with automatic identification of the potentially fastest cores.
Much of 2nd-gen Ryzen's performance gains come directly from higher clock speeds. The original Ryzen 7 1800X topped out at 4GHz under boost conditions, and the 1700X maxed out at 3.8GHz. The Ryzen 7 2700X can hit 4.3GHz.
Another signicant change in the new Ryzen-2000 series is in how the processor implements its turbo. Until recently, processors have relied on a step function implementation: the system determines how many threads are loaded, attempts to implement a specific frequency on those cores if possible, and then follows the look-up table relating thread count to frequency. AMD's goal in Precision Boost 2 is to make this process more dynamic: the system will determine how much of the power budget is still available, and turbo as much as possible until it hits one of the limiting factors:
Total chip peak power
Individual core voltage/frequency response
Thermal interactions between neighboring cores
Power delivery limitations to individual cores/groups of cores
Overall thermal performance
AMD's new Ryzen Master 1.3 software, when used on a Ryzen 2000-series processor, has several indicators to determine what the limiting factors are.
The higher overall clock speeds aren't the only improvement. Precision Boost 2, an improved version of the original technology, now pushes 2nd-gen Ryzen processors to higher clock speeds on lighter loads that would have pushed the original Ryzen CPUs off their boost modes. In certain loads that used only three or four threads, AMD said the Ryzen 7 2700X would run nearly 500MHz faster than the Ryzen 7 1800X.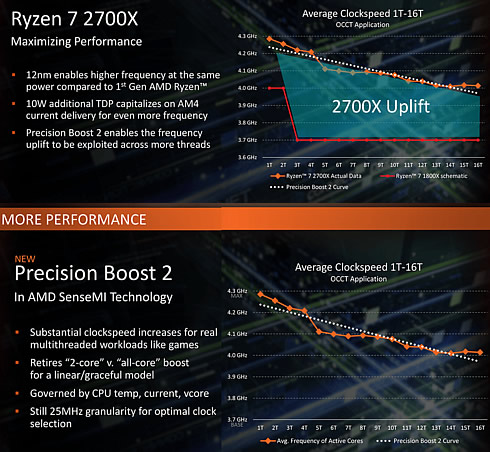 The extra clock boosts from XFR2 have also been improved. The original XFR (or Extended Frequency Range) could give the CPU a 100MHz bump beyond Precision Boost's maximum if you were running an efficient cooling solution, but only when two cores were being used. For this generation (XFR2), it still relates to thermals, however the definition is applied to any core loading: if the CPU is under 60 degrees C, the processor can boost no matter what the loading is above its Precision Boost 2 frequency. The core still has to be within a suitable voltage/frequency window to retain stability, however. With XFR2, if the chip is cool enough, the 100MHz boost can be applied to all cores and threads, just like the upgraded Precision Boost 2.
On certain motherboards, like the ASUS Crosshair VII Hero, there are additional options to assist XFR2 beyond AMD's implementation.
For the first time, the entire line of 2nd Gen Ryzen processors include the AMD Wraith Cooler inside the retail box. The flagship AMD Ryzen 7 2700X CPU includes the new Wraith Prism cooler featuring premium thermal performance, an upgraded fan profile, and enhanced lighting capabilities with per-RGB controls.
Going from a standard 95-watt cooler to the Ryzen 7 2700X's included Wraith Prism with an ambient temperature of 90 degrees would yield 4 percent more performance thanks to XFR2, AMD said.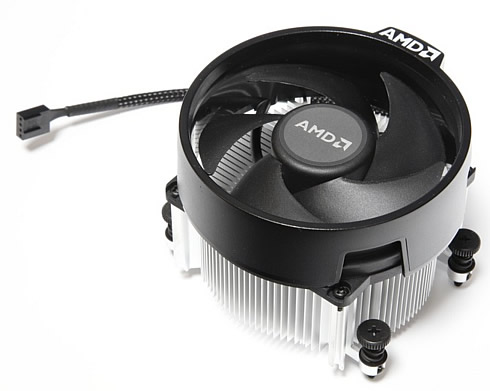 Optimized for the 2nd Gen Ryzen processors, new AMD X470 chipset is available on Socket AM4 motherboards now. These new motherboards come with a free download of the new AMD StoreMI technology software, which combines the speed of an SSD and the capacity of a traditional spinning hard disk into a single easy-to-manage drive for faster, smarter, and easier storage.
Compatible with all current AM4 processors, the new X470 motherboards augment the existing 300-series motherboards, which are also compatible with the new 2nd Gen Ryzen processors with a firmware (BIOS) update. Many in-market motherboards already come with the updated BIOS, indicated by a "Ryzen Desktop 2000 Ready" label on the package.
Higher clock speeds and a massive multi-threading advantage push AMD's CPU performance to new highs. The bundled Wraith Prism cooler and overall polish push it over the top. In the battle of Intel and AMD's flagship processors, the clear winner today is the Ryzen 7 2700X.
AMD is marketing the 2nd generation Ryzen processors as chips which offer more performance than AMD's first generation of Ryzen, use the same socket, are offered at similar prices, are competitive with the competition, and come bundled with some nice coolers. According to the first reviews that have been published online, AMD's satatements are true. Higher clock speeds and a massive multi-threading advantage push AMD's CPU performance to new highs, espexcially for the top Ryzen 7 2700X model. Upgrading to the rest of the new series is not making much sense, in case you have recently invested Ryzen 1000-series.
The AMD Ryzen 7 2700X offers more frequency and more boost in lightly threaded scenarios. For $329, you get a strong 8-core processor plus a nice cooler plus overclocking.
In addition, AMD's new Precision Boost 2 algorithm is enabling the processor to draw more power and run at higher frequencies in lightly threaded loads. Compared to Intel's latest chips, with the Spectre and Meltdown patches applied, to them, AMD;s new offerings seems to go neck-and-neck or even take a lead in multi-threaded scenarios. For anything that is hard on a single-threaded, Intel keeps its crown.