Xbox One X Console Pre-orders Available Today
Microsoft says that the Xbox One X standard edition pre-orders begin today at local retailers around the world, including Microsoft Store and Microsoft.com.
You'll be able to enjoy more than 130 new and existing games enhanced for Xbox One X to take advantage of its power, including Far Cry 5, L.A. Noire, Greedfall and Okami HD.
The console will retail for $499 in the US with 1TB of storage, and it starts shipping worldwide starting November 7th.
The Xbox One X has enough power to support 4K gaming. It is powered by an 8-core Custom AMD CPU clocked at 2.3GHz, 12GB GDDR5 of graphic memory, an 6 Teraflop GPU and 326GB/s of Memory Bandwidth. Other features include 8GB of storage memory, 1TB of flash memory, a 12GB HDD, an UHD Blu-ray optical disc drive. The console also features an HDMI 2.0b (out), 2160p @ 60Hz, AMD FreeSync, HDR10, supports DTS 5.1 DOLBY, Digital 5.1, TrueHD with Atmos and PCM 2.0, 5.1, 7.1 audio, and has dual band wireless connectivity.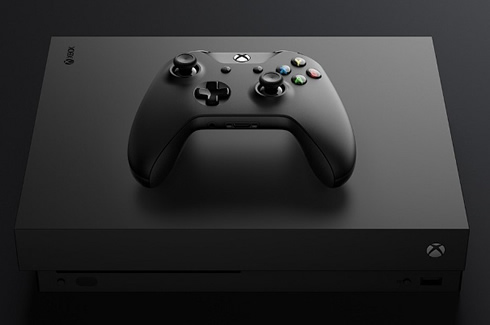 Xbox One X joins the Xbox One family of devices this holiday alongside Xbox One S and the recently-announced Forza Horizon 3 Hot Wheels bundle, Minecraft Limited Edition bundle, Shadow of War bundle and Madden NFL 18 bundle - all also available for purchase or pre-order now. And all your existing Xbox One games and accessories are compatible across the Xbox One family of devices.
Last month at gamescom, Microsoft unveiled pre-orders for the Xbox One X Project Scorpio Edition, a limited edition console designed for enthusiasts. Microsoft says it saw record-setting sellouts in the first five days, making Xbox One X the fastest-selling Xbox pre-order ever with more Xbox One X Project Scorpio Edition consoles pre-ordered in the first five days than any Xbox ever.