Withings Thermo Wi-Fi-connected temporal thermometer
5. Testing
So how the product works? Well the measurement is pretty fast, you just swipe the Withings Thermo through your forehead in a straight line and when measurement finishes it just vibrates. After that it displays the measurement at the dot matrix screen with a LED (Green for normal, Orange for elevated, and Red for high temperature levels so you have view it.
The measurements can be specified up to 8 persons (provided that they have been already registered at the app) with a simple swipe up at the right of the device.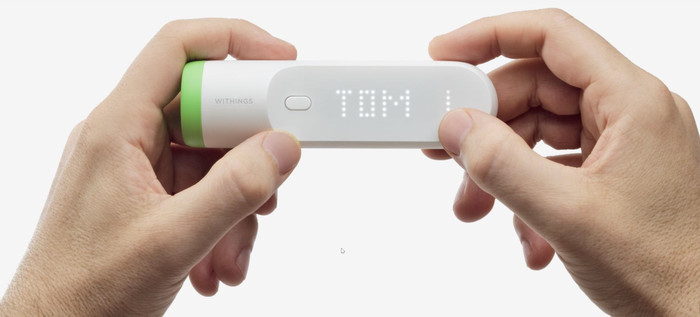 Of course measurements are also available via the Withings Health mate App
Under the Thermo settings you can add/remove Wi-Fi networks and check for updates
The device runs up two AAA (LR03) batteries. When the battery level is getting low, it is time to change the batteries. To do so, perform the following steps:
Lift the magnetic cover of the battery compartment of your Thermo to open it.
Remove the old batteries and dispose of them in accordance with local regulations.
Place two new AAA (LR03) batteries in the compartment.
Make sure you follow the polarity markings when placing the batteries.
Place the battery cover back.
Advice: To easily remove the battery cover from the Thermo, lightly press in on the cover near the top with your thumb. Then, slowly slide your thumb down to the bottom of the cover where it curves. As it presses against the curve of the battery case, it will slightly open the cover near the notch at the top. You will then be able to easily the cover by sliding your fingernail into the notch and pulling it out.