U.S. Companies Continue to File Many Patents in Europe
U.S. companies submitted a record number of patent applications to the European Patent Office in 2018, retaining the country's status as the most prolific filer.
The US remained the top country of origin, accounting for 25% of total filings, followed by Germany, Japan, France and China, according to EPO's Annual Report for 2018.
The report shows an increase in patents filed from all major industrial regions but European companies maintained the lead in their home market, with 47% of all patent applications at the EPO originating from the 38 EPO member states.
Asian companies also held their ground, with the combined share of China, Japan and the Republic of Korea rising moderately to 22.6% (2017: 22.1%).

The number of patent applications filed with the European Patent Office (EPO) grew by 4.6% last year, reaching a new high of 174 317 (2017: 166 594).
Applications from China rose by 8.8%, their lowest rate in the past five years. This was mainly attributable to slower growth in some of the country's most patent-intensive fields, including computer technology, electrical machinery and energy, and audio-visual technology. US and Japanese companies reported increases of +2.7% and +3.9% respectively in 2018, while the Republic of Korea, boosted by a rise in patent applications in the areas of digital communication, electrical machinery and energy, and computer technology, went up by 13%, reversing its downturn in the previous year (2017: -3.4%).
Medical technology remains the technical field in which the most patent applications are filed at the EPO (up 5% in 2018), once again followed by digital communication and computer technology. The strongest growth among the top ten fields was recorded in life sciences, with pharmaceuticals and biotechnology combined growing by 13%.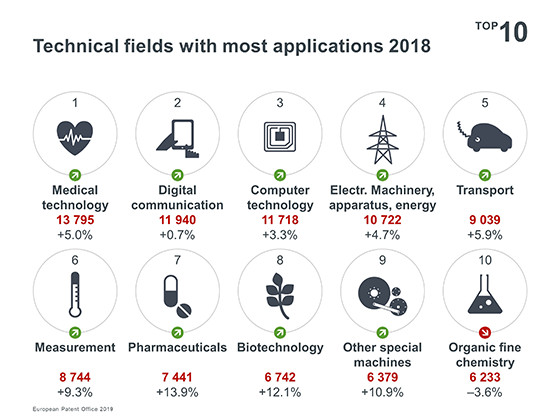 Siemens AG, based in Munich, filed 2,493 patent applications with the EPO, more than any other company. United Technologies Corp. was the top U.S. filer, but its 1,983 applications trailed those from China's Huawei Technologies Co. (No. 2, with 2,485) and South Korea's Samsung Electronics Co. (No. 3, with 2,449) and LG Electronics Inc. (No. 4, at 2,376).
Qualcomm Inc. (No. 7, at 1,593 applications) and General Electric Co. (No. 9, at 1,307) were the other U.S. companies among the top 10 applicants in 2018.
Meanwhile, most EPO member states, the US and Japan displayed a greater diversity, filing high numbers of patent applications across several technical fields. Transport - which covers vehicles, aircraft, trains and vessels - was again the field with the largest share of applications (59%) originating from Europe, and seven of the leading ten businesses in transport were European. This also confirms the findings of a recent EPO study on the patent landscape in self-driving vehicles which sees Europe and the US in the lead, each accounting for around a third of all European patent applications since 2011, some way ahead of Japan (13%), the Republic of Korea (7%) and China (3%). The study also found that many of the top 25 patent applicants in the self-driving vehicle sector, including some of the European ones, are not traditional automotive/transport companies but ICT or telecoms firms, and that those traditional companies are exhibiting a growing tendency to behave like ICT firms in their patent application strategies.