Toshiba's New Blu-ray Players Stream Blockbuster On Demand Content
Toshiba today announced the availability of its latest Blu-ray Disc players, the BDX2500 and BDX2700. Both players include Wi-Fi capabilities. With BLOCKBUSTER On Demand, consumers can watch the latest movies the same day they are released on DVD/Blu-ray with no monthly fee. Instant streaming from Netflix allows Netflix members to instantly watch tens of thousands of TV episodes and movies, many in high definition, directly on their HDTV. VUDU Movies offers true 1080p HD and gives viewers access to over 3,000 HD movies on demand. The BDX2500 and BDX2700 also stream a wide array of music from Pandora internet radio. A standard Ethernet connection is also included with both models.
The players support playback of Blu-ray Discs in Full HD 1080p at a 24fps, and upconvert standard DVDs to near HD quality. The BDX2500 and BDX2700 can also play home videos, photos, and music on the HDTV from a USB or SD/SDHC card.
With the players connected to the internet, and a touch of the remote, consumers can access bonus features on select Blu-ray Discs (BD-Live and Bonus View), from interactive games and sites to unique trailers and commentary. The BDX2500 and BDX2700 provide built-in decoding of the latest HD audio formats, including Dolby TrueHD and DTS-HD Master Audio / Essential via analog 7.1 Channel audio outputs or pass through via HDMI interface for outboard decoding. For greater convenience, the players? HDMI connection is HDMI-CEC compatible, which lets users control both the Blu-ray player and most connected HDTVs with just one remote.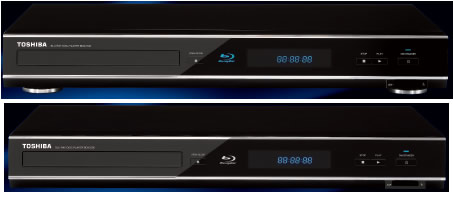 Product Feature Highlights:
- Full HD 1080p / 24fps Blu-ray Disc playback, with standard DVD upconversion
- Access to online content from Netflix, BLOCKBUSTER On Demand, VUDU, and Pandora internet Radio, using either wired Ethernet or Wi-Fi connection
BDX2500 requires optional wireless adapter ? sold separately; BDX2700 includes built-in Wi-Fi capability - HD audio support, including Dolby True HD and DTS-HD Master Audio Essential
- BD-Live (BD Profile 2.0) and Bonus View compatible - AVCHD video, HD JPEG/JPEG photo, and MP3/WMA audio file playback
- HDMI connection with HDMI-CEC control
- 7.1-Channel analog audio outputs
- USB port and SD/SDHC card slot
Pricing and Availability:
BDX2500 (available now, MSRP $179.99)
BDX2700 (available now, MSRP $249.99)