5. Conclusion
Thermalright coolers are well known in the overclockers community, because of their excellent cooling performance and their affordable price. The latest XP-90C comes to strengthen this point of view.
The copper design of the cooler makes for better a cooling solution than its predecessor, the XP-90. The 4 heat pipes help provide even more efficient cooling while half of the copper fins extend over, blowing cold air over the RAM modules helping cool them as well.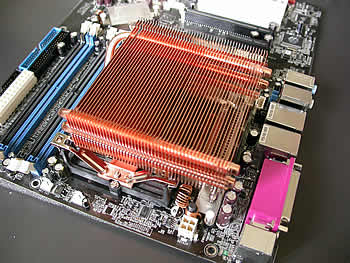 Installation of the cooler is very easy. Thermalright's engineers seem to be doing a lot of work on this matter, making it possible to fit this cooler in both AMD and Intel based systems. However, for LGA775 socketed systems, you will have to purchase the retention brackets that are sold separately.
The performance of this cooler is greatly dependent by the fan that is used. Although the XP-90C is designed for 80mm and 92mm fans, you can easily mount bigger fans to further improve its performance. With the 120mm fan we used, CPU temperatures were very low, even at high load and even at low fan rotation speeds, making the cooler one of the best choices for hardcore overclockers and gamers. The Thermalright XP-90C will surely keep your system running, no matter the load.
The XP-90C is priced at US$50.00.
Pros:
- Easy installation
- Very good performance
- Low price
- Recommended for enthusiast overclockers
Cons:
- A little heavy and big size
- Needs a separate fan
- Pricey compared to competition

| | |
| --- | --- |
| Performance: | |
| Features/Design: | |
| Installation: | |
| Value for money: | |