TCL Debuts MoVo with Google TV
Chinese TV maker TCL debuted a wide range of products for U.S. consumers including TCL MoVo with Google TV at CES. The company also announced that TCL products, including the HD China Star 3D TV, will be featured in the upcoming film, Marvel's "Iron Man 3."
Powered by the Marvell ARMADA 1500 series system-on-chip platform, TCL is among the first to offer both a Smart TV and set-top box with the latest Google TV platform. MoVo incorporates Google TV's advances, including Voice Search and PrimeTime, an application that will search over 100,000 movies and television episodes across multiple video services including Google Play. Based on Google's search engine and combining TCL's proprietarily developed PBO (Personal Box Office, commonly known as the "Lazy TV") technology, MoVo can automatically identify a user with its motion sensor-transmitter and comprehend the user's preference by analyzing his behavior and habit. Its content recommendation engine can integrate the user analysis and its content searching module to recommend automatically content that accommodates the user's preference. In so doing the user can enjoy a real "Lazy TV" super smart experience without operating a remote control or initiating voice recognition.
In addition to the TCL MoVo with Google TV, TCL is showcasing a variety of smartphones, tablets and televisions at their CES booth under the TCL and Alcatel ONE TOUCH brands.
The iCE SCREEN is a multi-touch, lightweight (13 lbs) TV that offers users a tablet-like experience, access to social media and Google Play, and a host of intelligent cloud applications. Users can orient the 24-inch screen horizontally for TV viewing or vertically to create a virtual jukebox or play an arcade game.
The TCL V101 is a uniquely-designed smart TV with a front panel between the screen and speaker mesh to give it a modern look. Packed with a quality display and sound system in a mere 11.5mm side profile, the V101 also has a WiFi speaker embedded in the stand.
With over 36 square feet of screen real estate, the 110-inch Ultra HD China Star 3D TV features active 3D technology, multi-touch, intelligent and dynamic backlight, and a high brightness of 800 nits.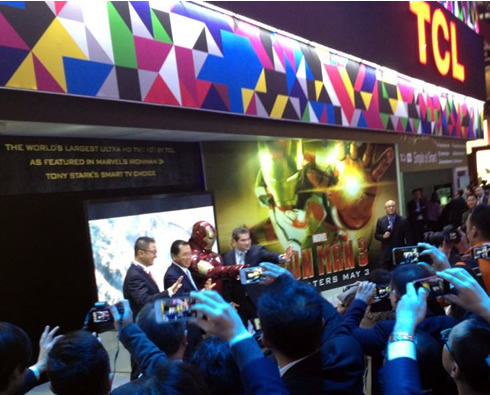 TCL is also
debuting
three new Alcatel ONE TOUCH smartphones at CES this year: an ultra-light smartphone with a 4.7" IPS display called the ONE TOUCH Idol; the thinnest smartphone yet at 6.45 mm, the ONE TOUCH Idol Ultra;and a phone based on the MediaTek MT6589 quad-core chipset, the ONE TOUCH SCRIBE HD.
Also announced at CES were a WiFi 4G LTE internet key called ONE TOUCH Link W800, the ONE TOUCH EVO7 HD, a WiFi 7 inch tablet that can be upgraded to 3G /4G connectivity thanks to removable a 3G/4G module, and two other tablet models: the ONE TOUCH TAB7 HD and the ONE TOUCH TAB8 HD.