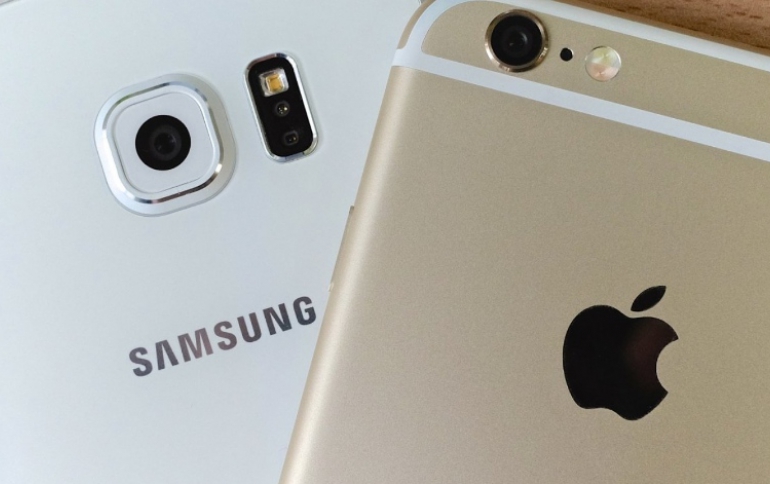 Supreme Court To Hear Samsung-Apple Patent Case
The U.S. Supreme Court on Monday agreed to hear Samsung's appeal of the damages it was ordered to pay for infringing upon Apple's design patents, a decision that could lead to a reduction of the amount.
Last December, Samsung paid Apple more than $548 million related to a jury verdict from 2012. .Now the Korean company is seeking to pare back the $399 million of that amount that was awarded for infringing on the designs of the iPhone's rounded-corner front face, bezel and colorful grid of icons.
At the time, the South Korean smartphone giant claimed that "a patented design might be the essential feature of a spoon or rug. But the same is not true of smartphones, which contain countless other features that give them remarkable functionality wholly unrelated to their design."
Apple sued in 2011, claiming the South Korean electronics company stole its technology and ripped off the look of the iPhone.
Last May, the U.S. Court of Appeals for the Federal Circuit in Washington upheld the patent infringement verdict. The court, however, said the iPhone's appearance could not be protected through trademarks, forcing another trial later this month in federal court in San Jose, California, to recalculate some of the damages Apple is owed.
The appeal to the Supreme Court could clarify how important design is to the overall value of products involved in patent disputes.
The Supreme Court is expected to hear arguments and rule in the nine-month term that starts in October.
Samsung was supported by other firms in the case, including Google and Facebook.
It is rare for the highest court to agree to hear appeals. About 7,000 appeals are filed with the court every year, but only 70 of them are heard.