Sony's Adds 16GB Flash Memory to its UMPC Devices
Sony updated its VAIO UMPC pocket PC devices and replaced their HDD with 16GB flash memory. The new VGN-UX90PS and VGN-UX90S devices will go on sale in Japan July 3. The new VGN-UX90PS runs Windows XP Professional while the VGN-UX90S comes with Windows XP Home Edition installed. The devices are currently feature a 16GB flash memory instead of the 30GB HDD of the previously announced models (May 27), and have a digital terrestrial tuner.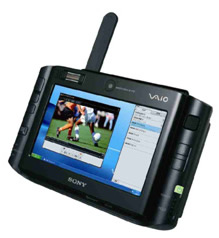 Compared with the HDD-based models, the new devices boot up 3 to 6 times faster, according to Sony. Moreover, the battery life has been improved by 13%, which means that the device can run for about four hours (Core Solo CPU). In addition, its weight has been decreased by 28g.
Both devices are equipped with WSVGA (1,024?600) LCD displays. The VGN-UX90PS is powered by an Intel Core Solo U1400 (1.2GHz) processor and VGN-UX90S uses a Core Solo U1300 (1.06GHz). Owners are also able to customize their devices by ordering a version Celeron M 423(1.06MHz) version of both models. The installed memory is 512MB. Moreover, a Blue tooth head set and an English Japanese/keyboard can be selected.
The estimated retail price for the devices is 209,800 Yen ($1,803). For additional information read
Sony's press release
(Japanese).