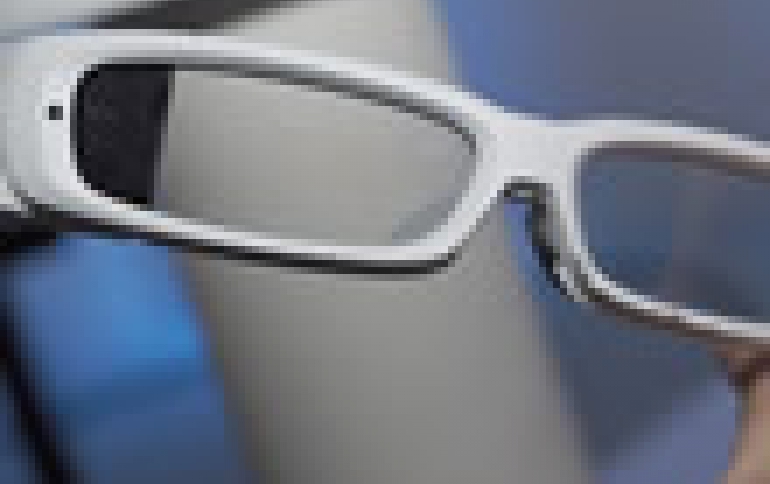 Sony Unveiled Wearable Smart Glasses at CES
Sony's SmartEyeglass prototype and the SmartBand appeared at the company's booth at the Consumer Electronics Show (CES) 2014. Sony said the SmartEyeglass was used mainly to display information about sports events, such as player information at a soccer match - who the player currently having the ball is, how much time is left until the match is over, and more.
The Sony eyewear prototype houses two small LED projectors, which register data onto a holographic strip in both lenses of the glasses. It features a transparent, 1mm thick lenses with a 90% see-through transmittance and an LCD with a brightness of more than 1,000cd/m2 and a resolution of 400 x 240 pixels. Its weight is 40g.
Sony is expected to put the product to commercial use by the end of 2014.
The company is already testing a second version, which will feature a camera, as well as a player-tracking function to map specific data onto athletes.
Sony is also touting five days of battery life for the SmartBand and has also said that it's waterproof and safe to wear in the shower.
During the CES presentaion, Sony described Google Glass as " one-dimensional," adding its new Smart Eyeglasses were "much more advanced."
At CES, Startup XOEye Technologies also showcased their high-tech eyewear. The company built cameras into safety glasses. They can stream live video for 45 minutes over Wi-Fi before they need a recharge and the wearer can talk to and hear whoever's watching the video. In effect, the glasses provide a way for an expert or supervisor to look over the shoulder of a remote worker to walk them through repairs.
The gadget's battery life is too short for all-day video streaming, but the glasses can be set to snap photos every 30 seconds instead.
Wearable computing industry is encouraged by the attention Google's Glass is getting. The device is worn like a pair of glasses and projects a small video screen into the wearer's field of vision.
Smartwatches everywhere
Wearable computing devices also include the so-called smartwatches. Intel CEO Brian Krzanich unveiled a smart watch during his keynote speech at the CES on Monday, bringing his company level with Samsung and Qualcomm, both of which sell watches with sizeable color touch screens that are capable of running apps (Galaxy Gear, Toq).
Hong Kong company CONNECTEDEVICE at CES showcased its company's smart watch, called
Cogito
, which is designed like a conventional analog watch and has a digital screen behind the arms, in the center of its face. The Cogito connects to a smartphone and notifies a person of e-mails, text messages, calls, and impending calendar events, and displays enough text for a person to decide whether or not to pull out his phone and act on the alert.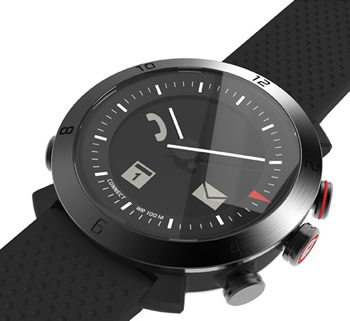 LG
also launched
a simplified smart watch at CES. The LG Lifeband can track a person's activity and workouts using motion sensors but can also show notifications from a connected phone on its touch screen, which can be used to send simple commands to a phone.
Razer launched a similar product at CES called the Nabu. A screen on the outside of the wristband passes on notifications from a person's phone, for example that someone is calling. A second display, on the inside of the wrist, displays more private information, such as who is calling, so it can be accessed without the whole world seeing it.
Pebble showcased the
Pebble Steel
, a computer-like watch, which has a plain, plastic, and rubber look. The model is styled in polished steel and comes with a leather or metal strap. It costs $249 and will start shipping this month.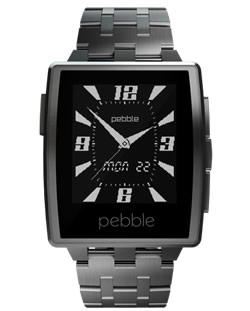 A watch called the
Wellograph
, which also launched in Vegas, has a similar style, as well as a novel heart-rate sensor built into the underside of the device. The Wellograph will cost $320 and is scheduled to become available in the first half of 2014.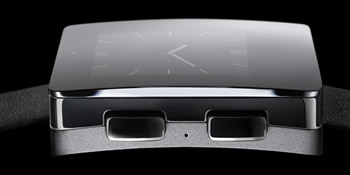 Misfit Wearables
makes a small fitness sensor called the Shine that can be worn like a watch or clipped to clothing.
French company
Netatmo
is also set to launch a wearable computing device the June this week. Resembling a large jewel, the button-free device is mounted on a leather bracelet that wraps around the wearer?s wrist multiple times. The June tracks a person's exposure to sunlight so that a companion phone app can offer advice and warnings about covering up or sunscreen use. The device will be available in the second quarter of this year for $99.
Freescale launched a small circuit board called the
Wearable Reference Platform
, or WaRP, at CES. The $149 board is intended to speed the process of prototyping wearable devices and readying them for production. The WaRP has a CPU, memory, motion sensors, connections for displays and further sensors, and runs a version of the Android operating system.