Sony Smart EyeGlass Prototype Appears At IFA
Sony is showcasing its prototype smartglasses at IFA in Berlin. The 'Smart EyeGlass' feature a special projector to display text and images in both eyes and also includes apps. Although it looks like a normal like a pair of glasses, the
Sony Smart EyeGlass use a projector to display holographic information in each of the wearer's eyes. A small screen is actually integrated
in the lens and appears right in the centre of the wearer's vision.
The glasses also have a camera mounted in the left-hand lens and use an accelerometer, gyroscope and compass to track the motion of the wearer's head.
The device is connected to an Android smartphone via Bluetooth and Wi-Fi, allowing Android apps to use the glasses for heads-up information.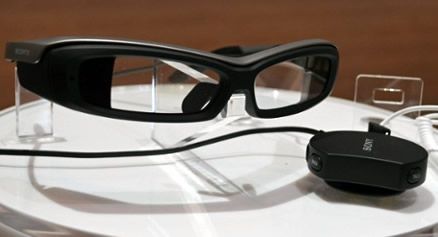 For now, the glasses are require a small handheld control device that packs the battery, a touch strip, microphones for voice recognition and buttons for selecting menu items. But the final product will integrate the battery and the controller into the glasses.

Smart EyeGlass is obviously Sony's response to Google Glass. The Japanese company plans to initially ship it with some industrial applications installed and hopes that it would also end up to the mainstream consumer.
Sony will launch developer kit versions of the smart glasses within a year along with an SDK for standard Android apps. But the final product should not be expected earlier than the end of next year.