Sony Releases Second-Generation Generation of Digital Paper
The second generation of Sony's Digital Paper (model DPT-RP1) has a high-resolution display, a more responsive touch panel, precise handwritten note-taking capabilities and wireless document transfer to a PC or MAC.
Digital Paper is a document reading and note-taking tool designed for professors, researchers or students in varied science and technology disciplines.
The device is based on a 13.3 inch (1650 x 2200 dots) E Ink Mobius display, which uses flexible TFT technology. The screen displays full-size views of 8.5-by 11-inch documents so users can avoid scrolling or zooming to read a full page.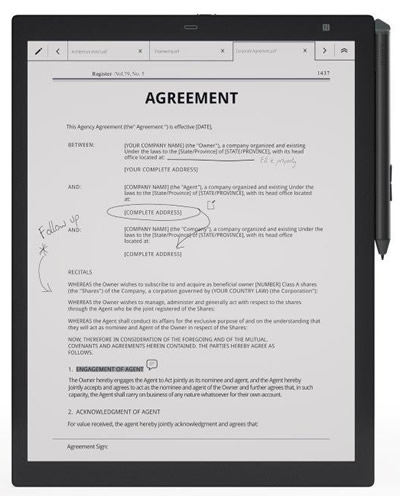 The Digital Paper has a 16GB internal memory, its 0.23 inches thin and weighs 12.3 ounces, about the weight of 60 pieces of letter-sized paper. It enables up to 3 weeks use on a single charge using rechargeable lithium-ion batteries.
The Digital Paper companion app on a PC or Mac allows two-way transfer of single or multiple files to and from Digital Paper via Bluetooth, Wi-Fi or USB. It also enables auto sync and document sharing from widely used document management services such as Dropbox, Box and Google Docs. The "Print to Digital Paper" function lets users print from any Microsoft Word, Excel, PowerPoint, or PDF document. Select Digital Paper as the printer option and send from a Windows 10 PC or Mac to Digital Paper via Bluetooth, Wi-Fi or USB.
Other new feature of Sony's Digital Paper include:
Side Note function - users can page through a document on one side of the screen while taking notes on the other.
Parallel Reading/Review - enables display of separate documents in two-page view for easy review/comparison of multiple documents.
Zoom function - zoom into small text by touching or circling the desired area and annotated in zoomed area.
Advanced search function - for searching by Title, Text, Author and Handwritten Symbols (Star/Asterisk)
Security - prevent unauthorized access to Digital Paper using a screen lock password and secure all content using 128-bit, AES, encryption technology
Marvell 64 bits Quad-core processor
Marvell MIMO Wireless Technology - transfer documents easily between PC and Digital Paper using Wi-Fi or Bluetooth wireless technology.
The DPT-RP1 retails for $700.