Sony Releases New SXRD Full HD Reflective LCD and Signal Processing Drive LSI for Portable Projectors
Sony today announced the upcoming release of the SXRD (Silicon X-Tal (crystal) Reflective Display) SXRD241A, which is said to be the world's smallest reflective display device in full HD resolution designed for portable projectors.
Sony also announced the CXD3554GG, a dedicated drive LSI equipped with a high-definition signal processing function.
The SXRD241A utilizes Sony's original fine pixel pitch technology to reduce the pixel pitch, resulting in full HD resolution on a 0.37-type chip. Generally, when narrowing the pixel pitch, image quality deteriorates due to light leakage into the semiconductor element under the pixel electrode, but Sony added light shielding layers and optimized the pixel structure to achieve significantly improved light shielding function. Sony also employed a new Field-sequential color technique that sequentially switches the RGB light sources at high speed and drives SXRD241A at the appropriate time to deliver full color display on a single panel. Moreover, original SXRD technologies developed for 4K high-end home projectors were adapted to achieve high resolution, high contrast, and high brightness.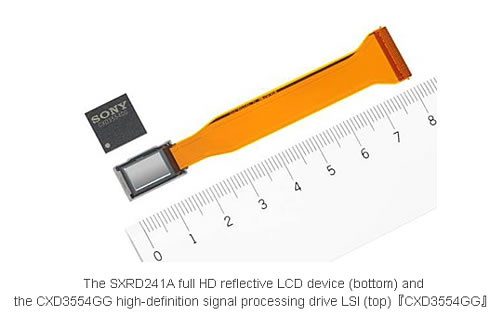 The CXD3554GG uses an original high-definition signal processing function to maximize the properties of the SXRD display device. It is equipped with a new geometric compensation function which ensures distortion free images even on curved surfaces, as well as an edge blending function which does away with image seams when multiple projectors are combined together, creating a single image. All of these functions based on the LSI that will make portable projectors even more usable. By adapting SXRD241A together with CXD3554GG, it is possible to realize high-definition portable projectors even with compact sizes.
Shipments of both units will start next month. These portable projectors will have the ability to provide a distortion-free picture even on curved surfaces. This means you could whip out your device anywhere and enjoy an almost clear picture, no matter what background you're projecting it onto.
Specifications
SXRD full HD reflective LCD display device
Model name
SXRD241A
Display size
0.94 cm Diagonal length (0.37 type)
Resolution
(horizontal x vertical)
1920x1080
Pixel pitch
4.25μm
Aperture ratio
90%
Liquid Crystal mode
Normally black
LC Aligned film
Inorganic alignment film
High-definition signal processing drive LSI
Model name
CXD3554GG
Size
12mm x 12mm x 1.4mm
Package
LFBGA 289-pin (0.65mm pitch)
Voltage
3.3V, 1.8V, 1.2V
Input interface
MIPI D-PHY ver1.1, DSI ver1.1
Input frame frequency
120Hz
Communication interface
I2C, SPI
Main features
Trapezoidal compensation
Geometric compensation
Edge blending