Sony Releases First HDTV Powered by Google TV
Sony is making its biggest push yet into so-called connected televisions, unveiling a line of Google-enhanced sets that aim to fuse TV and Web content together in the living room. Sony today introduced Sony Internet TV, powered by Google TV -- the world's first television with the ability to watch HDTV, enjoy apps, and browse the Internet on one device.
Sony's hardware and Google's understanding of open software is merging multiple content sources in one interface. From broadcast to streaming video from the Internet, Sony Internet TV offers the ability to search and watch content from wherever, whenever.
"Sony Internet TV is the world's first HDTV that combines the big-screen impact of television and full Internet search to deliver an unrivaled entertainment experience," said Mike Abary, senior vice president of Sony's Home Division. "Finally, you can seamlessly search your favorite TV programs and web sites on the same screen, at the same time."
Featuring both integrated television models and a Blu-ray Disc player, Sony Internet TV is powered by Google TV.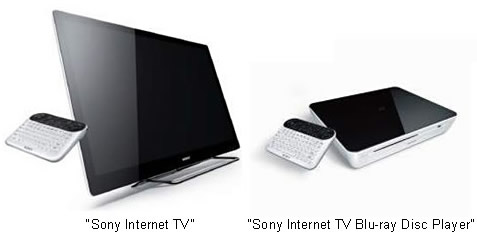 It is built on the Android platform, runs the Google Chrome browser and includes an Intel Atom processor offering the ability to quickly search across Internet and television content for easy access to entertainment and information. The models also feature Dual View, allowing users to watch television while tweeting about what they're watching, checking their fantasy football scores, or finding related content on the web.
They allow users to bookmark content for easy access and add applications from the Android Market (coming in early 2011). The models feature Sony's premium streaming service "Video On Demand powered by Qriocity" as well as pre-installed apps including CNBC, Napster, NBA, Netflix, Pandora, Twitter, and YouTube.
The hand-held RF QWERTY keypad remote incorporating an optical mouse makes it easy to navigate content, type in search terms, and control the TV's user interface. Additionally, select mobile devices such as an Android phone, can control the TV with an app that will be available for download from the Android Market later this fall.
Built-in Wi-Fi makes it easy to connect to home broadband networks to access web content. Additionally, Sony Internet TV is ready for the future and is fully upgradable through system updates.
Sony Internet TV easily connects to select HD DVR devices from Dish Network to include previously recorded content in the search results and control DVR functionality from the set's user interface.
Sony Internet TV Line
Featuring four LCD HDTVs with Google TV built-in, the Sony Internet TV line includes the 24-inch class NSX-24GT1 ($599.99), the 32-inch class NSX-32GT1 ($799.99), the 40-inch NSX-40GT1 ($999.99), and the 46-inch NSX-46GT1 ($1,399.99).
The Sony Internet TV Blu-ray Disc player with Google TV built-in, NSZ-GT1 ($399.99), also allows users to enjoy all of the features of Google TV on their existing HDTV.
Sony Internet TV and the Sony Internet TV Blu-ray Disc Player are currently on pre-sale at SonyStyle online store and BestBuy. They will be available for purchase at Sony Style on October 16 and at Best Buy shortly after.
Google is partnering with Sony and others as it aims to expand its ad search business beyond its Internet stronghold into the $70 billion TV advertising market.
Last week,
Logitech showed off
its $300 set-top box for Google TV.