Sony Launches New VAIO C and L Series Of Laptops
Sony Electronics today announced the VAIO C Series of laptops for the U.S. market. The company also announced VAIO S series and the its VAIO L touchscreen PC for Europe.
Sony VAIO C series
The new VAIO C series is powered by a second generation Intel Core i5 processor and specific models come with a Blu-ray Disc drive (BD combo) and an AMD Radeon HD 6630 1GB Hybrid Graphics card .
The new laptops are available in Neon Orange, Neon Green, white and black colors.
Available exclusively through select retailers in two screen sizes, the CA10 features a 14-inch LED backlit LCD widescreen display (1366x768) and the CB10 features a 15.5-inch LED backlit LCD widescreen display for improved power efficiency and greater contrast, with the option of a Full HD 1080p screen.
The C Series laptop comes with one-touch VAIO, ASSIST and WEB buttons, for launching Media Gallery software, VAIO Care software and access to the web without full boot-up into Windows, all with a touch of a button.
All models incorporate backlit keyboards, illuminating the lettering for typing in dark situations. They also have a built-in HD web camera powered by an "Exmor" sensor and built-in microphone.
With Intel Wireless Display 2.0 in select models, you can sit back and experience your favorite videos, photos and music on your TV.View and share content from your hard drive, home network or the internet wirelessly on your HDTV utilizing the adapter (sold separately).
Connectivity options include Bluetooth, four USB ports (one USB 3.0 and three USB 2.0) and a new HDMI out (3D supported).
The included Sony Imagination Studio Suite 2 VAIO Edition combines five Sony applications so you can enhance and share your music, photos, and movies like never before. The applications include Vegas Movie Studio HD Platinum, Acid Music Studio. Blur-ay dcisc media authoring software as well as Adobe Acrobat Standard.
The Remote Keyboard takes your VAIO PC one step further by helping you navigate menus and options within your PS3 system, connected BRAVIA television or Blu-ray Disc player. Remote Keyboard bridges the technology gap and allows you to wirelessly pair your VAIO PC?s keyboard and touchpad with Sony connected devices and use them to navigate menus, browse the internet and enter text.
The VAIO C Series laptops will be available for pre-sale on March 13 at www.sonystyle.com/cseries for a starting price of about $880. They will also be available in Europe in March / April 2011.
Sony VAIO S Series
Sony also announced today the new VAIO S Series of 13.3" notebook PCs , that will be available in Europe from March/ April 2011 depending on country.
The slim VAIO S Series features a new 'full flat' design that?s crafted in magnesium with a wide aluminium palmrest for strength and looks. Overall thickness shrinks to less than 24mm, while weight is 1.75kg (approx.)
The internal lithium polymer battery provides power for up to 7 hours on-the-go computing (in Stamina mode). It?s partnered by a second thin, flat optional lithium polymer extended battery that can be charged separately from the PC and added without removing the internal battery. The second battery attaches without having to switch off the PC, boosting stamina to up to 14 hours.
Dynamic Hybrid Graphic System switches between the integrated GPU and AMD Radeon HD 6000 Series card (with either 512MB or 1GB VRAM), according to the task at hand.
The 13.3" (33.7cm) VAIO Display features a low-reflection coating and a resolution of 1366x768.
Fast Boot gets you up and running with 50% quicker than conventional notebook when loading of Genuine Windows 7. There?s also a WEB button that powers up your PC for Internet access in seconds.
Available on selected models, embedded VAIO "everywair" 3G WWAN lets you connect on the move via your mobile broadband operator at up to 7.2Mbps.
New VAIO S Series is available in a choice of black, white and silver finishes.
Specifications
Model: VAIO VPCSB1A9E/B
Processor: Intel Core i7-2620M
OS: Genuine Windows 7 Professional (64bit)
Memory:8GB DDR3 1333Mhz SDRAM
Drive: 128GB SSD Flash memory
Screen: 33.7cm (13.3") VAIO Display Plus (1366x768) with wide (16:9) aspect ratio
Hybrid graphics: AMD Radeon HD 6630M + Intel HD Graphics
Optical drive: Blu-ray Disc ROM Drive with DVD SuperMulti
Others: WLAN 802.11b/g/n; 3G WWAN; Bluetooth 2.1; Hi-Speed USB 2.0 (x2), SuperSpeed USB 3.0 (x1); HD web camera powered by "Exmor"; VAIO Assist and Performance Switch buttons, Fast boot
Dimensions (DxHxW): 224.5 x 23.9 x 331mm (approx.)
Weight: Approx. 1.75kg (with standard internal battery)
New VAIO L Series
Besides the new notebooks, Sony also today announced the VAIO L Series all-in-one multimedia PC.
The device features a slim design a glossy black finish, with the tilt-adjustable 'floating' display resting on a sleek V-shape stand. It has a 24" (61cm) Full HD VAIO Display Plus multi-touch screen with LED backlight. The LCD screen of VAIO L Series is surrounded by a touch sensitive new "Edge Access" that gives friendly 'no mouse' access to key functions.
Touching the VAIO logo in the top corner of the bezel launches Media Gallery, which allows you to browse your collection of photos, videos and music. Other touch-sensitive regions of the bezel let you navigate or zoom documents and web pages, flick between on-screen windows, launch an on-screen 'virtual' keyboard or view a handy operation guide.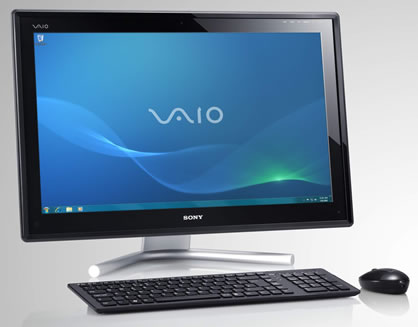 The device is powered by the latest generation of Intel Core i7 or i5 processors and latest NVIDIA graphics with DX11 support.
Depending on configuration, a Blu-ray Disc writer is provided as well as an integrated HD web camera powered by "Exmor".
The WEB button powers up the system in seconds while the ASSIST button launches VAIO Care software, troubleshooting problems.
An HDMI output connects VAIO L Series to any HD Ready television. There?s also an HDMI input that turns VAIO into a Full HD monitor, even when the PC?s not booted up.
Wireless data transfers are accelerated by Bluetooth 3.0, while SuperSpeed USB 3.0 boosts file transfer speeds by up to ten times compared with USB 2.0.
The all-in-one 24" VAIO L Series family multimedia PC by Sony will be available in Europe starting from the end of March 2011.
Specifications
Model: VAIO VPCL21S1E/B
Processor: Intel Core i7-2630QM
OS: Genuine Windows 7 Home Premium 64bit
Memory: 8GB DDR3 SDRAM (1333MHz)
HDD: 1TB Serial ATA
Screen: 61cm (24.0") VAIO Display Plus (1920x1080) multi-touch plus "Edge Access"
Graphics: NVIDIA GeForce GT 540M
Optical drive: Blu-ray Disc Drive with DVD SuperMulti
Others:
WLAN 802.11b/g/n; Bluetooth Ver 3.0 + HS; Hi-Speed USB 2.0 (x3), SuperSpeed USB 3.0 (x2); HDMI Output (x1); HDMI Input (x1); HD Web Camera powered by "Exmor"; S-Force Front Surround 3D; Dolby Home Theater technology; Internal stereo speakers 5.5W+5.5W; DISPLAY OFF button, ASSIST button, WEB button, VAIO button; wireless keyboard and laser wireless mouse