Sony Expands XAVC Format To Professional and Consumer Market
Sony is expanding the XAVC format to professional and consumer market, with the release of the Long GOP (4K 4:2:0 and HD 4:2:2) and the XAVC S codecs for video recording. Sony's XAVC format have been introduced with the company's successful CineAlta 4K cameras. The format holds various advantages for high quality image reproduction including 4K pixel resolution, 10 bit color depth, wide color space (S-Gamut) and refined gamma (S-log).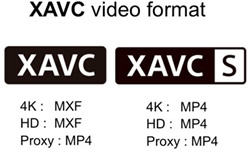 Sony at NAB announced Long GOP (4K 4:2:0 and HD 4:2:2) as choice of high-efficiency codec to serve more widely the requirements of the content production market.
In addition, to serve the consumer market, XAVC S employing MP4 wrapping format is also introduced as its expansion of XAVC. Sony hopes that this expansion will encourage growth of 4K content in the consumer market.
"XAVC S" profile
- Resolution: 4K (3840 x 2160), HD, and Proxy
- Compression: MPEG-4 AVC/H.264
- Wrapping format: MP4
- Audio: Linear PCM and AAC
XAVC is introduced as an open format, to serve as a driver to promote and establish 4K content production infrastructure. A license program is proposed not only for editing software manufacturers but also for hardware manufacturers. According to Sony, over 60 manufacturers have filed a request to become a licensee, and 31 manufacturers? products plan on their support for Sony XAVC format and workflow.