Sony Ericsson Delivers New Entertaining Smartphones, Cedar and Full Touch Walkman Phones
Sony Ericsson will update its Xperia collection later this year with Android 2.1 models, announced the new Xperia X8, the affordable Sony Ericsson Cedar model and the Sony Ericsson Yendo with Walkman, the first full touch Walkman phone.
The new Xperia lineup
The Xperia X10, X10 mini and X10 mini pro smartphones will all receive software upgrades during their lifecycle to improve performance and add new communication and entertainment experiences, Sony Ericsson said. From Q3 2010 onwards, the Xperia X10, X10 mini and X10 mini pro smartphones will be upgraded to run on the Android 2.1 operating system in selected markets. The Xperia X10, the company's multimedia Android smartphone, will support HD video recording as part of the same Q3 upgrade. A further upgrade to the Xperia X10 in Q4 will make it possible to connect wirelessly to and display content on a television and enhance the Timescape and Mediascape applications.
The Xperia X10 is the flagship of the Xperia collection and has an 8.1 megapixel camera and a 4-inch screen.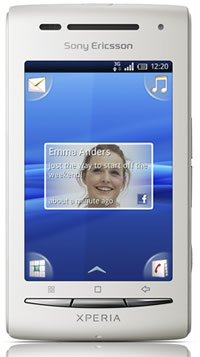 Today Sony Ericsson also announced the Xperia X8, which will build on the X10. The user interface is similar to that of the Xperia X10 mini, with the four-corners that give easy one hand use and can be customised for one touch access to favourite applications. The Xperia X8 also includes Timescape for easy access to all social networking and the infinite button for one click access to a world of content. The open Android operating system delivers smartphone functionality and access to thousands of applications on Android Market. The phone also offers access to the web, it has a 3-inch screen (320 x 480 pixels HVGA) and a 3.5mm headphone jack. A 3.2 MP camera with video recording functionality is also available.
The XPERIA X8 will be available in selected markets from Q3 in the colours White, Dark Blue/ White, Aqua Blue/ White, Pink/ White, Silver/ White.
Sony Ericsson Cedar
Sony Ericsson also announced the Sony Ericsson Cedar mobile phone. The phone offers easy browsing capabilities with features such as 3G HSDPA and access to e-mail and social networking sites.
The phone offers users a social networking experience with the Widget Manager 2.0 - an application which allows users access social networking via the stand-by screen.
- Widget Manager 2.0 allows easy access to your favourite social network and applications
- Social network applications - Facebook, Twitter and MySpace
- Keep contacts close - hassle-free phone book transfer and web backup
- Stay organised with calendar, phone book, email
- Fast browsing with 3G and direct access to the web browser
- EAS Push email and modem connectivity
- Connect your headphones on the 3.5mm jack and enjoy music, video on the go.
- Capture the moment with the 2Mp camera and send it by MMS Human curvature design - fits into the palm of the hand GreenHeart - for a greener choice
In line with the company's GreenHeart commitment, Sony Ericsson Cedar features various green credentials such as recycled plastics, a low power consumption charger, an e-manual, waterborne paint and compact packaging. The phone is perfect for businesses that are looking for a green alternative as it offers push mail, Bluetooth connectivity and HSDPA.
The Sony Ericsson Cedar will be available in selected markets from Q3 in the colours Black/Silver and Black/Red.
Sony Ericsson Yendo with Walkman
The new Sony Ericsson Yendo with Walkman is the first full touch Walkman phone which combines music, social networking and communication in one colourful phone.
The phone features a four corner touch UI allowing users to find the most important phone features in one easy and fun one hand operation. It offers text messaging, Facebook or email access and has a 2.6" touch screen.
- Music - jam-packed with Walkman phone features, including Touch TrackID, MediaGo and PlayNow
- Social - access to social networking such as Facebook, Twitter, or Orkut
- 2.0 megapixel camera
- Browse the web and chat or e-mail
.
The Sony Ericsson Yendo with Walkman
Camera
* 2.0 megapixel camera
* 4x digital zoom
Music
* Album art
* Bluetooth stereo (A2DP)
* Walkman player
* Music player
* Music tones (MP3/AAC)
* PlayNow
* TrackID
Web
* Bookmarks
* Google search (from standby)
Communication
* Speakerphone
* Vibrating alert
Messaging
* Conversations
* Email
* Picture messaging (MMS)
* Predictive text input
* Sound recorder
* Text messaging (SMS)
Design
* Touchscreen
Entertainment
* Facebook application
* Orkut application
* Twitter application
* FM radio
* Java
* Video viewing
Organiser
* Alarm clock
* Calculator
* Calendar
* Document readers
* Flight mode
* Notes
* Phone book
Connectivity
* 3.5 mm audio jack AVP
* Bluetooth technology
* Micro USB connector
* Modem
* USB mass storage
* USB support
Preloaded applications
* Facebook ? social networking
* Twitter ? social networking
* Brick Breaker Rev
* Night Club Fever
Screen
* Colours: 262,144 colour TFT
* Resolution: 320x240 pixels
* Size (diagonal : 2:6 inches
* Size: 93.5 x 52 x 15.8 mm
* Weight: 81 grams
* Phone memory: Up to 5MB
* Operating system: Sony Ericsson Proprietary
* Processor: 720MHz
* Talk time GSM/GPRS: Up to 3.5hrs
* Standby time GSM/GPRS: Up to 312hrs
* CPU ARM946 @ 156Mhz
Availability and versions
* Networks
* GSM GPRS/EDGERx 850/1900
* GSM GPRS/EDGERx 900/1800
* Available in selected markets in Q32010
The Sony Ericsson XPERIA X8
Camera
* 3,2 megapixel camera
* Direct picture upload to Facebook
* Geo tagging
* Sony Ericsson Album application
* Video recording
Music
* Bluetooth stereo (A2DP)
* PlayNow
* Sony Ericsson Music Player
* TrackID
Web
* Bookmarks
* Pan and zoom
* WebKit web browser
Communication
* Facebook application
* Sony Ericsson Timescape
Messaging
* Push email
* Instant messaging
* Microsoft Exchange ActiveSync support with Dataviz RoadSync
* Picture messaging (MMS)
* Predictive text input
* Text messaging (SMS)
Design
* Auto rotate
* Picture wallpaper
* Capacitive touchscreen
Entertainment
* Infinite button
* Sony Ericsson FM radio
* Video streaming
* Video viewing
Organiser
* Calendar
* Flight mode
* Phone book with dialer
* Sony Ericsson Home with Widget
* Notes
Location-based services
* A-GPS
* Google Maps
* Wisepilot turn-by-turn navigation* (free trial version)
Connectivity
* 3.5 mm audio jack
* Bluetooth technology
* Micro USB connector
* NeoReader barcode scanning app
* Sony Ericsson Sync
* USB mass storage
* USB support
* Wi-Fi
Google services
* Android Market Client
* Gmail
* Google Calendar
* Google Latitude
* Google Maps with Street View
* Google search widget
* Google Talk
* YouTube
Screen
* 16,777,216 colour TFT touchscreen
* Capacitive touchscreen
* 3.0 inches
* 320 x 480 pixels (HVGA) * Scratch-resistant (min. pencil hardness 6H)
* Size: 99 x 54 x 15 mm
* Weight: 104g
* Phone memory: Up to 128 MB
* Memory card support: microSD up to 16GB
* Memory card included: 2 GB
* Operating system: Google Android Donut, version 1.6
* Processor: 600MHz
Availability and versions
* Networks
* UMTS HSPA 900/2100
* GSM GPRS/EDGE 850/900/1800/1900
* UMTS HSPA 800/1900/2100
* GSM GPRS/EDGE 850/900/1800/1900
* Available in selected markets from Q3 2010
Sony Ericsson Cedar
Camera
* 2 megapixel camera
* Video recording
* VGA @ 30 fps
Music
* Media player
Web
* Bookmarks
* Web browser (Access Netfront 3.5)
Voice
* Call list
* Conference calls
* Phone book
* Speakerphone
Messaging
* Conversations
* Email
* Exchange ActiveSync
* Instant messaging
* Picture messaging (MMS)
* Predictive text input
* Sound recorder
* Text messaging (SMS)
Design
* Navigation key
* Picture wallpaper
* Wallpaper animation
Entertainment
* Games
* Radio (FM)
* Video streaming
* YouTube
Organiser
* Alarm clock
* Calculator
* Calendar
* Flight mode
* Notes
* Phone book
* Stopwatch
* Tasks
* Timer
* Widget manager
Connectivity
* 3.5 mm audio jack
* Bluetooth technology
* Synchronisation
* USB mass storage
* USB support
Applications and panels
* Widget Manager applications
* Facebook application
* Twitter application
* MySpace application
* Notes
* Calendar
GreenHeart identity
* Low consumption charger
* Small packaging
* E-manual
* Recycled plastic
* Waterborne paint
Screen
* Size (diagonal) 2.2 inches
* 262K Colors TFT
Size and weight
* Size: 111 x 49 x 15.5 mm
* Weight: 84 grams
Battery life
* Talk time (GSM): 12 hours 30 min
* Standby time (GSM): 420 hours
* Talk time (UMTS) 4 hours 56 min
* Standby time (UMTS) 475 hours
* According to GSM Association Battery Life Measurement Technique
Availability and versions
* Available from Q3 2010
Colour
* Black/Silver and Black/Red