Sony Announces Market Launch of Sony Tablet, eReader, New VAIO S Laptops
Sony today announced the market launch of its first two Sony Tablet devices, the Android-powered Sony Tablet S and Sony Tablet P. The company also announced a 6"eReader as well as a new VAIO S Series laptop with an 15-inch full HD display.
Sony tablets
The Sony Tablet S and Sony Tablet P are both available for pre-sale today and on shelves next month.
The Sony Tablet S device is optimized for rich media entertainment on its 9.4-inch touchscreen display. It is powered by an NVIDIA Tegra 2 mobile processor, features a high-resolution screen, Wi-Fi compatibility and its weight is about 1.33 lbs.
Available later this year, the Sony Tablet P device has been designed for mobile communication and entertainment. With its folding design, two 5.5-inch displays and weight at about 0.83 lbs., it can easily fit into a pocket. It features the same NVIDIA Tegra 2 mobile processor and is both Wi-Fi compatible and 4G capable exclusively on AT&T's mobile broadband network.
Both devices run on Android, Android 3.1 on Sony Tablet S devices and Sony Tablet P devices will be equipped with Android 3.2 by the time they ship. Both models feature front and rear facing cameras that allow for video recording and capturing still images. The devices also support micro USB interface and SD card.
Software taking advantage of the design of the Sony Tablet P device allows its dual screens to be used for different functions simultaneously such as playing video on one screen while using the other as a controller or reading email on one screen while using the other as a virtual keyboard. The displays can also be combined to form a single large screen for Internet browsing and more. By holding the device vertically, you can also read eBooks much in the same manner you would a physical book.
Both Sony Tablet devices are equipped with Sony's TruBlack displays which reduce reflection and glare from sunlight or fluorescent light for high-contrast visibility both indoors and out.
A combination of Sony technologies, Quick view and Quick touch, allow for faster loading of web pages, a responsive touch screen as well as an intuitive user interface. The large keys of the virtual keyboard take full advantage of screen real estate while automatically adjusting to the task at hand. A numeric keypad pops up when inputting passwords and word suggestions or auto word complete make email and texting a breeze.
Both Sony Tablet devices come complete with access to a suite of Sony's network entertainment services.
- Sony Entertainment Network services: Access to the latest Video releases from every major movie studio to rent or own through Video Unlimited. A pre-open campaign for the Sony Tablet devices will be offered at device launch with limited content and more content will continue to be released over time. Music Unlimited, available in October, offers instant access to a global catalog of over 10 million songs from every major record label. A six month trial basic membership from Music Unlimited and a free movie download from Video Unlimited come with the purchase of each device.
- PlayStation Certified: Sony Tablet devices are the first PlayStation Certified tablets that provide out-of-the-box gaming with included favorites "Crash Bandicoot" and "Pinball Heroes."
- Reader Store: Access bestsellers, new releases, classics, magazines and more from more than 2.5 million titles at Reader Store by Sony.
- Personal Space by Sony: This free service allows you to share pictures and videos captured on Sony Tablet devices. You can also access albums that were previously uploaded from other devices.
With Sony Tablet devices, you can "throw" personal pictures and video to DLNA compatible televisions with the touch of a button. You can also throw music to compatible wireless speakers. The Sony Tablet S device, which is equipped with infrared technology, can act as a remote control for multiple home entertainment components such as TVs, Blu-ray Disc players, cable and satellite boxes, and more. The built-in Universal remote not only controls your Sony products, but other brands as well. Both Sony Tablet devices are compatible with the Media Remote app which allows you to control Sony devices, including BRAVIA televisions, through Wi-Fi technology.
The Sony Tablet S device is available in both a 16 GB and 32 GB version and will be sold at Sony Stores including online and other authorized retailers in the U.S. for about $499 and $599, respectively.
New VAIO S Series Laptop With 15 Inch Full HD Display
Sony also today unveiled an all new VAIO S Series laptop with a 15.5-inch Full HD 1080p display featuring a slim and light design and optional sheet battery for all day mobility.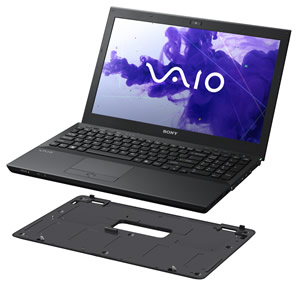 At just under 1-inch thin and 4.4 pounds, the 15.5-inch S Series is easy to handle, while the Full HD display paired with Hybrid Graphics allows for increased productivity. The new 15.5-inch model is crafted with magnesium and aluminum materials for lightness. When coupled with the advanced large-capacity optional sheet battery, you can stay mobile and unplugged for up to 12 hours while also offering a thin battery profile. Intelligent charging enables you to charge the optional sheet battery separately from the PC and attach it to the system at any time without shutting down.
Performance is top priority with the available second generation Intel Core i7 processor. With Intel Turbo Boost Technology 2.0, the processor increases speed automatically, delivering the performance needed for multitasking. For quicker boot-ups, faster application launches and overall maximum performance and ample storage, select models are equipped with solid state drives and feature Quad RAID 0 technology up to 1TB. Security features include Trusted Platform Module (TCG ver. 1.2 certified) and enhanced online security by Symantec VIP Access technology.
AMD Radeon HD 6630 Hybrid Graphics card (select models) with 1GB VRAM gives a premium visual experience and intense HD performance without placing huge demands on the CPU. A performance switch lets you choose between Speed mode for maximum power or Stamina mode for optimized battery life.
The S Series laptop comes with one-touch VAIO, ASSIST and WEB buttons, for launching Media Gallery software, VAIO Care support software and access to the web without full boot-up into Windows, all with a touch of a button.
The new 15.5 inch S Series also includes a built-in HD web camera powered by an Exmor sensor as well as a built-in microphone.
The VAIO S Series is also equipped with a Blu-ray Disc drive (select models). With Intel Wireless Display 2.1, you can sit back and experience your favorite videos, photos and music on your TV. Stop crowding around a laptop screen and view and share content from your hard drive, home network or the Internet wirelessly on your HDTV (adapter sold separately).
The new VAIO S Series 15.5 inch laptop PC will be available in October at www.sony.com/sseries starting at about $1,000, and the optional sheet battery at about $150.
Additionally, Sony is refreshing the existing 13.3 inch S Series with the latest second generation Intel Core processors and will be available at www.sony.com/sseries starting October 2, 2011.
New eReader
Sony also today announced the launch of a touch screen 6" eReader, Reader Wi-Fi (PRS-T1). The new Reader Wi-Fi builds on the popularity of last year's line, while reducing size and weight and incorporating new features. At under 6 ounces and with a 6" E-Ink Pearl V220 touch screen, Reader Wi-Fi is smaller than an average paperback book, can easily fit into a bag or pocket and is available in three color choices: black, red or white.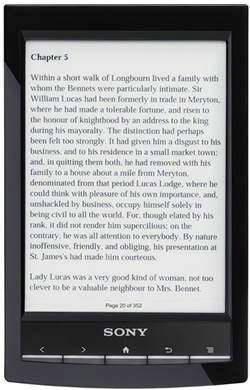 Reader Wi-Fi will also be the first eReader to offer wireless connectivity to the public library system in the US and Canada via a dedicated icon on the device to allow easy borrowing of free e-books with a valid library card. Readers can access and download over 2.5 million titles via a Wi-Fi connection from Reader Store or shop from a wide range of bookstores and other websites that provide books in digital formats compatible with Reader Wi-Fi, such as EPUB, PDF and TXT.
Sony's first offer in collaboration with J.K. Rowling's Pottermore website (www.pottermore.com) is a specially-created Reader Wi-Fi with a Pottermore promotion (PRS-T1HBC) which includes a voucher that enables Harry Potter fans to download free the first Harry Potter eBook title, Harry Potter and the Sorcerer's Stone, from Pottermore, when it becomes available.
Reader Wi-Fi will feature a glare-free Clear Dual Touch screen. E-Ink Pearl electronic paper displays a high contrast image that is easy to read for hours, even in direct sunlight. Book lovers can touch the screen to choose a book, swipe a finger to turn the page, zoom in and out by pinching fingers together or apart, tap and hold a word to find its meaning or translate into one of the 5 supported languages. On board are 12 dictionaries including 2 English language (British/American) and 10 translation (to and from French, German, Spanish, Dutch and Italian). Readers can even 'write' notes on the page or highlight text with a finger or the supplied stylus - just like a real book. With a battery life of over one month (3 weeks with wireless on) and 2 GB of storage capacity (enough to hold about 1,200 eBooks), Reader Wi-Fi makes reading easier, virtually anytime and anywhere.
Reader Wi-Fi offers users numerous options for customization. Users can view collections of digital photos on-screen, plug-in headphones to listen to stored music while reading, or change the image on the front cover to the current title or to a favorite photo as a screensaver when your Reader Wi-Fi is in standby mode. Users can also personalize the reading experience by choosing from eight font sizes and a choice of six font styles. Screen contrast and brightness are easily adjusted for comfortable viewing in any lighting condition.
Reader Wi-Fi (PRS-T1) and Reader Wi-Fi with Pottermore promotion (PRS-T1HBC) are expected to be available October 2011 for about $149 at Sony Stores, online at http://store.sony.com, and other authorized retailers.