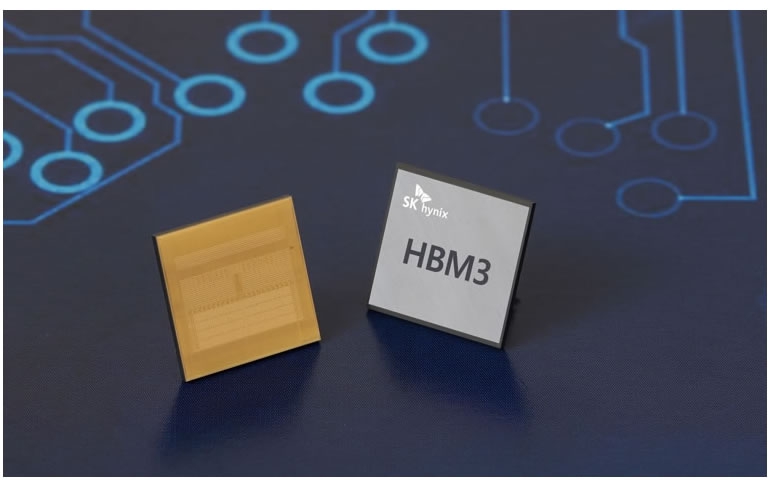 SK Hynix Presents HBM3 DRAM
SK hynix's HBM3 uses over 8,000 TSVs per stack (i.e. over 100,000 TSVs in a 12-Hi stack) and can feature up to 12-Hi stack, which is an upgrade from the previous HBM2E's 8-Hi stack. When fully stacked, it can offer up to 24 GB of capacity. With a 16-channel architecture, it runs at 6.4 Gbps, which is double that of HBM2E.
HBM has become a prerequisite for the Levels 4 and 5 of driving automation when it comes to autonomous vehicles, a topic that has garnered a great deal of attention nowadays. Also, HBM3 is expected to play an even bigger role along with the growth of High Performance Computing (HPC), Artificial Intelligence (AI), Machine Learning (ML), and Advanced Driver Assistance Systems (ADAS) markets fueled by the acceleration of digital transformation.
HBM3 is more than just a high-performing product. It will find a solution to the common problem shared by all data centers around the world. As of today, the power consumed by a server memory accounts for about 20% of the total power consumption of a server, and it is expected to rise to about 35% by 2025. However, imagine replacing all GDDR products used in all servers with HBM3? By 2030, we would be able to reduce greenhouse gas emissions by about 830,000 tons.
It is an undeniable fact that the number of data centers will only increase, and our commitment to the environment will only have to increase as well. Why hesitate to use HBM3 when it is right there in front of us? SK hynix has presented Memory Forest, one of its latest initiatives demonstrating the company's commitment to protect the environment and create a sustainable and innovative memory ecosystem. Just as a natural forest is a holistic ecosystem and home to a variety of living organisms, Memory Forest is a model that aspires to be a similarly rich and green ecosystem of ICT players.
In this regard, HBM3 is undoubtedly one of the best memory solutions for the recent ESG trend. HBM3 is the core product for the future technological ecosystem that SK hynix wants to build and will be the best option for the customers that not only meets the ESG standards but also boosts their corporate values.