Sharp's New 70-inch 8K HDR Display Is Relatively Lightweight And Power-efficient
Sharp will start selling in Japan a new 70-inch liquid crystal display (LCD) along with a 8K tuner for 8K broadcasts.
Available in the 30th of June, the LV - 70002 is the first LCD to support the HDR standard at the resolution of 8K (7,680 x 4,320 pixels). The display supports both the HLG and PQ HDR standards and its peak luminance is 1,000 cd / m2 . Connected to an external TU-SH1050 8K tuner, it can be used as an 8K TV.
Using 4x HDMI inputs, the TV accepts 8K video footage. The display is also equipped with 4 additional HDMI inputs, although those are not compatible with 8K video. The built-in speaker system consists of 10W x 2ch and a 15W subwoofer.
The LCD achieves a 79% of the BT.2020 ratio and it is equipped with Sharp's "Mega Contrast" technology.
Japan plans to start 8K broadcasts in December 2018.
Sharp has already released its first 8K display in Japan, and that 85-inch IGZO LCD has sold about 100 units so far, priced at about 15 million yen ($136,920).
The 70-inch LCD weighs 42.5 kg - the same as the existing 4K monitors. For comparison, the 85-inch 8K model weights about 100 kg. In addition, the new 70-inch model consumes 470W (standby 0.15W), which is significantly lower than the 1,440W rating of the 80-inch model.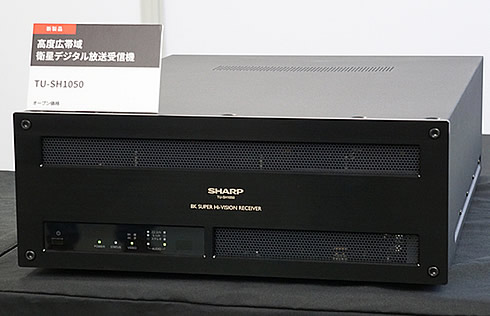 The LV - 70002 will be priced at about 8 million Yen ($73,016) and the TU-SH1050 tuner at 7 million Yen ($63,889).