Sharp Releases New AQUOS LCD TVs, 1TB Blu-ray Recorder
Sharp added today new LCD TV models to its AQUOS series and unveiled new Blu-ray recorders equipped with hard disk drives. Sharp's AQUOS brand now includes the RX5 Series, GX5 Series, and DS5 Series of LCD TVs, and the BD-HDW30, BD-HDW25 and BD-HDW22 Blu-ray disc recorders.
AQUOS RX5 Series
Available in 65", 52" and 46", the new panels offer a contrast ratio of 3300:1 and a "living contrast" ratio of 1500:1, providing in total a stunning contrast ratio of 20000:1, and a brightness of 450cd/m2. The new full HD TVs also feature a 120Hz refresh rate for perfect display of moving pictures and a 12bit BDE image processor. Three HDMI inputs are available for digital connections with other devices. The products will retail in Japan in the 1st of July, available in brown and black color variations.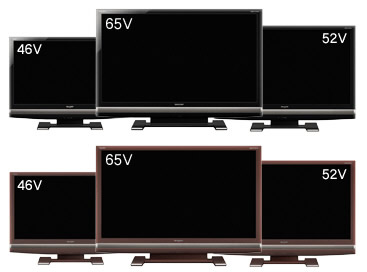 (http://www.sharp.co.jp/corporate/news/080519-e.html)
AQUOS GX5, GH5 Series
Available in full HD (GX5) and HD ready (GH5), these LCD TVs come with panel sizes ranging from 26" up to 52". All models have the 120Hz ASV panel, a contrast ratio to 2000:1 (dynamic 15000:1), and a brightness of 450cd/m2.
(http://www.sharp.co.jp/corporate/news/080519-d.html)
AQUOS DS5 Series
The D series includes three full HD TVs that come in black, red and white colors. Sizes ranging from 32" to 42", they feature a 2000:1 contrast ratio and a 450cd/m2 brightness. Note that these panels are not supporting the 120HZ refresh rate. Availability will start in the 10th of July.
(http://www.sharp.co.jp/corporate/news/080519-c.html)
AQUOS DVRs With Blu-ray and Hard disk drives
Sharp will release in Japan in early July three new Blu-Ray DVR (Digital Video recorders).
The BD-HDW30 with 1TB of storage, the BD-HDW25 offers a 500GB hard disk drive while the BD-HDW22 comes with a smaller one of 250GB.
All three DVRs record video in MPEG-4 AVC/H.264, with three different Bitrates (4.8, 8 and 12Mbps). They are equipped with both digital and analog TV Tuners.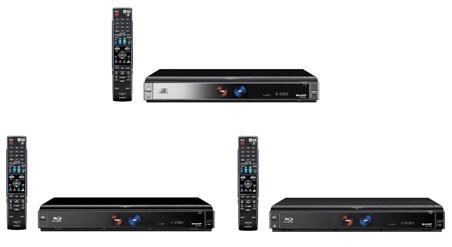 The models do not support the AVREC function, which allows recording of High-def broadcasting on DVD media.
The HDMI interface outputs 1080/24p content, and bit stream DTS-HD Master, Dolby NR TrueHD, DTS-HD HRA, and the Dolby Digital plus audio.