Sharp Releases New AQUOS 8K LCD TVs With 8K Satellite Tuner
Sharp announced its second-generation AQUOS 8K TVs for the Japanese market, featuring a new 4K8K satellite broadcasting tuner.
Available from November in Japan, the enw series includes the 80-inch 8T-C80AX1 (2 million Yen, $17,900), the 70-inch 8T-C70AX1 (1 million Yen $8,950) and the the 60-inch 8T-C60AX1 (750,000 Yen, $6,700) models.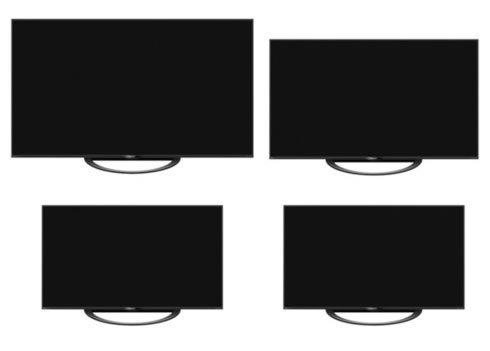 Sharp released its first generation of 8K TV in 2017 (AQUOS 8K LC-70X500), but the model did not include a 8K tuner. The new models are compatible with NHK's new 4K8K satellite broadcasts that will start in Japan from December 1st.
The 120Hz TVs use LCD panels with support for the 8K / 7,680 x 4,320 resolution and 176 degree viewing angles. AquoMotion 960 promise sto deliver clear images, even during fast-motion scenes. Equipped with the newly developed "AQUOS 8K Smart Engine PRO", the TVs are able to upconvert 2K and 4K video to 8K, with Sharp to talk about "8K reality restore up-conversion" and "8K 3D noise reduction" technologies for better results.
The TVs run on the latest Android 8 Oreo OS and also support high-quality 8K + HDR. They have sets of a total of 8 speakers (2x tweeter, 2x mid-range and 2x subwoofer) in a total output of 70W (10W x 4ch + 15W x 2ch).
In terms of connectivity, the TVs are equipped with 4x HDCP 2.2 HDMI inputs since providing a single HDMI 2.1 port for 8K content is not yet possible.
For those looking to record 8K broadcasts, Sharp is offering the new AQUOS 8K HDD (8R-C80A1). The device uses a USB 3.0 connection and a 8TB capacity. It will be released in Japan next month for 130,000 yen.
Sharp will also release the company 8TB 8K connected to the TV can record the 8K broadcast USB HDD "AQUOS 8K HDD (8R-C80A1)" to November 17. The price is open price, estimated retail price of 130,000 yen ($1,160).

Lasy but not least, Sharp announced the AQUOS 8K external tuner (8S-C00AW1) for the owners of the AQUOS 8K LC-70X500 TVs that was released in 2017. It will be available in November for 250,000 yen ($2,240).