Seagate, LaCie Showcase Their Storage Technologies at CES
Seagate Technology plc and its LaCie brand have on display at CES their storage and data protection offerings at CES. Seagate showcases Backup Plus FAST, its 4TB portable hard drive that's the first to deliver up to twice the capacity and speed of existing external portable hard drives.
Available from Seagate.com for an MSRP of $299.99, the Backup Plus FAST and all new Backup Plus drives include an updated version of Seagate's Dashboard software that includes a mobile backup app to protect content on smart phones and tablets. The free Seagate Mobile Backup app backs up pictures and videos to a drive or a cloud service; files can be sent via a WiFi connection within a network, or through Dropbox, Google Drive or other cloud service while on the road.
Seagate also announced the second generation of its sleek external storage lineup, Seagate Backup Plus Slim. The USB 3.0 drive includes the backup software, Seagate Dashboard, which provides an one-click backup solution, but can also be set as a scheduled backup up as needed. Additionally, the Dashboard software will back up Facebook and Flickr albums to ensure that even video and photos shared through these networks are backed up. Use the Save and Share features to download and upload content from these social media networks.
New for the Backup Plus family of external storage this year is the addition of a mobile backup application to provide protection for one?s digital data on nearly every device. By installing the free Seagate Mobile Backup app on an iOS or Android mobile device, one can back up all of the pictures and videos from that device to the drive or a cloud service. While on a home network, content from mobile devices can be sent directly to the drive via a Wi-Fi connection. Cloud services such as Dropbox or Google Drive can be used for backup while on the road.
The USB 3.0-powered, 2TB drive is the highest capacity drive fitting into a 12.1mm form factor. The metal-top case of these drives, available in red, blue, black and silver, is designed to resist scratches and fingerprints.
Seagate Backup Plus storage is currently available from Amazon and Seagate.com by capacity: for Backup Plus Slim portable: 500GB Slim - $99.99, 1TB Slim - $119.99 MSRP, 2TB Slim - $179.99 and the 4TB Fast - $299.99.
The high-capacity Seagate Backup Plus desktop 3.5-inch is available in 2TB - $129.99, 3TB - $159.99, 4TB - $229.99. All prices are MSRP.
LaCie demonstrates Fuel, its new go-anywhere wireless hard drive that adds 1TB of external storage capacity to the iPad, iPhone, Mac, and other compatible mobile devices. The drive?s compatibility with AirPla lets users stream movies onto the big screen via Apple TV or stream music to compatible speakers.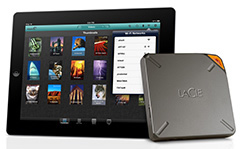 LaCie also unveiled the Little Big Disk Thunderbolt portable storage solution, which delivers speeds up to ten times faster than any mobile USB 3.0 hard drive. Designed by Neil Poulton the drive will be available for purchase in the first quarter of 2014 through LaCie?s resellers and LaCie.com.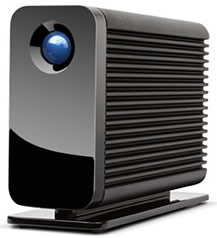 The LaCie Sphere - designed by Christofle and handcrafted and silvered in France - was also unveiled in Las Vegas. The handcrafted hard drive derives its name from its silver-plated steel spherical case. The LaCie Sph?re will be available this quarter in a 1TB capacity.
Seagate also unveiled the expansion of Seagate Rescue, its new data protection service plan, to include Staples in the United States, and NCIX and Canada Computer in Canada. The new plan will now also cover hard drives and storage in laptop or desktop computers. The plan delivers data protection on a range of storage options from multiple brands. It?s also the only data recovery service offered by the people who make storage technology.
The Seagate Rescue service is available now. Staples launched the Seagate Rescue plan in 1,537 stores in the U.S. with the following MSRPs: laptop and desktop computers starting at $49.99 USD for a two-year plan; external drives starting at $29.99 USD for a two-year plan. NCIX, a Canadian retailer, made the service available this quarter with the following MSRPs: $69.99 CDN two-year rescue plan for both laptop and desktop personal computers; the three-year plan for computers is $89.99 CDN. The external storage protection plan has an MSRP of $39.99 CDN for two years and $49.99 CDN for three years. Canada Computer made Seagate Rescue service available last month to their customers just in time for the holidays with the same pricing.