SanDisk Releases Z400s SSD for Mainstream PCs And Embedded Applications
SanDisk today introduced the new SanDisk Z400s SSD, a cost effective solid-state drive (SSD) designed to replace hard-disk drives (HDDs) in computing platforms and embedded applications.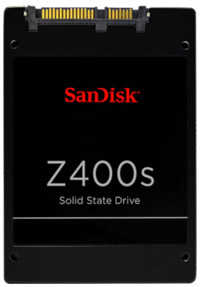 The Z400s can withstand up to 1.7 million hours of continual use, delivering stability during peak activity. It is available in mSATA, 2.5" SATA and M.2 (2242 and 2280) form factors, in capacities of 32GB, 64GB, 128GB and 256GB,
SanDisk isn't disclosing the controller inside the Z400s, but it's probably a 4-channel Marvell silicon. The Z400s is also the first SSD to utilize 15nm NAND.
The Z400s is entering mass production next month with availability being later in the summer.
Specifications
Form Factors: 2.5? 7mm cased, M.2 2280, mSATA
Capacities

1 GB = 1,000,000,000 bytes. Actual user capacity less.

: 32GB, 64GB, 128GB, 256GB
Interface: SATA Revision 3.2 (6 Gb/s) backward compatible to SATA Revision 2.0 (3 Gb/s) and SATA Revision 1.0 (1.5 Gb/s)
Sequential Read/Write

Up to stated speed. Based on internal testing; performance may vary based on host device. 1 megabyte (MB) = 1 million bytes. X=150KB/s.: Up to 530/470MB/s.

: Up to 549/330MB/s
Random Read/Write

Up to stated speed. Based on internal testing; performance may vary based on host device. 1 megabyte (MB) = 1 million bytes. X=150KB/s.: Up to 530/470MB/s.

: Up to 33/62k IOPS
Endurance (TBW)

Approximations based on SanDisk internal metrics, that quantifies how much data can be written to a SSD in its lifespan expressed in terabytes written (TBW). For capacities of 128GB and above.

: 20 TBW (32GB), 40 TBW (64GB), 72 TBW (128 and 256GB)
Active Power (mW):50
Slumber(mW): 20
DEVSLP(mW)

Measured at 25°C. Power consumption can vary due to input voltage and ambient temperature variation.

:≤5
Weight(g):

2.5? 7mm: 30 ± 1g
2.5? 7mm: 30 ± 1g
mSATA: 5.0 ± 0.5g

Operating Temperature: 32?F to 158?F (0°C to 70°C)
Non-operating Temperatures: -67?F to 185?F (-55°C to 85°C)
Operating Vibration: 5 gRMS, 10 ? 2000 Hz, 3 axes
Non-operating Vibration: 4.9 gRMS, 7 ? 800 Hz, 3 axes
Operating/Non-operating Shock: 1,500 G @0.5 msec half sine
Certifications: FCC, UL, TUV, KC, BSMI, VCCI