Samsung Unveils Fusion Technology For Mobile Devices
Samsung Electronics unveiled today at the 2007 Samsung Mobile Solution Forum, held at the Westin Taipei Hotel, new mobile technology solutions for mobile consumer electronics (CE). The fourth annual event, hosted by Dr. Chang-Gyu Hwang, president of Samsung Electronics' Semiconductor Business, was attended by approximately 1,000 IT industry professionals including PDA, handset, and original CE design manufacturers in Taiwan.
The main theme of the Samsung Mobile Solution Forum, designated as "Fusion Magic" technology, was to provide designers with the flexibility to tune new components to match the evolving features of mobile set applications.
The line-up introduced at the forum includes a new fusion semiconductor solution - the Flex-OneNAND; the industry's first 1.8"-type 64Gigabyte (GB) flash-based solid state drive (SSD); an embedded application processor solution with OneDRAM; the industry's smallest 1.4-pixel format, 8.4 megapixel (Mp) CMOS image sensor (CIS); and an embedded 2.1" quarter video graphics array (qVGA) TFT LCD with automatic light sensor.
Samsung underscored its Fusion Magic theme with the unveiling of Flex-OneNAND, a complex memory solution employing both single-level cell (SLC) NAND and multi-level cell (MLC) NAND in a single-die. This new memory can be tuned from 2Gigabit to 4Gigabit in a single core to support evolving CE applications.
It allows the flash solution to be controlled at any time during the design/production cycle for each memory function within a multimedia device. It also reduces the area needed for the memory on the print circuit board and improves performance by diminishing transmission noise.
Samsung plans to begin producing the 4Gb Flex-OneNAND next month.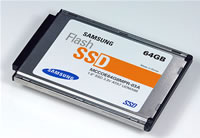 Another new solution exhibited at the Samsung Mobile Solution Forum was a high-density 1.8"-type flash-SSD, incorporating an 8Gigabit SLC NAND Flash.
By doubling the density and performance of last year's 32GB SSD, the 64GB SSD provides the basis for SSDs to be adopted in the design of notebooks as well as sub-notebooks. In addition, new prototypes of SSDs are being tested in personal navigational systems and digital camcorders, as well as in server applications.
The flash-SSD uses instantly-accessible, non-moving NAND flash memory instead of the noisier, power-hungry rotating disc found in conventional hard drives, allowing it to upload and download data quickly and quietly with minimal power consumption.
Samsung believes that SSDs will become the mainstream application for NAND flash memory over the next four to five years. The company said it would start mass production of the 1.8"-type 64GB flash-SSD in the second quarter of this year.
A new package on package (PoP) chip presented by Samsung's System LSI division at the Forum combines an application processor with a OneDRAM memory chip to form another fusion semiconductor solution. This chip offers a total solution for high-end mobile applications in such products as 3G and 3.5G smart phones, high-performance portable multimedia players (with computing features), and portable navigation systems. By exhibiting the PoP chip at the Forum, Samsung formally commenced a full-scale launching of its fusion semiconductor business based on this first chip to combine its System LSI Division?s Mobile CPU with its Memory Division?s proprietary OneDRAM fusion memory.

Another highlight at the forum was the unveiling of a new high-resolution CMOS image sensor with the world?s smallest 1.4-pixel pitch and 8.4Mp resolution for digital cameras and camcorders as well as mobile phones.
The new CIS chip provides a high signal to noise ratio (SNR), a key measure of overall image quality. Samsung achieved the high-resolution level by implementing advanced light sensing features and minimized noise levels. samsung claims that the new chip provides the same image quality as the charge-coupled device (CCD) image sensors currently used in most digital cameras and camcorders, while it uses one-tenth the power of a CCD image sensor.
The 8Mp CIS expected to be available in the second half of this year.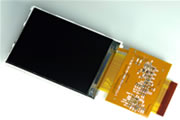 In addition, Samsung?s LCD Business introduced a 2.1" qVGA LCD panel at the Forum with embedded auto-light sensing features for longer battery life.
Designed for use in high-end mobile phones, PDAs and portable media players, the new panel also has a temperature compensation sensor embedded in its LCD driver IC that maintains a steady operational mode regardless of any temperature change in the surrounding environment.
The Samsung panel consumes 20-30 percent less electric power than other displays with the same size and resolution.
The new LCD mobile display makes use of a proprietary technology called Adaptive Brightness Control (ABC) that is designed with an ultra-slim black matrix embedded within the display's structure that measures no more than a single millimeter. The signal processing function within the display driver IC converts ambient light measurements from the sensors into pulse-width modulation signals.
Those PWM signals then automatically signal the LED controller in the LCD backlight unit to adjust the screen brightness to provide optimal readability as outside lighting conditions change.
Samsung's LCD Business is planning to produce the new 2.1" qVGA LCD with ABC capability in the second half of this year.