Samsung Showcases New 2018 Home Entertainment Lineup at NY Event
Samsung Electronics held its 2018 First Look New York event at the American Stock Exchange building in Manhattan, announcing its flagship line of 2018 QLED TVs and AV products.
The company highlighted details about its flagship QLED TV models and its lineup of UHD, Premium UHD and Ultra-Large Screen TVs. Highlights of the 2018 lineup include:
Ambient mode provides information throughout the day - even when you aren't actively watching movies and TV. It can play music as well as display news headlines, traffic reports, and weather updates. For wall-mounted TVs, Ambient Mode can mimic the pattern on the wall behind the TV to create a visual effect in which the TV blends into the wall.
The trick of Ambient Mode is, at heart, pretty simple. You mount your TV and snap a few pictures of your wall with your smartphone. The Samsung Smart Things app then matches your wall, whether that's your particular shade of paint, wallpaper, or exposed brick, and then matches that up on the TV's screen. Hey presto, your TV suddenly becomes transparent.

Your TV suddenly looks like a hanging pane of glass with pencil-thin bezels.You can choose to leave it blank for that glass-pane effect, throw up "living wallpapers" that blend an image in with the texture and color of the surrounding wall, set up something to display the time and temperature where you live, or rotate through photos or paintings.
The new One Invisible Connection is one slim cable that combines both consumer's power and AV data to the TV. Available up to 15 meters, it frees you from having to place their TV near data or power outlets.
The QLED line's smart capabilities offer new ways to set up the TV and find content. Effortless Login uses the new SmartThings app to reduce the time it takes to set up a new TV. The new Universal Guide enables you to navigate across supporting streaming services and live TV through one menu. And with Samsung's intelligence platform, Bixby, you can use voice commands to bring up favorite shows and control compatible devices.
The Q8F and Q9F QLED TVs promise to deliver images with pristine contrast through Direct Full Array (DFA) technology. Direct Full Array uses a panel with zones of smartly controlled backlighting that adjust automatically to deliver deep blacks and pure whites.
Samsung also offers four new audio products tailored to the different ways that consumers set up and use their home theater systems.
HW-N950: With front-firing, up-firing and new side-firing speakers, the HW-N950 Dolby Atmos soundbar delivers 7.1.4 surround sound.
HW-N650: Designed for gamers, the HW-N650 soundbar features Acoustic Beam Technology that puts you at the center of the action.
HW-NW700: The HW-NW700 soundbar features a wall-mounted design that complements QLED TVs so that they both blend into any home environment.
VL550: The VL550 includes a metal dial that consumers can attach to any metallic surface and use to control music with the sound of their voice.
The 2018 Samsung TV line features 9 series across the QLED TV, Premium UHD, UHD and Ultra-Large Screen display range, available in a variety of class sizes. Models in the 2018 lineup feature both flat and curved display options.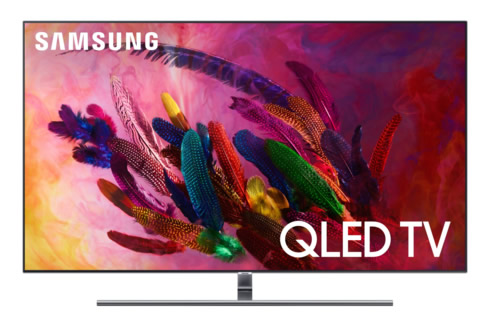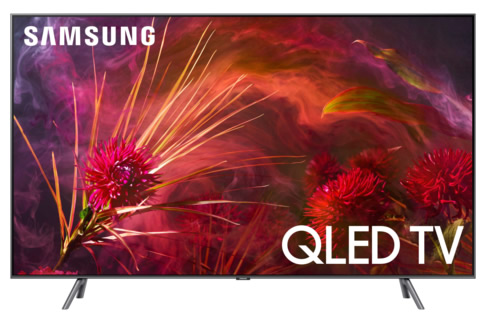 QLED TV: Models in the 2018 QLED TV lineup include - Q9F (65", 75", 88"), Q8F (55", 65", 75"), Q7C (55", 65"), Q7F (55", 65", 75") and Q6F (49", 55", 65", 75", 82"). The QLED TVs feature enhanced color and contrast, HDR10+ compatibility, Ambient Mode, Smart TV enhancements with Bixby Voice, One Remote Control and the One Invisible Connection.
Premium UHD: Models in the 2018 Premium UHD TV lineup include NU8500 and NU8000. The Premium UHD TVs include features such as dynamic crystal color, HDR10+ compatibility, clean cable solutions, and Smart TV enhancements with Bixby Voice and One Remote Control.
UHD: Models in the 2018 UHD TV lineup include NU7100 (75", 65", 55", 50", 43", 40") and NU7300 (65", 55"). These UHD TVs include features such as 4K UHD and HDR picture capabilities, clean cable solutions, slim design and Smart TV capabilities.
Samsung's 2018 home entertainment line will be available in stores beginning March 2018.