Samsung SDI Showcases New '21700' Cylindrical Battery With 50 percent Bigger Capacity
Samsung SDI showcased an ungraded cylindrical battery pack built with new technology standard, dubbed '21700', at the InterBattery 2017 tradeshow opened in COEX Seoul on Wednesday.
The '21700' which is 21 millimeters in diameter and 70 millimeters in height, boasts a 50 percent bigger capacity and longer lifetime than the previous '18500' (diameter 18mm, height 65mm) cylindrical battery, the company says. With the commercialization of the 21700, fewer batteries can be connected than with the existing 18650, creating a battery pack of the desired capacity.
Samsung expects that the 21700 battery will become the standard in the future, as it has cost competitiveness in its optimal size to maximize capacity and life and output.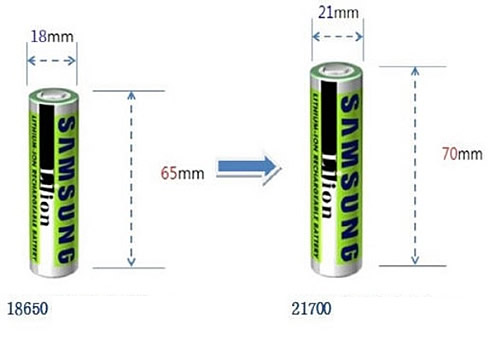 At the show, the company exhibited the 21700 battery-powered power tools, golf carts, and electric bicycles.
Cylindrical batteries started drawing attention as they were used by Tesla in 2008 for its first electric vehicle called Roadster. Tesla also started using '21,700' batteries for its new 'Model 3' car, which was released this year. EV startups Lucid Motors and Faraday Future have also decided to use '21,700' batteries for their upcoming electric vehicles.
Besides Samsung SDI and LG Chemicals, Panasonic and China's Lishen and BAK are also able to mass-produce 21,700 cylindrical batteries.
Also in the show, the company introduced an electric energy storage system (ESS) with a 9.1 megawatt hour (MWh) capacity for power plants and industrial facilities, which would help boost energy efficiency by controlling energy inputs on needed basis. It also presented an ESS system for homes that can store energy from solar panels for later use.
The company's other battery innovations included its new lithium-ion battery pack with a 50 percent more capacity that was fitted in BMW's electric car i3 and solid-state battery technology.
Samsung SDI also exhibited a 94Ah battery for electric vehicles, which is 50% better than the existing 60Ah.