Samsung Launches New Smart TVs In U.S.
Samsung's line of 2013 TVs will begin shipping this month in the U.S., beginning with the LED 8000-series and the Plasma 8500-series. The 2013 line up of TVs represent Samsung's sixth generation of Smart TV. While features vary by model, highlights of select products include:
- A redesigned Samsung Smart Hub that offers five dynamic menu panels to help users manage and navigate different types of content (On TV, Music, Movies & TV Shows, Photos & Clips, Smart TV Apps)
- With S-Recommendation, users can find the content they want -- whether on TV or via VOD services -- thanks to personalized recommendations based on their viewing habits over time.
- Samsung claims that its UHD TV and LED TVs offer brighter, more vibrant color, and its flagship Plasma TV delivers deeper blacks and brighter whites than previously seen on plasma models.
- Smart Evolution Kit gives owners of flagship 2012 Samsung TVs the opportunity to update their models with some of the latest features from 2013 without having to buy a new set. The kit fits into the evolution slot on the back of 2012 Samsung 7500 and 8000 Series LED TVs, as well as Samsung Series 7000 and 8000 Plasma TVs, and updates them with some of the latest features and functions included in the newest Samsung models. 2013 F7500 LED and above and F8500 Plasma TVs also include a Smart Evolution slot. The 2013 Smart Evolution kit includes a quad-core processor, GPU and memory for faster processing and multi-tasking, the updated Smart Hub and the latest picture display software. The Smart Evolution Kit is packaged with the 2013 Smart Touch Remote, and will be available in May for $299.99.
- A quad-core CPU enables quick app launching, web browsing and multi-tasking.
- Smart View lets users move content from the TV to connected devices and back in real-time.
- Advanced Smart Interaction allows you to use everyday language and casual gestures to control the TV. Smart Interaction has also been upgraded with the ability to recognize natural language use (such as full phrases) as well as more casual hand movement (like swiping to change screens).
Samsung's S9 UHD TV features Samsung's Precision Black Pro technology and Samsung's up-scaling engine, which up-converts HD or Full-HD to UHD-level picture quality by restoring detail information. The S9 also features 3-way 2.2 channels of 120 watt sound. This 85-inch UHD TV also offers a timeless design -- the TV appears to float within its thin frame. The UN85S9 will be available will be available for pre-order on Samsung.com at the end of March for $39,999.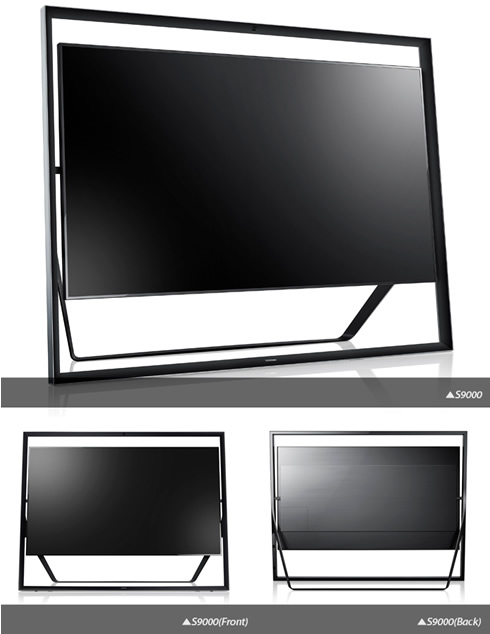 The F8000 series, Samsung's 2013 flagship LED Smart TV, boasts a new design that complements any room in the home. It promises to offer vibrant and rich colors with the highest contrasts and the brightest picture quality of any Samsung LED TV to date. Samsung's proprietary Micro Dimming Ultimate technology provides greater contracts, deeper black levels and maximum brightness -- along with the full suite of Samsung Smart features. The F8000 will be available this year in size classes ranging from 46" to 75" at varying price points.
Samsung's F8500 Plasma TV, 2013 flagship plasma model is promising deeper blacks and brighter picture quality than previously seen on plasma TVs. The F8500 delivers the same brightness and eight times the black levels as standard LED TVs, thanks to Samsung's proprietary Deep Black Algorithm and Real Black Pro II. The F8500 is also one of the first televisions with native support for HEVC-encoded content. With Samsung's One Body Form design, the F8500 is created from a single piece of metal while highlighted with a dark titan metal color for a futuristic design. The F8000 will be available this year in several size classes ranging from 51" to 64" at varying price points.
Samsung also unveiled its vacuum tube amplifiers in 2012 with its wireless audio docks. The vacuum tube offers audiophiles the best of both worlds -- the warm richness of a tube amplifier with the power and precision of digital technology.
New in 2013, Samsung's vacuum tube technology will be integrated into the HW-F750 soundbar. A wireless sub-woofer means users have greater flexibility in setting up the system. The HW-F750 also connects wirelessly to select 2012 and 2013 Samsung Smart TVs via Bluetooth, which means the soundbar may be connected without any audio cables. The Soundbar will be available in March for $799.
The vacuum tube amplifier can also be found in Samsung's home theater systems, beginning with the HT-F6500W. The Blu-ray component of the HT-F6500W also offers Samsung's latest Smart Hub and AllShare features, along with full web browsing capabilities. The HT-F6500W ($599) will be available in March.
The DA-F60 portable wireless Bluetooth speaker integrates Near-Field Communications (NFC) connectivity for easy pairing with other NFC devices, such as a smartphone or tablet, by simply tapping the two devices together. It also connects wirelessly to select Samsung 2012 and 2013 Smart TVs and other Bluetooth-enabled devices. It offers a 12-hour playback on a full battery charge and will be available from April for $299.
Samsung today also entered a new category in home audio with its first-ever 2.2 channel Giga Sound Systems. The MX-FS8000 and the MX-FS9000 both feature 15" dual sub-woofers that deliver 2300W and 2560W in sound respectively. The sound systems offer wireless streaming via Bluetooth technology. They offer special DJ Effects and DJ Lighting features, as well as its ability to support mic input. Samsung's flagship MX-FS9000 will be available in May for $1,499 and the MX-FS8000 will be available in June for $999.