Samsung Launches Its First 3D Home Theater
Samsung today launched a 3D Home Theater (HT-C6930W), offering 3D stereoscopic images and 3D sound. With the launch of the HT-C6930W, Samsung now offers a total suite of 3D products including 3D TVs, 3D Blu-ray players, 3D content and 3D glasses.
Samsung claims that all of its models minimize eye fatigue and dizziness, and provide vivid 3D stereoscopic images.
When it comes to sound, Samsung's 'Crystal Amp Pro' minimizes sound distortion and noise by refining input sound twice, delivering clearer sound by amplifying analog signals with high fidelity.
By adding two vertical speakers to the 5.1 channel speaker system with flat surround sound and realizing 1330W high-power surround based on a 7.1 channel speaker system, the HT-C6930W provides perfect vertical surround sound for 3D.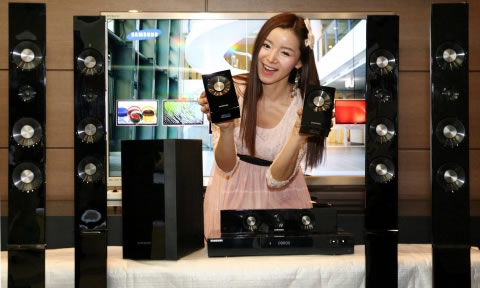 The system is equipped with Wi-Fi wireless network technology and AllShare home network technology, and can reproduce multimedia content stored in devices such as PCs or mobile phones through both wired and wireless networks.
What?s more, Internet@TV, a widget-based internet service allows users to enjoy information on the internet such as news, weather, stocks, UCC and movies for free. Content and Firmware updates are both done automatically.
With advanced features including a single button click of the remote control to change full screen function from 21:9 screen to 16:9 without losing height and 'Automatic Sound Field Optimization' that automatically calculates the distance from speaker to listener and provides optimized sound, the HT-C6930W is Samsung?s possibly one of the most advanced home theater to date.