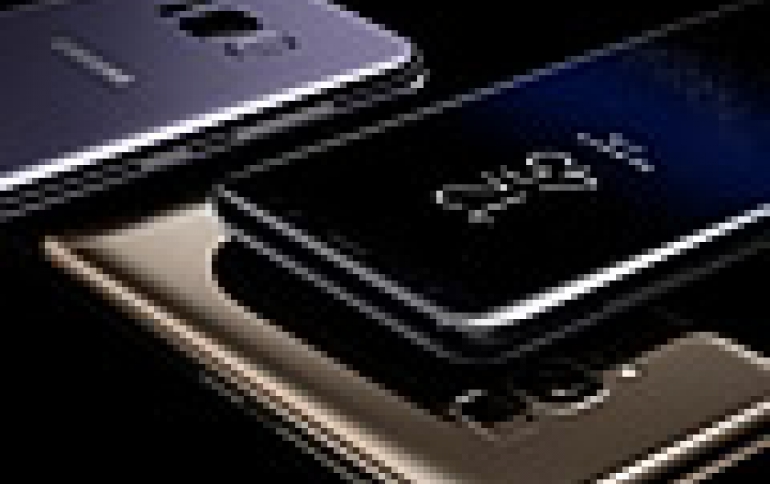 Samsung Galaxy S8 and S8+ Are Official, Along With Bixby And New Gear 360
Samsung Electronics today officially introduced the Galaxy S8 and S8+ smartphones to the world, featuring Infinity Displays. The company also announced a 4K enabled Gear 360 camera, the Bixby intelligent interface and the Samsung DeX to transform your smartphone into a desktop.
Available in 5.8-inch Galaxy S8 and 6.2-inch Galaxy S8+, the Infinity Display (AMOLED, HDR, 2960x1440 pixels & suitable for VR. aspect ratio 18.5:9) and bezel-less design form a continuous surface with no buttons or harsh angles. Despite its size, the Galaxy S8's design enables one-handed operation and Corning Gorilla Glass 5 on both the front and back offer the required durability.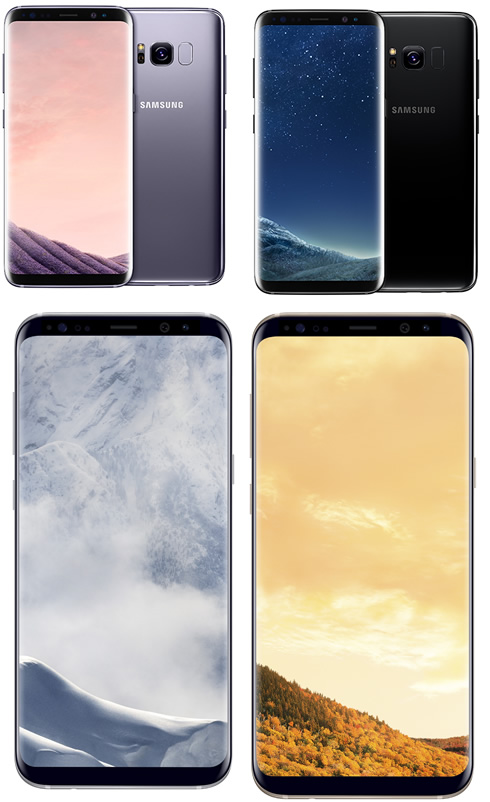 In addition to the new design, the new Samsung smartphone include:
Camera: The Galaxy S8 and S8+ are equipped with an 8MP F1.7 Smart autofocus front camera and 12MP F1.7 Dual Pixel rear camera for great low-light, zoom and anti-blur photos with enhanced image processing.
Performance: Packing powerful performance and connectivity, the Galaxy S8 and S8+ feature the first 10nm processor, enabling heightened speed and efficiency. It is also gigabit LTE and gigabit Wi-Fi ready with support for up to 1 Gbps. The smartphones will be equipped with Samsung's latest Exynos 8895 SoC or the Qualcomm Snapdragon 835 Mobile Platform (U.S. versions), depending on the region. Both Samsung and Qualcomm variants deliver Gigabit LTE. Claimed 10% faster CPU and 21% faster GPU for Exynos S8 over S7.
Entertainment: As the first mobile device certified by the UHD Alliance as MOBILE HDR PREMIUM, Galaxy S8 and S8+ let you see the same vibrant colors and contrasts that the filmmakers intended while watching shows. In addition, the Galaxy S8 and S8+ offers gamers vivid graphic technology, as well as Game Pack, featuring top game titles, including select titles supported by the Vulkan API.
Mobile Security: The Galaxy S8 and S8+ are built on Samsung Knox, a defense-grade security platform. In addition, the Galaxy S8 and S8+ will offer a wide selection of biometric technologies including a fingerprint scanner, iris scanner and facial recognition.

IP68 water and dust resistance
MicroSD support up to 256GB
Always-on display
Fast and wireless charging capabilities
Samsung has blamed the Note 7 fires on multiple design and manufacturing defects in its batteries. Inspectors concluded that the initial batteries were too small for their capacity, and that their external pouch put pressure on the internal structure, leading to damage and overheating.
Samsung recalled the phones and shipped replacements, but the newer batteries had welding defects and a lack of protective tape in some battery cells. Samsung recalled the replacements, too, and scrapped the phone.
The company says phones will now go through multiple inspections, including X-rays and stress tests at extreme temperatures. The standard-size S8 phone has as much battery capacity as last year's Galaxy S7 (3,000mAh), but the phone is 4 percent larger by volume. The larger S8 Plus model has 3 percent less capacity (3,500mAh) than the Galaxy S7 Edge and the same capacity as the Note 7, but the phone's volume is larger by 12 percent and 6 percent, respectively.

Meet Bixby
The Samsung Galaxy S8 and S8+ will be the first devices to come with Bixby, Samsung's new AI voice assistant.  Samsung aims to make anything a user can do with touch on a phone to be also possible by interacting with Bixby via voice. Bixby is based on Samsung's October 2016 acquisition of Viv, a new assistant built many of the team behind Apple's Siri (itself acquired by Apple in 2011).
Samsung's initial Bixby AI implementation falls short of its goal of being a comprehensive AI assistant because of weak app integration and limited voice compatibility. Samsung has had little time to develop Viv since the acquisition. For now, Bixby integrates with only a handful of Samsung's own apps and officially is only compatible with US English and Korean voices.
More problematic for Samsung long term is Bixby's lack of differentiation from Google Assistant, which also runs on the S8. Google Assistant is a more mature product which also offers search, shopping, and a conversational UX. Unlike Bixby, Google Assistant already supports five languages and ties into a wide range of popular Android apps.
The Galaxy S8 and S8+ come with a dedicated Bixby physical button where users can summon the voice assistant.  Samsung plans for Bixby to have more extensible skill sets, such as controlling 3rd party applications and connecting to the galaxy of Samsung smart products (e.g. TVs, home routers, appliances and Smart Things (IoT)).
Samsung needs to accelerate its Bixby roadmap to be competitive with Google, Amazon and even Apple. The strongest area for Samsung to differentiate with Bixby is with its smart home integration. It is clear that Bixby is a stepping-stone to the creation of an entirely Samsung ecosystem of products that will rival the ecosystems of Apple and Google respectively.
Bixby offers four main features: Voice, Vision, Reminder and Home.
Bixby Voice is easily activated. Users simply need to press and hold the dedicated hardware button on the side of the Galaxy S8, say "Bixby" or tap it on the Bixby Home screen to wake it up.
While most traditional smartphone-related tasks require touch activation, Bixby's multi-modality lets users control their phone using voice and touch controls interchangeably. Utilizing natural language understanding, Bixby has the ability to adapt to the unique speaking style of the user. But if Bixby doesn't understand the user's command, it will ask for more information so it can complete the task.
Bixby works across multiple apps and has the potential to control all settings and features of each service. So, for example, if a user wants to send pictures to a friend, they can select images in their Gallery by tapping them, then tell Bixby to send the selected photos to their designated contact. Meanwhile, Bixby continues to work in the background to continually support the user, without affecting other tasks they might be working on.
With its Vision interface, Bixby can detect what users are looking at and take action according to what they see. Using the Galaxy S8's Camera app, Bixby makes it easier to search for images and information, shop online and even translate text. A tourist in Paris, for instance, spots an interesting looking building and snaps a photo of it. Bixby uses the image to determine that the structure is a famous art museum and can then provide related information, such as the museum's address, phone number and website.
Shopping is just as easy. Users can take a photo of an item such as a watch or a book and use Vision to locate and purchase it online. Users can also launch Vision for more in-depth searching of products they see in their phone's Gallery or while browsing Samsung Internet. Vision can be activated to read QR codes and, in select markets, barcodes that direct users to related information.
Bixby also helps users remember important events and to-do tasks through its intelligent Reminder feature. It does so by sending notifications to users reminding them about tasks at specified times or locations, or in certain circumstances. Say a user is out of milk. They can request that Bixby remind them to buy more once they get off work. Or, they can ask Bixby to set their alarm each night before they go to sleep.
Users can access stored reminders via the Reminder app, Reminder widget, Reminder cards on the Bixby Home screen or the Galaxy S8's edge screen.
Bixby's Home screen lets users see the content they care most about with just a single swipe left on the home screen or a short press of the designated Bixby button.
Home integrates with select native Samsung apps to provide a look at all of the activity across the Galaxy S8 through a customizable card-like interface. For example, Home's contact card shows frequent and missed call contacts, while music-related cards provide options such as playing paused content.
But Home doesn't just relay information; it puts it into context, paying attention to the user's schedule, routine and personality each time it's used. In this way, Bixby can actually anticipate what the user needs and respond accordingly.
The Galaxy S8 UX
The Galaxy S8 builds on Samsung's heritage of creating great designs with a large Infinity Display - an end-to-end, bezel-less screen that spills over the phone's sides.
Visually obtrusive elements have been minimized. A home key embedded underneath the screen functions and responds to pressure just like a physical button would, while the recent and back buttons are now soft keys that can be customized in different colors.
Designed around the Infinity Display, the UX of the Galaxy S8 was developed with a focus to enhance the flow of user interactions and better fit the way people use their phones today. Like the design of the display itself, the UX is unifying both visual and audio components.
The default wallpaper of the customizable Always-On Display complements the color of the phone, while its aesthetic transitions to the lock and home screens. Meanwhile, a new vertical swiping interface facilitates navigation between the home screen and app tray - a swipe up or down gives users quick access to their apps. Or, should they choose to do so, they also have the option of adding an apps screen button to the home screen.
The new UX is also making it possible to simultaneously move multiple apps into a folder. Additionally, users can tap and hold an app icon to open a quick options menu that lets them perform tasks such as uninstalling apps or moving them to Secure Folder without having to open the app.
Even the app icons and typography of the Galaxy S8 incorporate the phone's new design language through a play of continuous curves and lines to create depth.
The Galaxy S8's ringtones have also been updated, while a new version of Samsung's brand sound, "Over the Horizon," has also been released.
New new Gear 360 camera
In addition, the Galaxy S8 and S8+ unlock the new Gear VR with Controller, powered by Oculus. Enabling one-handed control and navigation, the controller provides better motion interaction when accessing interactive VR content. Samsung said its previously announced Gear VR headset upgrade, which will now include a hand-held controller, will go on sale in April for about $130. Existing owners can buy just the controller for about $40.
The Galaxy S8 and S8+ will also connect to the new Gear 360 to create 4K 360-degree videos and 15MP photos.
Equipped with 8.4-megapixel image sensors and Bright Lens F2.2 on both dual fisheye lenses, the Gear 360 can create high resolution images.
Whether creating a 360-degree video or still images, users can access various viewing modes, editing tools and photo effects and filters to create customized content. Users can also convert 360 videos into standard formats for easy-to-share content.
The Gear 360 introduces real-time content sharing. When the Gear 360 is synced with a compatible smartphone or computer, the new device enables users to share experiences with high-quality live broadcasting or direct uploading to platforms such as Facebook, YouTube or Samsung VR.
The Gear 360 is compatible with a selection of third-party accessories and mounts. The latest edition of the Gear 360 is compatible with Samsung flagship devices including the newly-released Galaxy S8 and Galaxy S8+, Galaxy S7, Galaxy S7 edge, Galaxy Note5, Galaxy S6 edge+, Galaxy S6, Galaxy S6 edge, Galaxy A5 (2017) and Galaxy A7 (2017). The Gear 360 also offers greater compatibility with iOS devices including the iPhone 7, iPhone 7 Plus, iPhone 6s, iPhone 6s Plus and iPhone SE, as well as Windows and Mac computers.
Gear 360 (2017)
Camera

Two CMOS 8.4-megapixel fish-eye cameras

Image Processor

DRIMe5s

Video
MP4 (H.265)
Dual Lens: 4096x2048 (24fps)
Image
JPEG
Dual Lens: 15MP
Audio
Codec: ACC
Format: MP3, M4A, AAC, OGG
Memory

microSD card (Up to 256GB)

Features
Shooting mode
Video, Photo, Time Lapse Video, Looping Video, Landscape HDR
IP53 Certified Dust and Water Resistant
Camera mode
Dual/Single Lens mode
Connectivity
Wi-Fi 802.11 a/b/g/n/ac (2.4/5GHz)
Wi-Fi Direct
Bluetooth 4.1
USB 2.0 (Type-C)
Dimension

100.6x46.3x45.1 mm

Weight

130g

Battery

1,160mAh Li-ion

Compatibility

Galaxy S8, Galaxy S8+, S7, S7 edge, Note5, S6 edge+, S6, S6 edge, A5 (2017), A7 (2017) *Android 5.0 or later, iPhone 7, 7 Plus, 6S, 6s Plus, SE, *iOS 10.0 or later, Windows, macOS
Samsung DeX
Leveraging the processing power of the Galaxy S8 and S8+, Samsung DeX is a solution that transforms your smartphone into a desktop. The device
provides an Android-based desktop-like experience that enables users to access apps, edit documents, browse the web, watch videos, reply to messages and more, directly from the smartphone on a larger display, keyboard and mouse.
It's redesigned Android UI is optimized for use with a keyboard and mouse and includes multiple resizable windows, contextual menus and a desktop version Web browser. Collaborations with Microsoft and Adobe enable Samsung DeX compatibility with Microsoft Office and Adobe mobile apps, including Adobe Acrobat Reader mobile and Lightroom Mobile, allowing desktop-like functionality and a user interface previously unavailable from a smartphone. For those mobile professionals and organizations that require access to Windows OS-based applications, Samsung DeX also allows users to remotely and securely access virtual desktops through partner solutions including Citrix, VMware and Amazon Web Services.
To start working, users insert their Samsung smartphone into the DeX Station, which connects the smartphone to an HDMI compatible monitor, and connect to any Bluetooth-enabled, USB or RF-type keyboard and mouse.
The DeX Station provides the connectivity including two USB 2.0, Ethernet, USB type-C power-in and a cooling fan. The DeX Station also features Adaptive Fast Charging (AFC) technology to charge your Samsung smartphone quickly while connected. The DeX Station will be available globally with the Galaxy S8 and may be offered as a packaged bundle depending on region.
In addition, as more IoT devices enter the market and the connected network becomes more complex, Samsung Connect simplifies smart device management. With Samsung Connect, users can activate IoT-enabled devices through a three-step configuration process and manage all connected devices through one integrated app.
The Galaxy S8 and S8+ also come with the Samsung Health service, expanding one of Samsung's services with 60 million monthly active users and 11 million daily active users worldwide. Samsung Health includes tele-health (U.S.-only), personal coaching, social capabilities that redefine traditional health and fitness.
Users can leave their physical wallet behind with Samsung Pay, turning their Galaxy S8 and S8+ into a digital wallet they can use almost anywhere they'd use a credit or debit card.
New earphones tuned by AKG by Harman ($99), offering high sound quality, will come as an in-box accessory. These earphones will have a hybrid canal fit for better noise cancellation and will be made from anti-tangle metal-fabric material.
The Galaxy S8 and S8+ will be available starting on April 21, and will be offered in a rich color palette including Midnight Black, Orchid Gray, Arctic Silver, Coral Blue and Maple Gold.
You?ll be able to preorder either device from all four big U.S. carriers beginning tomorrow, March 30th:
Verizon
Preorders start March 30th at 12:01AM ET. Available in stores April 21st. Preorder customers receive free Gear VR with Controller and Oculus content pack, or can instead choose $99 "Experience Box" with Gear VR and Controller, Harman Kardon headphones, and 256GB microSD card.
Galaxy S8: $720 full retail
Monthly installments: $30 / mo for 24 months
Galaxy S8 Plus: $840 full retail
Monthly installments: $35 / mo for 24 months
Trade-in promotions:
Order the Galaxy S8 on device payment, sign up for Verizon Unlimited and trade-in the following phones and pay only $15/month for 24 months -- Apple: iPhone 6, 6 Plus, 6S, 6S Plus, 7, 7 Plus; Samsung: GS6, GS6 edge, GS6 edge +, GS7, GS7 edge, Note 5; Google: Pixel, Pixel XL; LG: G5, V20; HTC: 10; Motorola: Z Droid, Z Force
Order the Galaxy S8 on device payment, sign up for Verizon Unlimited and trade-in the following phones and pay only $20/month for 24 months -- Apple: iPhone SE; Samsung: Note 4, GS5; LG: G4, V10; HTC: M9; Motorola: Turbo 2, Z Play
Order the Galaxy S8+ on device payment, sign up for Verizon Unlimited and trade-in the following phones and pay only $15/month for 24 months -- Apple: iPhone 7 Plus; Google: Pixel XL; Motorola: Z Force; Samsung: GS7 edge
Order the Galaxy S8+ on device payment, sign up for Verizon Unlimited and trade-in the following phones and pay only $20/month for 24 months -- Apple: iPhone 6, 6 Plus, 6S, 6S Plus, 7; Google: Pixel; Samsung: GS6, GS6 edge, GS6 edge +, GS7, Note 5; LG: G5, V20; HTC: 10; Motorola: Droid Z Droid
AT&T
Preorders start March 30th. Available in stores April 21st. Preorder customers receive free Gear VR with Controller and Oculus content pack.
Galaxy S8: $750 full retail
AT&T Next: $25 / mo for 30 months
AT&T Next Every Year: $31.25 / mo for 24 months
Galaxy S8 Plus: $850 full retail
AT&T Next: $28.34 / mo for 30 months
AT&T Next Every Year: $35.42 / mo for 24 months
Other / trade-in promotions:
Customers that preorder a new Galaxy device can also take advantage of these great offers:
Up to $750 in credits towards another Samsung Galaxy S8 or S8+
A Samsung Gear S3 for only $49 with a 2-year service agreement
Get a Samsung Tab E and/or a Samsung Gear S2 for only .99 cents, when you activate a 2-year agreements
T-Mobile
Preorders start March 30th at 12:01AM ET. Available in stores April 21st. Preorder customers receive free Gear VR with Controller and Oculus game pack.
T-Mobile @Work customers get free DeX desktop dock with in-store preorder.
Galaxy S8: $750 full retail ($729 at MetroPCS)
Monthly installments: $30 down payment + $30 / mo for 24 months
Jump! On Demand: $0 down +$33 / mo for 24 months
Galaxy S8 Plus: $850 full retail
Monthly installments: $130 down payment + $30 / mo for 24 months
Jump! On Demand: Same as monthly installments
Best Buy
Best Buy is promising savings of "up to $100" if you choose to buy the Galaxy S8 / S8 Plus from the retailer instead of a carrier or some other store. Preorders open at 12:01AM ET on March 30th, and you'll also be able to reserve a phone when your local Best Buy opens on Thursday morning. The savings can be layered on top of carrier-specific deals being offered from Verizon, AT&T, and Sprint.