Samsung Announces New SmartThings Mesh Wi-Fi System
In an effort to eliminate the dreaded Wi-Fi buffering zone and prevent streaming latency, Samsung today announced its new SmartThings Wifi mesh network system.
Equipped with AI-based mesh Wi-Fi technology from Plume and a built-in SmartThings Hub, the system delivers an intelligently optimized whole home network with the added value of complete smart home control throughout every room of the home.
As more connected technologies enter the home, there is a greater need for a stable network that can efficiently support these devices. Samsung claims that the SmartThings Wifi system not only delivers this stability, but also delivers fast and consistent coverage that covers the whole home.
Samsung partnered with Plume to integrate its AI-based mesh Wi-Fi optimization into SmartThings Wifi. The Plume platform adapts to internet usage in the home and intelligently allocates bandwidth, mitigates interference, and delivers maximum Wi-Fi capacity across the home, accounting for every connected device and selecting the optimal band and frequency channel so users can get the fastest speed possible. Plume's technology can optimize a home network across multiple devices. Users can also set parental controls to manage screen time and set-up special logins and passwords for guests using the Plume HomePass feature.
SmartThings Wifi works as a SmartThings Hub to serve as the "brain" of the smart home. Samsung's open SmartThings ecosystem makes it easy to automate and manage the smart home with one hub and the SmartThings app. Compatible third-party devices and services, SmartThings enables users to expand their smart home with lights, door locks, cameras, voice assistants, thermostats and more. SmartThings Wifi delivers a simple, convenient 2-in-1 solution, offering whole-home automation out of the box.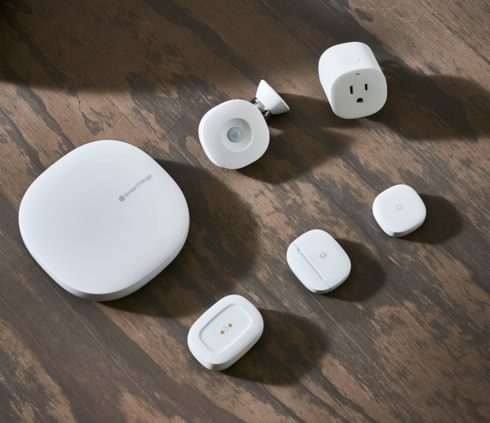 Users can choose the right Wi-Fi configuration to fit their needs, from a home with multiple levels to a small apartment. Each SmartThings Wifi router has a range of 1,500 square feet, with the 3-pack covering 4,500 square feet, and users can expand coverage by adding additional mesh routers to the set-up. It is easily set-up and managed by the Android and iOS compatible SmartThings app.
The SmartThings Wifi 3-pack retails for $279.99 and the single device retails for $119.99. It is available starting today on Samsung.com and at retailers across the U.S.
Improved SmartThings Hub, Sensors and Outlet
In addition to SmartThings Wifi, Samsung is upgrading the performance and connectivity of its SmartThings Hub, Water Leak Sensor, Motion Sensor, Multipurpose Sensor and Smart Outlet to give consumers more choice in their smart home set up. The new, more compact SmartThings Hub has been upgraded with the latest Zigbee, Z-wave, and Bluetooth 4.1 connectivity protocols. Now, the Hub can wirelessly connect to a Wi-Fi network, no longer needing a dedicated Ethernet cable, so users have the flexibility to place it anywhere in their home.
The SmartThings Motion Sensor is additionally redesigned with a magnetic ball mount, so consumers can adjust the tilt angle for a wider view range to detect motion and trigger automated events. Samsung is also introducing the new SmartThings Button with programmable triggers that manually control routines around the home - like setting Movie Mode - without having to go into the SmartThings app. The SmartThings Button, like the rest of the SmartThings sensor line, monitors temperature in an area of the home, such as basement or baby's room, and signals the smart thermostat to adjust automatically.
The new SmartThings Hub ($69.99), sensors ($19.99 - $24.99), Button ($14.99) and Smart Outlet ($34.99) are now available on Samsung.com and at retailers.
SmartThings Wifi Product Specs
GENERAL INFO
 
SKU
3-Pack (ET-WV525KWEGUS), $279.99
1-Pack (ET-WV525BWEGUS), $119.99
Weight per node (lb)
0.46
Size per node (D x W x H; in.)
4.72 x 4.72 x 1.16
TECH SPECS
 
Processor
Qualcomm (Quad 710MHz)
Memory
512 MB (RAM) + 8GB (Flash)
Wi-Fi Standards
2 x 2 MU-MIMO
802.11 a/b/g/n/ac - Wave2
Speed
AC1300 (866 Mbps @ 5GHz, 400Mbps @2.4GHz)
Antennae
7EA (5GHz: 2EA, 2.4GHz: 2EA, BT: 1EA, Z-Wave: 1EA, ZigBee: 1EA)
Connectivity
Bluetooth 4.1, ZigBee, Z-Wave
Ports
RJ45 x 2, Power x 1
Operating Temp
-0 ~ 40℃
Power Source
AC100-240V, 50~60 HZ
Requirements
Android OS 5.0 or higher, iOS 10 or higher
Certifications
FCC, UL