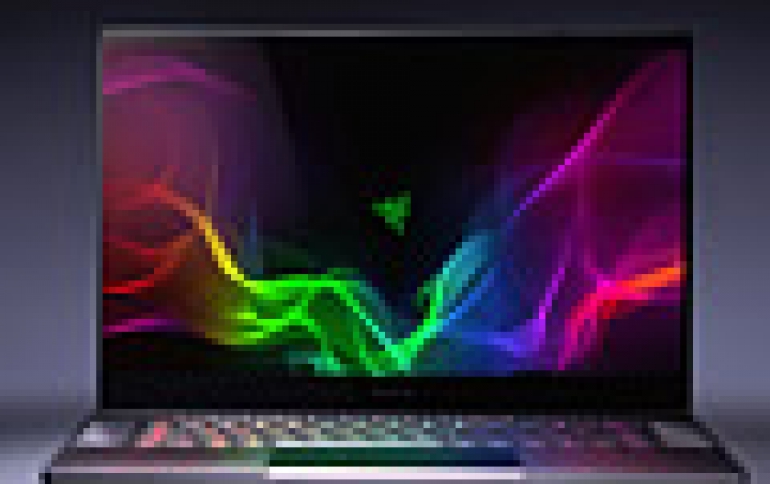 Razer Blade 15.6" Gaming Laptop Released, New Razer Core X is Powerful and More Affordable
Razer today announced its all-new Razer Blade 15.6-inch gaming laptop featuring Intel's latest processor. The company also unveiled the Razer Core X, a Thunderbolt 3 (USB-C) external graphics enclosure for gaming-grade performance at a new value price.
The new Razer Blade powered by Windows 10 is sporting a large 15.6" edge-to-edge display (1920 x 1080) with an ultra-responsive 144Hz Full HD panel. Users can also step up to 4K (3840 x 2160) resolution with touch functionality and 100% Adobe RGB color support.
Armed with the new 8th Gen Intel Core i7 processor with 6 Cores and up to an NVIDIA GeForce GTX 1070 Max-Q Design VR ready graphics, the new Razer Blade delivers even more power per cubic inch in a thin CNC aluminum chassis.
Razer also includes 16 GB of 2667MHz dual-channel system memory and fast PCIe SSD storage with configurations up to 512GB, with support for up to 32 GB of memory and up to 2 TB of storage.
With Windows 10, this laptop comes with simple, built-in Mixer streaming for low-latency, interactive moments for viewers and streamers to engage with other gamers, while Xbox Play Anywhere enables you to buy a game once and play it on both your Xbox One and Windows 10 PC. It's also Xbox Adaptive Controller compatible.
Specifications include:
8th Gen Intel Core i7-8750H Processor (6 Cores/12 Threads, 2.2 GHz/4.1 GHz)
15.6-inch IPS Full HD (1920 x 1080) matte up to 144Hz, individually color calibrated
15.6-inch IPS 4K (3840 x 2160) capacitive multi-touch, individually color calibrated
NVIDIA GeForce GTX 1060 Max-Q Design
NVIDIA GeForce GTX 1070 Max-Q Design
16GB Dual-Channel system memory (DDR4, 2667MHz), 32GB maximum support
Up to 512GB PCIe SSD, 2TB maximum support
Windows 10 (64-bit)
Intel Wireless-AC 9260 (802.11a/b/g/n/ac) and Bluetooth 5
Thunderbolt 3 (USB-C) x 1
USB 3.1 port x 3 (SuperSpeed)
Mini Display Port 1.4 x 1
Anti-ghosting keyboard powered by Razer Chroma
Razer Synapse 3 compatible
HDMI 2.0b audio and video output
Built-in front firing stereo speakers
3.5mm headphone/microphone combo port
Built-in webcam (1MP/720P) with array microphone
Trusted Platform Module (TPM 2.0) security chip embedded
Compact 200W/230W power adapter
Built-in 80 Wh rechargeable lithium-ion polymer battery, NVIDIA Optimus support
[GeForce GTX 1060] 0.66 in. / 16.8 mm (Height) x 14 in. / 355 mm (Width) x 9.3 in. / 235 mm (Depth)
[GeForce GTX 1070] 0.68 in. / 17.3 mm (Height) x 14 in. / 355 mm (Width) x 9.3 in. / 235 mm (Depth)
[Full HD] approx. 4.56 lbs. / 2.07 kg
[4K] approx. 4.73 lbs. / 2.15 kg
Price:
FHD(60Hz)/i7-8750H/GTX 1060/16GB/256GB - $1,899.99
FHD(144Hz)/i7-8750H/GTX 1060/16GB/512GB - $2,199.99
FHD(144Hz)/i7-8750H/GTX 1070/16GB/256GB - $2,399.99
FHD(144Hz)/i7-8750H/GTX 1070/16GB/512GB - $2,599.99
4K(Touch)/i7-8750H/GTX 1070/16GB/512GB - $2,899.99
Also unveiled today is the Razer Core X, a Thunderbolt 3 (USB-C) external graphics enclosure. The new Core X integrated graphics laptops like the Razer Blade Stealth into desktop-class gaming machines by adding an external graphics card.
Designed with a standard Thunderbolt 3 connection, the Core X is compatible with Razer Blade laptops and systems running Windows and macOS (specifically, Windows 10 Redstone 1 or later, and macOS High Sierra 10.13.4 or later with compatible AMD Radeon cards). Razer compatible laptops include the Razer Blade Stealth, Razer Blade and Razer Blade Pro (GTX 1060 version). Additional Windows 10 laptops require a Thunderbolt 3 port with external graphics (eGFX) support.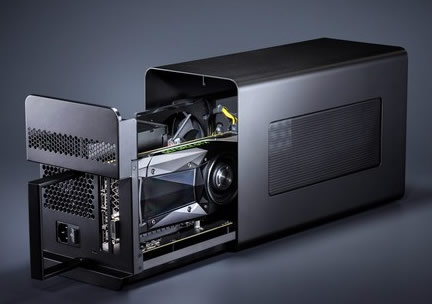 The Razer Core X features an expanded internal design with a wider aluminum shell to accommodate up to 3-slot-wide desktop graphics cards. The Core X supports the latest desktop PCIe graphics cards such as NVIDIA GeForce, NVIDIA Quadro, and AMD XConnect enabled Radeon and Radeon Pro cards.



Razer Core X

Razer Core V2

Price

$299

$499

Power Supply

ATX 650W

Slim Form-factor 500W

Laptop Charging

100W

65W

Max Size GPU

3-slot card

2.2-slot card

macOS

Yes

Yes

USB + Ethernet

-

Yes

Razer Chroma

-

Yes

Max inner size -
Graphics

Length: 12.99"/ 330 mm

Height: 6.29" / 160 mm

Width: 2.36" / 60 mm

Length: 11.81"/ 300 mm

Height: 5.71" / 145mm

Width: 1.69" / 43mm

External Dimensions

Length: 14.72" / 374 mm

Height: 9.06" / 230 mm

Width: 6.61" / 168 mm

Length: 13.38" / 339.9 mm

Height: 8.6" / 218.4 mm

Width: 4.13" / 104.9 mm
The Razer Core X embraces plug-and-play capabilities with the Thunderbolt 3 USB-C connection to the laptop. The Thunderbolt 3 connection also yields fast speeds at up to 40 Gbps.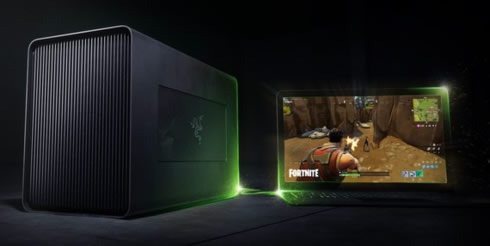 The Razer Core X houses a massive 650W ATX power supply to provide adequate power for the latest and future graphics cards. A single Thunderbolt 3 connection to the laptop now provides 100W of power for laptop charging.
Physical installation of a desktop graphics card takes seconds with the Razer Core X. Its aluminum housing slides open easily, and the graphics card is secured in place with a thumb screw for a toolless setup.
The Razer Core X is now available at US $299 for order today in the United States, Canada, United Kingdom, France, Germany and China, and shipping soon to the Nordics, Australia, Hong Kong, Japan, Singapore and Taiwan.
Specifications:
Connection to PC

Thunderbolt 3 using included 40Gbps cable

Compatible Razer Laptops

Razer Blade Stealth, Razer Blade, and Razer Blade Pro equipped with Thunderbolt 3.

Razer Core X max inner dimensions

Length : 12.99"/ 330 mm

Height: 6.29" / 160 mm

Width : 2.36" / 60 mm

System Requirements

Windows 10 64-bit RS1 or above with Thunderbolt 3 port
Macs running macOS High Sierra 10.13.4 or later. Requires compatible AMD graphics card.

GPU Support 

(Graphics card not
included)

GPU Type

Up to 3-Slot wide, full-length, PCI-Express x16
graphics card

GPU Max Power
Support

500  Watts

Windows 10 compatible graphics chipsets

Qualified NVIDIA GeForce graphics chipsets


NVIDIA GeForce GTX Titan X

NVIDIA GeForce GTX Titan V

NVIDIA GeForce GTX Titan Xp

NVIDIA GeForce GTX 1080 Ti

NVIDIA GeForce GTX 1080

NVIDIA GeForce GTX 1070 Ti

NVIDIA GeForce GTX 1070

NVIDIA GeForce GTX 1060

NVIDIA GeForce GTX 1050 Ti

NVIDIA GeForce GTX 1050

NVIDIA GeForce GTX 980 Ti

NVIDIA GeForce GTX 980

NVIDIA GeForce GTX 970

NVIDIA GeForce GTX 960

NVIDIA GeForce GTX 950

NVIDIA GeForce GTX 750 Ti

NVIDIA GeForce GTX 750


Qualified NVIDIA Quadro graphics chipsets


NVIDIA Quadro P4000

NVIDIA Quadro P5000

NVIDIA Quadro P6000

NVIDIA Quadro GP100


Qualified AMD Radeon graphics chipsets


AMD Radeon VEGA RX 64

AMD Radeon VEGA RX 56

AMD Radeon RX 500 Series

AMD Radeon RX 400 Series

AMD Radeon R9 Fury

AMD Radeon R9 Nano

AMD Radeon R9 300 Series

AMD Radeon R9 290X

AMD Radeon R9 290

AMD Radeon R9 285


Mac compatible graphics chipsets

AMD Radeon RX 570

AMD Radeon RX580

AMD Radeon Pro WX 7100

AMD Radeon RX Vega 56

AMD Radeon RX Vega 64

AMD Vega Frontier Edition Air

AMD Radeon Pro WX 9100

Input & Output

Thunderbolt 3 (for connection to PC)

Internal Power Supply

650 W ATX

Laptop Power Delivery

Up to 100 Watts via USB-C

Razer Core Approx. Size

6.61" / 168 mm (Width) x 14.72" / 374 mm (Depth) x 9.06" / 230 mm (Height)