Razer Announces the Realsense-enabled Webcam, Razer Blade Stealth Ultrabook
Razer today announced at CES the Razer Stargazer desktop webcam and the the Razer Blade Stealth Ultrabook for desktop-level gaming performance. Razer Stargazer
The Razer Stargazer supports video capturing at 60 frames per second at 720p, a magnitude better than the 30 frames-per-second limit of common webcams, and it can provide high-definition 1080p video at 30 frames per second. It also includes an automatic noise-cancelling, dual-array mic.
Powered by the Intel RealSense SR300 camera, the Razer Stargazer is also enabled with next-generation features.
Razer Stargazer's Dynamic Background Removal capability eliminates the need for full-scale green screen setups traditionally used by streamers. The webcam's Intel RealSense Technology enables the camera to sense depth to separate foreground from background. This feature works with broadcasting software like OBS, XSplit and Razer Cortex: Gamecaster.
The Dynamic Background Removal capability also opens possibilities beyond gaming. Video conferences using Skype with Personify will be able to remove or swap backgrounds. FaceRig, QQ Video and ooVoo are also supported by the camera. Face and object 3D scanning will work out-of-the-box, and users can accurately port real-life objects into the digital world in full-HD. This holds promise for game development, as captured 3D scans can quickly be ported directly into development engines like Unity.
The Razer Stargazer also offers advanced facial and gesture recognition in a consumer camera. Up to 78 points on the face and 22 points on each hand can be tracked by the webcam. With this sensor advent, users can unlock their computers via Windows Hello's face security system, launch applications with gestures, and play games that track facial expressions and hand movements like Nevermind and Laserlife for a new level of immersion.
The Razer Stargazer will be available in Q2 2016 for U.S. $199.99 / EU €239.99
Raxer Stargazer Technical Specifications
Product Features
Ultra-high 60 frames per second capture optimized for streaming (720p max)
Max 1080p HD video capture
Automatic noise cancelling dual array mic
Dynamic Background Removal
3D scanning
Facial/gesture recognition
Flexible clip for laptops and desktop monitors
Specifications
Intel 6th Generation Core processor
USB 3.0 connectivity
Windows 10 only

Razer Blade Stealth Ultrabook
The Razer Blade Stealth Ultrabook is featuring a sleek form factor, the latest Intel Core i7 processor and a 4K display.
The device measures 0.52 inches thin and weighs just 2.75 pounds. Its 12.5-in. touch display comes in two resolutions: an Ultra HD variant with a 4K (3840 x 2160) resolution and 100 percent coverage of the Adobe RGB color space, and a Quad HD (2560 x 1440) resolution version. Both displays are touch-enabled and feature wide viewing angles.
To power both models, Razer's design team equipped the Razer Blade Stealth with the latest 6th generation Intel Core i7 processor. PCIe SSD technology offers up to three times faster speeds than traditional solid-state drives. All models will feature 8 GB of dual-channel system memory. Additionally, Thunderbolt 3 provides connectivity via the Blade Stealth's compact USB-C port at speeds of up to 40 Gbps.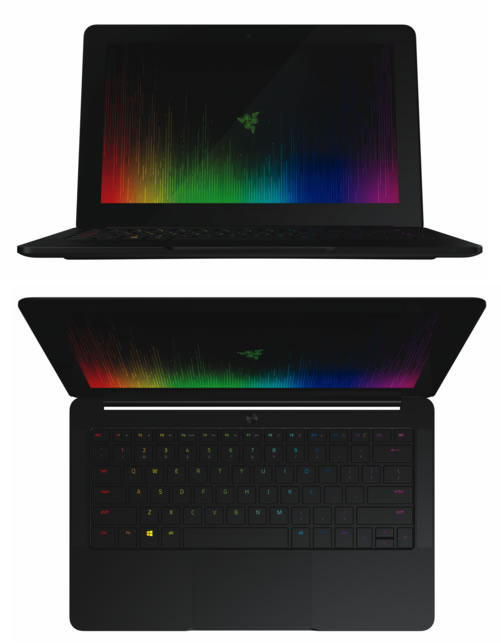 The Razer Blade Stealth base model will start at $999, while the highest-end version will sell for $1,599. Available through Razer's physical and online stores, pre-orders are open now and units will ship in January. In February, the Razer Blade Stealth availability will be expanded to Microsoft Stores.
The Razer Blade Stealth's gaming chops are unlocked via the plug-and-play external desktop graphics enclosure, the Razer Core. A single Thunderbolt 3 (USB-C) cable supplies both data and power and is all it takes to connect Razer's Ultrabook with the Razer Core. The device can accommodate virtually every popular desktop graphics card from both AMD and NVIDIA. Physical installation of GPUs takes seconds with the Razer Core - its aluminum housing slides open and a single screw can secure the graphics card in place.
The Razer Core contains four additional USB 3.0 ports and Ethernet connectivity. Plug-and-play support with validated graphics cards allows for quick connections without the need to reboot the PC.
In addition, the Razer Blade Stealth will be the first laptop in the world equipped with individually backlit RGB keys.
Specs:
Razer Blade Stealth:
12.5 in. IGZO 16:9 aspect ratio, capacitive multi-touch display
QHD (2560 x 1440)
128 GB / 256GB PCIe SSD options
UHD (3840 x 2160)
256 GB / 512 GB PCIe SSD options
Intel Core i7-6500U Dual-Core Processor (2.5 GHz / 3.1 GHz)
Intel HD Graphics 520
128 GB / 256 GB PCIe SSD options (QHD display models)
256 GB / 512 GB PCIe SSD options (UHD display models)
8 GB Dual-Channel System Memory (LPDDR3-1866MHz)
Windows®10 (64-bit)
Wireless-AC (802.11a/b/g/n/ac + Bluetooth 4.1)
Thunderbolt 3 (USB-C)
USB 3.0 port x 2 (SuperSpeed)
Built-in webcam (2.0 MP)
Chroma anti-ghosting keyboard with individually backlit keys
HDMI 1.4b audio and video output
Built-in stereo speakers
3.5 mm headphone/microphone combo port
Built-in array microphone
Trusted Platform Module (TPM 2.0) security chip embedded
Compact 45 W USB-C power adapter
Built-in 45 Wh rechargeable lithium-ion polymer battery
0.52 in. / 13.1 mm (Height) x 12.6 in. / 321 mm (Width) x 8.1 in. / 206 mm (Depth)
2.75 lbs. / 1.25 kg

Razer Core:
Connection to PC via Thunderbolt 3 using included 40Gbps cable
Supports single double-wide, full-length, PCI-Express x16 graphics card
GPU max dimensions - 5.98 in. / 152 mm (Height) x 1.73 in. / 44 mm (Width) x 12.20 in. / 310 mm (Length)
GPU max power support - 375 W
USB 3.0 port x 4 (SuperSpeed)
Gigabyte Ethernet (10/100/1000)
Chroma lighting (2 zones)
Built-in 500 W power supply
8.6 in. / 218.4 mm (Height) x 4.13 in. / 104.9 mm (Width) x 13.38 in. / 339.9 mm (Length)