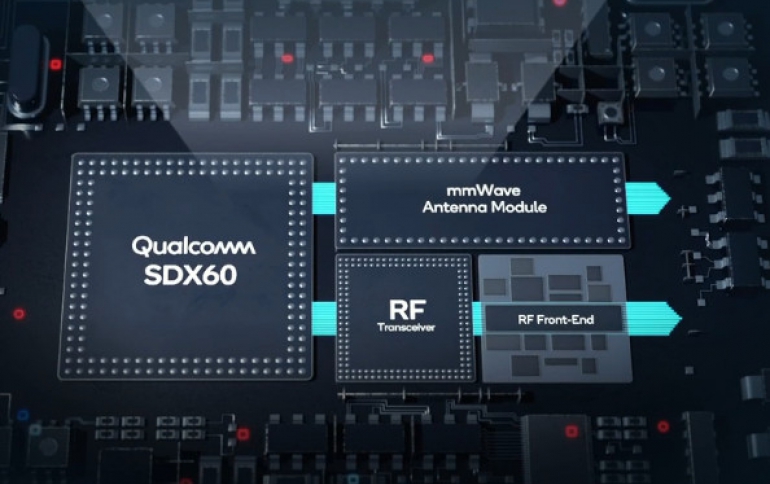 Qualcomm's Third-Generation Snapdragon X60 5G Modem-RF System Promises to Enhance 5G Performance
Qualcomm Technologies today announced the Snapdragon X60 5G Modem-RF System, its third-generation 5G modem-to-antenna solution (the Snapdragon X60).
Snapdragon X60 features the first 5-nanometer 5G baseband and is the first 5G Modem-RF System to support spectrum aggregation across all key 5G bands and combinations, including mmWave and sub-6 using frequency division duplex (FDD) and time division duplex (TDD), providing operator flexibility to uplift 5G performance utilizing fragmented spectrum assets. Snapdragon X60 is engineered to accelerate network transition to 5G standalone mode through support for any key spectrum band, mode or combination, along with 5G Voice-over-NR (VoNR) capabilities.
In many regions, 5G networks use so-called sub-6 frequencies, but in some major markets such as the United States, the networks will also use "millimeter wave" frequencies to deliver faster data speeds in dense areas such as cities.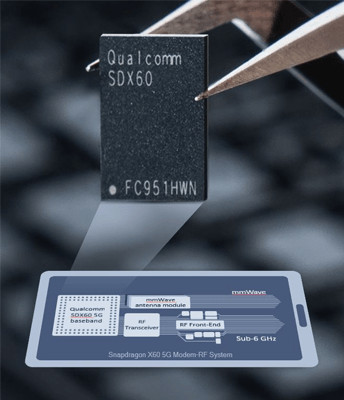 The Snapdragon X60 also features the new Qualcomm QTM535 mmWave antenna module, engineered for superior mmWave performance. QTM535, the company's third-generation 5G mmWave module for mobile, features a more compact design than the previous generation which allows for thinner smartphones.
The Snapdragon X60 is the world's first to support mmWave-sub6 aggregation allowing operators to maximize their spectrum resources to combine capacity and coverage. Additionally, the Snapdragon X60 contains the first 5G FDD-TDD sub-6 carrier aggregation solution, in addition to supporting 5G FDD-FDD and TDD-TDD carrier aggregation, along with dynamic spectrum sharing (DSS), allowing operators a wide range of deployment options – including the ability to repurpose LTE spectrum for 5G – to deliver higher average network speeds and accelerate 5G expansion. This 5G modem-to-antenna solution can deliver up to 7.5 gigabits per second (Gbps) download speeds and 3 Gbps upload speeds, and the aggregation of sub-6 GHz spectrum in standalone mode allows the doubling of peak data rates in 5G standalone mode compared to solutions with no carrier aggregation support. VoNR support in Snapdragon X60 will be an important step in the global mobile industry's transition from non-standalone to stand-alone mode, as it will allow mobile operators to provide high-quality voice services on 5G NR.
Qualcomm did not disclose who would manufacture the new chips, but Reuters reported on Tuesday that Samsung Electronics and Taiwan Semiconductor Manufacturing Co Ltd had won the orders.
Samsung plans to ramp up its 5-nanometer manufacturing technology in an attempt to regain market share against TSMC, which is also starting mass production of 5-nanonmeter chips this year.
Qualcomm Technologies is scheduled to ship samples of Snapdragon X60 and QTM535 in the first quarter of 2020, with commercial premium smartphones using the new Modem-RF System expected in early 2021.
In addition, Qualcomm's new modem will possibly find its way in 2021's iPhones - not this year's iPhone 12.
Specifications
5G

5G Chipset: Qualcomm Snapdragon X60 Modem-RF System
5G Technology: 5G NR
5G Spectrum: mmWave-sub6 carrier aggregation, sub-6 carrier aggregation (FDD-TDD, FDD-FDD, TDD-TDD), Dynamic Spectrum Sharing (DSS), mmWave, sub-6 GHz
5G Modes: FDD, TDD, SA (standalone), NSA (non-standalone)
5G mmWave specs: 800 MHz bandwidth, 8 carriers, 2x2 MIMO
5G sub-6 GHz specs: 200 MHz bandwidth, 4x4 MIMO
5G Peak Download Speed: 7.5 Gbps
Performance Enhancement Technologies: Qualcomm 5G PowerSave, Qualcomm Signal Boost, Qualcomm Smart Transmit technology, Qualcomm RF Gaming Mode Boost, Qualcomm Wideband Envelope Tracking
5G Peak Upload Speed: 3 Gbps
5G SIM: 5G Dual SIM support

Cellular Technology

Cellular Technology: 5G NR, LTE, WCDMA (DB-DC-HSDPA, DC-HSUPA), TD-SCDMA, CDMA 1x, EV-DO, GSM/EDGE
LTE Technology: LTE FDD, LTE TDD including CBRS support, LAA, LTE Broadcast
5G Technology: 5G TDD, SA, 5G FDD, NSA