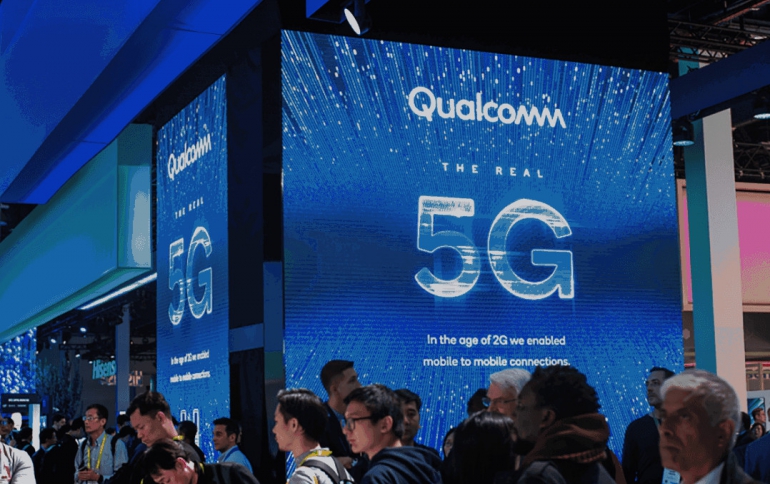 Qualcomm Expects Strong Revenue as 5G Accelerates
Qualcomm expects a stronger-than-predicted forecast for the current quarter, indicating that smartphone demand may be picking up.
The company expects fiscal first-quarter revenue to be $4.4 billion to $5.2 billion.
Qualcomm gets the bulk of its profit from licensing patents that cover the fundamentals of all modern phone systems. The majority of Qualcomm's revenue comes from selling chips that run phones and connect them to cellular networks.
The company expects the debut of the new 5G services this year along with the 5G smartphones from Samsung Electronics will help the company's financial performance. Qualcomm's chips are the main component in most of the world's smartphones, but the company has suffered shrinking revenue as consumers hang onto their handsets longer. In China, Huawei Technologies Co. has been gaining market share, hurting demand for Qualcomm chips used by Huawei's rivals.
Apple has also renewed a chip supply deal Apple Inc. for future versions of the iPhone.
On the other hand, Qualcomm's second interim agreement with Huawei concluded in the third quarter of fiscal 2019, and although negotiations continue, the companies have not reached a final licensing agreement. If no agreement is reached, Huawei may continue to not make any other payments or may not make full payments due under the underlying license agreement.
Qualcomm also expects to succeed in its appeal against a sweeping antitrust ruling from a case brought by the U.S. Federal Trade Commission. The company has lost an FTC case that alleged unfair business practices and has been ordered to renegotiate patent licenses.
Separately, the company said it appointed Akash Palkhiwala as chief financial officer. He has been serving as the interim CFO since August.
For the fourth quarter fiscal 2019, Qualcomm's net income rose to $506 million, from a loss of $513 million. Excluding certain items, profit was 78 cents a share, compared with an average estimate of 71 cents. The company's revenue continued to decline by 17% to $4.81 billion.
"We delivered a strong quarter, with Non-GAAP earnings per share above the high end of our guidance range, primarily on solid performance in our QTL segment," said Steve Mollenkopf, CEO of Qualcomm Incorporated. "We exit the fiscal year having successfully executed on our strategic priorities: helping to drive the commercialization of 5G globally, completing a number of important anchor license agreements and executing well across our product roadmap. Our technology and inventions leave us extremely well positioned as 5G accelerates in 2020."