2. Package
Polstar iGeo-Pro PBT-648 - Page 2
- Package
For our testing purposes, Polstar Technologies sent us the retail package that includes:
the PBT-648 GPS receiver itself
an AC power adaptor
a cigarette lighter adaptor
a Li-Ion battery
and finally a printed user's Manual
The current price for the product is around US$100.00, as found around the net.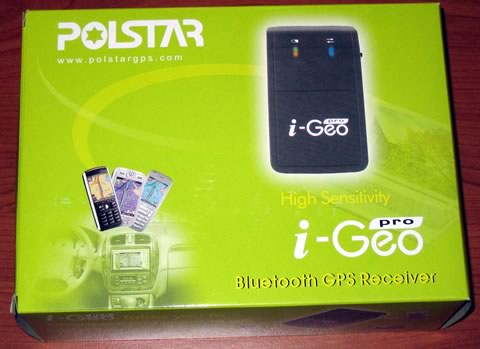 Bluetooth Specifications
Bluetooth Version 1.2
Operation Range: 10 metres
Profile: SPP
GPS Specifications
SiRFstar III
20 channels
WAAS/EGNOS enabled
Position Deviation: 5 metres
Cold/Warm/Hot start: 42/38/1 sec
Battery type: Rechargeable Li-ion battery
The i-GeoPro GPS is about the same size as the Globalsat BT-338.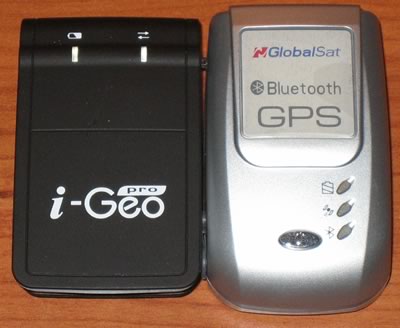 On the front of the device, there are two LED indicators, along with the i-Geo Pro logo, while on the right side there is another led showing GPS status and the on/off switch.
On the left side, you can see the DC jack used for charging the device.
Underneath, we see a sticker with the CE and FCC approval logos, place of manufacture, Polstar's web address, and usage and handling information:
The Li-Ion battery is rated at 1050mAh, 3.7V:
The external dimensions are 74x43x21mm. The 3 LEDs indicate the following status of the device :
Red: GPS Status
Blue:

Bluetooth

Status
Battery: Green - Charging, Yellow - Low Power