Pioneer Introduces New Flash-based In-Dash Navigation Systems
Pioneer announced today the launch of new in-dash navigation systems, including the AVIC-U310BT, AVIC-F310BT, AVIC-Z110BT, and AVIC-F10BT in the consumer markets for North America, Europe, Russia, and Australia. The new models feature Pioneer's new compact map database format "L-FORMAT" and availability will start this month.
All the new in-dash car navigation systems employ built-in flash memory as a map data storage medium, with each model offering its distinctive features such as the newly-developed "L-FORMAT", user interface, and expanded web linkage functions (FEEDS). The FEEDS function allows data transfer between the navigation system and user's PC by using a Pioneer PC software.
Pioneer's new models will be available for about US$600 to respond to the market demand of smaller vehicles in the North American, European and Australian markets.
Pioneer's complete line-up includes the following models:
Entry-level models:
AVIC-U310 (North America) and AVIC-F310BT (Europe and Australia)
Flagship models:
AVIC-Z110BT (North America) and AVIC-F10BT (Europe, Russia and Australia)
Mid-priced models:
AVIC-X910BT and AVIC-X710BT (North America), AVIC-F910BT (Europe and Australia), and AVIC-F710BT (Europe)
The flagship and entry-level models feature a new compact map database format "L-FORMAT" to respond to the growing use of flash memory as a memory medium. The L-FORMAT allows the North American map data to be compressed to less than one tenth (1.4GB) the size achieved by the conventional format in the HDD-based models. This has enabled Pioneer to develop a popular-price integrated navigation system that adopts a built-in 2GB flash memory as its map data storage medium (AVIC-U310BT).
The flagship models support the advanced voice recognition in seven languages (American English, Dutch, British English, French, Italian, German, and Spanish), and allow voice recognition to be used for not only hands-free calling and basic audio control, but address and business listing POI (point of interest) search as well. Furthermore, the next-generation user interface - "Customizable home screen menu" - allows the users to lay out shortcuts on the touch screen main menu, for quick access to Audio/Video functions and other applications.
Using Pioneer's proprietary FEEDS PC application, which allows users to export and import the data between their PCs and the navigation systems via SD card, the new systems feature a variety of convenient features:
- The 2008 models first employed the "Send to GPS" function, which enables location data searched via the "Google Maps" online map service to be imported into the navigation systems as POIs. For the 2009 lineup, it is also possible to trace driving logs (routes) in the "Google Maps."
- By utilizing GeoRSS, the users can convert spot information being distributed over the Internet into navigation-compatible POIs to use as custom destinations in the navigation systems. To help drivers' eco-friendly driving, an advanced Drive Report provides the vehicle's estimated CO2 emissions, fuel consumption trend, a diagnosis of driving habits and suggestions to improve fuel efficiency, and so on, by using the driving records and gas mileage data to be exported from the navigation systems.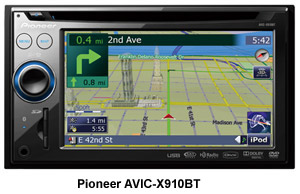 Other features of the new models include a detachable front panel (only for AVIC-U310BT and AVIC-F310BT) and a built-in Bluetooth module (made by Parrot S.A. in France) for cell phone hands-free operation.