Panasonic Unveils the OTTAVA S SC-C50 Premium 3.1ch Wireless Speakers
Panasonic is adding the OTTAVA S SC-C50 wireless speaker under the Technics brand. The new product has Bluetooth connectivity, AirPlay, Chromecast built-in, and will retail on October 26 in Japan for 85,000 yen ($762).
In spite of its compact size, the OTTAVA S SC-C50 offers acoustic technologies that deliver clear sound across a remarkably wide soundstage. A room calibration technology also allows free speaker placement, and highly diverse network reproduction is supported.
Technics' original Four JENO Engines promise to offer superior sound imaging through subwoofer, midrange, and tweeter alignment. This optimises sound spaces to fit individual listening environments using Space Tune. The OTTAVA S SC-C50 also features the LAPC function, which is load adaptive amplifier technology developed by Technics. LAPC measures the amp's frequency amplitude phase characteristics with speakers connected to the unit, and performs digital signal processing to achieve the ideal impulse response. Parameters optimised for the low-frequency and high-frequency speaker load characteristics are pre-set in the LAPC computation circuit of the unit.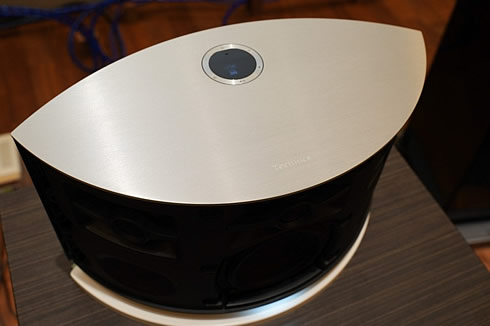 The arc-shaped body houses 3 midranges, 3 tweeters and 1 subwoofer, while left- and right-angled speakers and a centre speaker create stereo imaging and crisp vocals. A "directivity-control horn" eliminates mutual speaker interference to achieve wide directivity, and a coaxial midrange and tweeter ensure vertical directivity with less frequency disorder from the compact body.
Three 1.6-cm tweeters deliver high-res sound up to 50 kHz. This combines with a front-firing 12-cm long-stroke subwoofer and a straight, large-diameter, long port. A total of 7 units in the glass fibre body produce powerful sound from the 3.1-channel amplifier.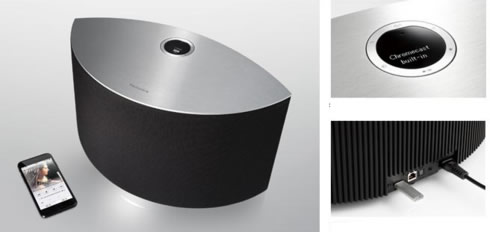 To provide the OTTAVA S SC-C50's excellent sound in every room and listening position, Space Tune optimises the listening environment to the sound space. In addition to offering 3 preset modes to suit the mounting location, a microphone built into the main unit enables an Auto function to optimise the sound from the main unit or a smartphone app with a single touch.
Google Chromecast compatibility makes it easy to enjoy a wide variety of music streaming services from a smartphone. And since the data is streamed directly to the main unit, there is no degradation in sound quality. Using a number of Google Chromecast built-in speakers, the same song can be played in several rooms, or different music can be played from room to room.
If a Google Voice-activated Speaker is included in the same network, Google Assistant can be used to operate OTTAVA S SC-C50 music playback and other functions. When the user doesn't have a smartphone app in hand, or when hands are full, music can be played by voice command.
In addition to USB playback and analogue/optical input, the OTTAVA S SC-C50 supports Bluetooth, Google Chromecast, Spotify, Tidal, and Network Playback, allowing comfortable playback of a diverse range of music sources from a single unit.
Up to 9 presets can be set on the main unit, such as favourite internet radio stations, a Spotify playlist, and USB songs. This makes it possible to listen to your favourite music without even starting up an app.
The OTTAVA S SC-C50 combines practical function with elegant design. The thick aluminum top panel increases the rigidity of the chassis, and the iconic OLED is surrounded by ring keys for easy operation. Rear louvers add further elegance while enhancing the function of an internal heat-reducing mechanism. And the arc form, which helps to eliminate unwanted vibration in the chassis, incorporates acoustic technology to achieve a wide sound stage.
Specifications
Output Power
Front speaker(L/R): 20 W + 20 W (1 kHz, T.H.D. 1.0 %, 8Ω, 20 kHz LPF)
Front speaker(Center): 20 W (1 kHz, T.H.D. 1.0 %, 8Ω, 20 kHz LPF)
Subwoofer: 40 W (100 Hz, T.H.D. 1.0 %, 4Ω, 20 kHz LPF)
Speaker Unit: Woofer: 6.5 cm Cone Type x3 / Tweeter: 1.6 cm Dome Type x 3 / Subwoofer: 12 cm Cone Type
Dimension & Weight: W 375 mm H 220 mm D 197 mm / Approx. 7.6 kg (incl. carton box)
Terminal
Optical Digital x1
AUX IN x1 (φ3.5mm)
USB-A
Ethernet Interface: LAN (100 Base-TX / 10 Base-T)
Network Audio
WiFi a/b/g/n/ac, 2.4 GHz / 5 GHz Band
Chromecast built-in
Works with Google Assistant
Multi-room Playback
Bluetooth (AAC, SBC)
Spotify / TIDAL / DEEZER / Internet Radio
Digital Input Format
WAV up to 384kHz / 24bit
FLAC up to 384kHz / 24bit
DSD 2.8MHz, 5.6MHz
AIFF up to 384kHz / 24bit
AAC up to 96kHz / 320kbps
WMA up to 48kHz / 320kbps
MP3 up to 48kHz 320kbps