Panasonic to Release World's First 100GB BD-RE XL Discs
Panasonic will be the first company to release rewritable BDXL media (BD-RE XL) under its brand later this month in Japan, priced at 10,000 Yen (US $119). The company announced that the new "LM-BE100J" discs will be released in the middle of April and will be able to hold up to 100GB of data on three layers.
Until now, only write-once BD-R XL discs were available on the market.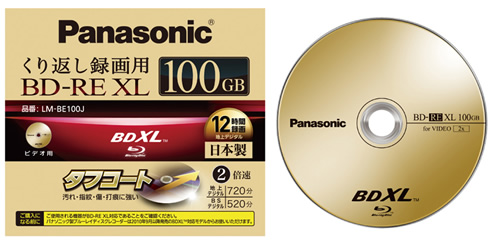 The new rewritable BDXL (BD-RE XL) media conform to the RE4 Format Specification (BDXL), defined by the Blu-ray Disc Association (BDA) in June 2010 as a multi-layered rewritable in BDAV with the speed of 2X and 4X. (System Description Blu-ray Disc Rewritable Part 3: Audio Visual Basic Specifications Ver.4.01 Sept. 2010 together with System Description Blu-ray Disc Rewritable Format Part 3: Audio Visual Basic Specifications Ver.2.13 Sept. 2010).
The 2x disc is compatible with Panasonic's recently released BZT900 BDXL recorder and using the DR mode, it can hold up to 12 hours of digital terrestrial (17Mbps) content, or 9 hours of BS digital (24Mbps) content.
Using high-precision layer stack technology, Panasonic has managed to make a 3-layer optical medium with stable recording and playback characteristics. In addition, the discs feature a proprietary protective hard coating technology against scratches and fingerprints.