Panasonic to Launch 3D Plasma TV, Blu-ray 3D Player in Japan
Panasonic said on Tuesday it plans to launch two 3D plasma TVs as well the DMP-BDT900 Blu-ray 3D Disc player as on April 23 in Japan. The company will release two full high-definition plasma TVs under its "VIERA VT2 series" on April 23. Both the 54" (TH-P54VT2) and the 50" (TH-P50VT2) models are supporting 3D content and are expected to retail in Japan for about 530,000 Yen ($5908)and about 430,000 Yen ($4,4794), respecively.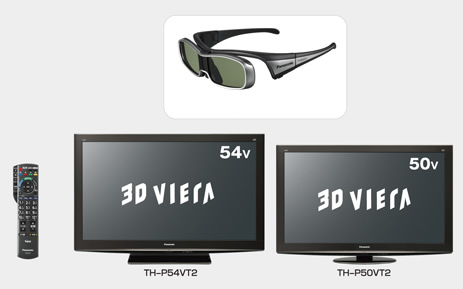 One pair of 3D Eyewear is included with the new TVs. In addition to providing 3D viewing, the VT2 series of VIERA HDTVs features the enhanced VIERA CAST service with Wireless LAN Adaptor ready on its USB port, video call capability, VIERA Image Viewer to view JPEG digital still images and HD video recorded on an SD Memory Card; VIERA Link, a PC input, two USB Ports, THX certification and THX Movie Mode, 24p cinematic playback, 600Hz Sub-field Drive (produces 1080 TV lines of moving picture resolution), Infinite Black Pro display with 5,000,000:1 native contrast, four HDMI connections a RS232C connection and ISFccc capability. In addition these TVs feature new phosphor science that allows the TV to switch quicker, providing a smooth 3D image.
The company said last month it would also launch 3D TVs in the United States in the spring.
For additional information visit
http://panasonic.co.jp/corp/news/official.data/data.dir/jn100209-3/jn100209-3.html
.

Panasonic will also release the first Blu-ray player for 3D content in Japan in April. The DMP-BDT900 BD player is able to reproduce "Blu-ray 3D" content connected through an HDMI to a full HD 3D display. Users should were the 3D glasses in order to enjoy the 3D content. The player will retail in Japan for about 130,000 Yen ($1450).
Besides 3D content, the DMP-BDT900 player supports reproduction of BD-R/RE, DVD video, DVD±R/RW, DVD-RAM , BD video, audio CD and CD-R/RW. Reproduction of AVCHD and the AVCREC discs as well as DVD-R and CD-R/RW with DivX, MP3 and JPEG content is also possible.
The player utilizes technologies incorporated in Panasonic's proprietary UniPhier LSI chip, enabling the player to process the large quantity of visual information necessary to create a Full HD 3D image in 1920 x 1080 resolution. Adaptive Chroma Upsampling insures that colors will be faithfully reproduced; and all native digital DVD formats are upscaled to 1080p resolution quality.
The player also employs the PHL Reference Chroma Processor Plus, and feature a high definition audio decoder (Dolby Digital Plus, Dolby TrueHD, DTS-HD Master Audio Essential) to take advantage of the 7.1 channel surround sound now incorporated in Blu-ray Discs. The player also features HDMI Jitter Purifier which affords robust bass sounds faithful to the original. To further enhance the audio portion of the Blu-ray experience, the player uses the 192kHz-24 bit D/A converter.
The new Full HD 3D Blu-ray player incorporates all features expected in a high-end product, including VIERA Cast Internet link, BD Live, 7.1 channel lossless audio.
Digital still photographs and HD video can be easily viewed through the player's SD Memory Card slot (SDXC enabled).
For additional information visit
http://panasonic.co.jp/corp/news/official.data/data.dir/jn100209-6/jn100209-6.html
.
Panasonic also announced the release of three Blu-ray disc recorders equipped with HDDs and capable of reproduction of 3D BD content. The DMR-BWT3000, DMR-BWT2000 and the DMR-BWT1000 use a 2TB, 1TB and 750GB HDD. All the players support recording of the program of the Japanese SKYPerfecTV!HD broadcasting.
For more information read Panasonic's
official press release
(Japanese)