Panasonic introduces nine VIERA flat panel TVs
Panasonic today unveiled its new line of VIERA series digital high-definition flat panel TVs. The line includes three plasma and six LCD TVs ranging from 19 to 50 inches in screen size. The new models will be available in Japan on May 1, 2005. Mr. Shunzo Ushimaru, Director, Corporate Marketing Division for Panasonic Brand in Japan, said, "We have addressed challenges associated with plasma and LCD TVs. Our new plasma TVs use much less power to bring the movie theater experience in living rooms and our LCD TVs display crisper fast-moving images by significantly reducing the 'trailing effect.' We were able to achieve these improvements thanks to our own 'black box' technologies and integrated production including such core components as image processing chips and display panels."
The VIERA TH-50PX500, TH-42PX500 and TH-37PX500 plasma TVs all feature Panasonic's latest PEAKS (Picture Enhancement Accelerator with Kinetic System) technology incorporating a new plasma panel, deep black filter and real black drive system. The deep black filter attached to the front protection glass reduces light transmittance, effectively suppressing external glare and reflection. The real black drive system has realized a high contrast ratio of 3,000:1 in the dark environment, creating deeper and richer blacks.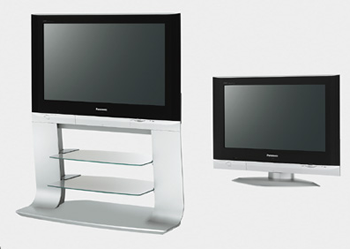 The new plasma TVs provide superb picture quality for the home theater entertainment in living rooms, where a typical luminance level is about 150 lux. Panasonic's proprietary technologies also save annual power consumption by up to 35 percent compared with the predecessors, PX300 series.
The TH-32LX500 and TH-26LX500 LCD TVs offer quick motion picture response and high contrast images that remain consistent at all viewing angles. The new PEAKS processor features a clear focus driver that reduces the image persistence to 7.8 msec, an improvement of 50 percent over the previous models. The advanced LCD AI technology makes bright scenes sharper and black scenes darker by automatically detecting the input signal brightness level and adjusting the backlight in real-time. The IPS (In Plane Switching) panel allows a bright and uniform picture over wide 176-degree horizontal and vertical viewing angles. With these LCD TVs, high-speed car maneuvering by the Panasonic Toyota Racing team at the Formula One Grand Prix can be seen clearly and vividly from any seat of the living room.
The VIERA PX500 and LX500 series have an SD Memory Card slot allowing MPEG4 recording onto an SD Memory Card while digital double tuners allow simultaneous recording and viewing of two different programs. The series has intelligent TV program guides, a universal design based easy-to-use remote controller, digital photo playback for viewing still photos, an HDMI terminal and an RGB signal input terminal for direct connection of the display to a personal computer.
The VIERA LX50 LCD TVs, available in 32, 26, 23 and 19 inches, lead the industry in energy efficiency and include a high quality video signal processing circuit to provide sharp images with high contrast. The 32 and 26-inch models feature an IPS panel. All the LX50 models are equipped with an SD Memory Card slot allowing access to digital still photos stored on SD Memory Cards.
All the nine new models receive the three types of digital broadcasting services on air in Japan, Broadcast Satellite (BS), 110-degree Communications Satellite (CS110) and terrestrial broadcasting, in addition to analog terrestrial broadcast that should cease by 2011.