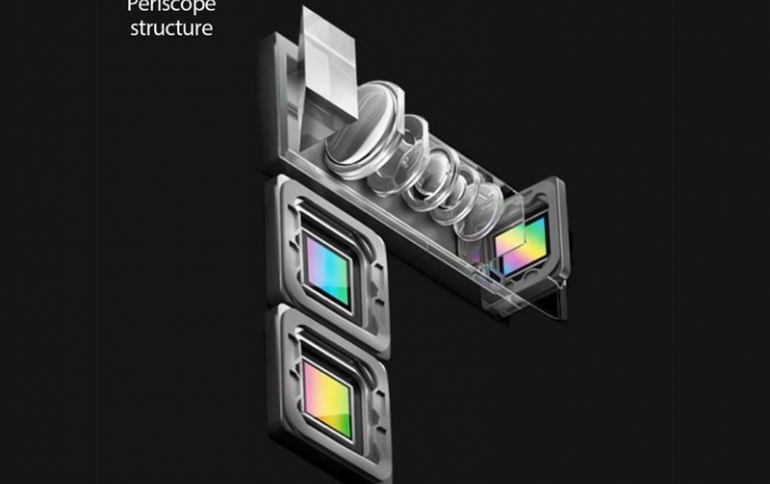 OPPO Showcases Its 10x "Lossless" Zoom Camera Technology for Smartphones
Oppo showcased in China a smartphone camera system with a 10x zoom lens.
The camera is 15.9-159mm-equivalent, meaning it'll start with an ultrawide perspective and zoom into medium telephoto. It's essentially three prime lenses (super-wide-angle + ultra-clear master main + telephoto) in one. The focal length of the super-wide-angle camera is 15.9 mm, which offers 10x zoom. Most phones with telephoto lenses can to 2x or 3x zoom, and Oppo previously did 5x. The camera system also includes optical image stabilization.
Using Oppo's proprietary "periscope structure," the camers system is slim enough to fit into a smartphone. Oppo turned the telephoto sensor sideways in a technique called folded optics. The camera optics are aligned perpendicular to the back of the phone in a so-called "peep up" periscope that redirects light so the camera points the right direction.
Oppo calls the 1ox a "lossless" zoom. However, we have to do with a fixed lens system — you can switch between standard, wide, and telephoto, but any zoom in between them is digital (and lossy). Still, that's more than twice as much optical magnification as other smartphone makers can offer currently.
Oppo also performed a drop test verification test verifying the reliability of the ne wcamera module.
The company will showcase the new camera system at the "MWC 2019" to be held on February 25 in Barcelona.
Oppo is also working on an in-display fingerprint sensor that is 15 times larger than what they used in the OPPO R17. This 15x larger area will not only give the user a bigger screen area for it to scan their fingerprint, but it can also read two fingerprints at the same time.
Products equipped with this technology will hit the market later this year.