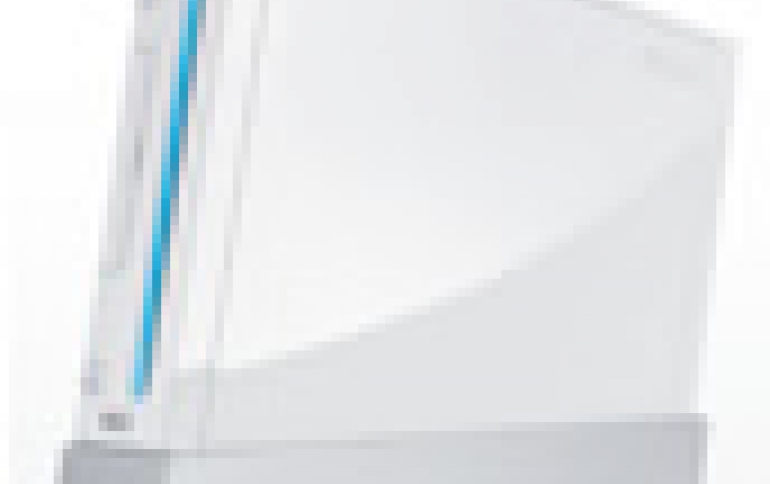 Nintendo's Wii Game Console Due in Q4
Nintendo said on Tuesday its next-generation video game console, called Wii, will be available in the fourth quarter, fighting for gamers' wallets in the year-end shopping season with rivals Sony and Microsoft. Nintendo, which kept some key information such as prices and exact launch dates under wraps, is taking a markedly different approach to the war for dominance in the nearly $30 billion global video game market.

The company is known for cartoon-like characters rather than photorealism, and relatively nonviolent games compared to the alien battles and war scenarios common in the industry.

And unlike Microsoft's new Xbox 360 and Sony's upcoming PlayStation 3 -- which take leaps in power and boast high-definition graphics -- Nintendo aims to win customers with an affordably priced unit and ground-breaking games.

High on that list is the next version of the popular Zelda game, "The Legend of Zelda: Twilight Princess," which will be available at Wii's launch, said Reggie Fils-Aime, executive vice president of sales and marketing for Nintendo of America.

The company, famous for such characters as Mario, Donkey Kong and Pokemon, will announce pricing later, Fils-Aime told a news conference ahead of the Electronic Entertainment Expo (E3) in Los Angeles this week.

The Wii (pronounced "we") console is also known by its code name "Revolution." It will have slightly more power than the company's current GameCube system and no high-definition graphics, and is expected to sell for roughly half rivals' prices.

Sony, which dominates the current-generation game console market with its PlayStation 2, plans to launch the PS3 on November 17 in North America for $499 and $599, while Microsoft's premium Xbox 360, which is already in stores, costs $399.

Sony expects to take a 100 billion yen ($900 million) operating loss at its game division in the current business year ending March 2007 due to costs related to the PS3 launch.

Features

Approximately the size of three stacked DVD cases, Wii's definitely features an elegant design. According to Nintento, the device will be equipped with a single self-loading media bay capable of will playing single- or double-layered 12-centimeter optical discs for Wii, as well as 8-centimeter Nintendo GameCube discs.

Wii can communicate with the Internet even when the power is turned off. This WiiConnect24 service delivers game updates, even if users do not play with Wii. Users can connect wirelessly using IEEE 802.11b/g, or with a USB 2.0 LAN adaptor. Wii also can communicate wirelessly with Nintendo DS.

Wii will also offer downloadable access to 20 years of fan-favorite titles originally released for Nintendo 64, the Super Nintendo Entertainment System (SNES) and even the Nintendo Entertainment System (NES). The Virtual Console also will feature a "best of" selection from Sega Genesis titles and games from the TurboGrafx console (a system jointly developed by NEC and Hudson). It also will be home to new games conceived by indie developers whose creativity is larger than their budgets.

Wii boasts 512 megabytes of internal flash memory, two USB 2.0 ports and built-in Wi-Fi capability. A bay for an SD memory card will let players expand the internal flash memory.

Made with a 90 nm SOI CMOS process and jointly developed with and manufactured by IBM, the Wii is powered by the 729MHz PowerPC CPU (code-named "Broadway"). The graphics are handled by a GPU currently developed by ATI.

Other features include four ports for classic Nintendo GameCube controllers, two slots for Nintendo GameCube Memory Cards, an AV Multi-output port for component, composite or S-video.

Controller

The company, based in Kyoto, was the first to announce a motion-sensor enabled controller, which allows users to direct action on the screen by swinging it like a bat, a sword, a racquet or a golf club. However, Wiil will also offer a more traditional controller for those not interested in motion control.

Nintendo plans to offer a package of game software, "Wii Sports," which includes tennis, baseball and golf games, at the time of the Wii launch.

Sony on Monday unveiled a controller that also uses motion-sensing technology, surprising many.

Nintendo has captured the attention of game fans with its double-screened Nintendo DS hand-held player and innovative games such as "Nintendogs," which have lured players outside the core audience of young male gamers.

The new console's other launch titles include the latest installment of Square Enix Co. Ltd.'s blockbuster roll-playing game series, "Dragon Quest Swords" and Ubisoft's (UBIP.PA) fighting game "Red Steell."