Nintendo to Launch Wii Fit Game
Nintendo on Wednesday it would start selling its "Wii Fit" home fitness game in Japan in time for the critical year-end shopping season. Nintendo's announcement comes just a day after Sony said it would
cut the price
of its PlayStation 3 by 10 percent in Japan and launch a new, lower-priced PS3 model, to battle Nintendo's dominance.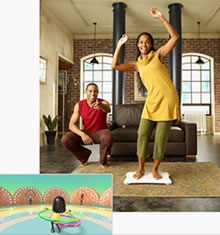 The new game, which goes on sale on December 1 for 8,800 yen ($75), features a pressure-sensing mat called the "Wii Balance Board," which looks like a set of bathroom scales and can sense when a person moves and leans, enabling players to "head" virtual soccer balls and experience ski jumping on a TV screen.
The board can also be used for such activities as yoga and aerobics.
The new software is likely to be the next major sales driver for Nintendo's Wii game console after initial demand was stirred by popularity of "Wii Sports" software, which lets gamers play a virtual tennis match in the living room, analysts have said.
Nintendo also announced its would launch "Wii Ware" -- a new service to download games and other software via the Internet -- from next March.
"We know that any player will get bored with any type of game console," Nintendo president Satoru Iwata told a packed press conference near Tokyo.
"In order not to have the Wii end up as a temporary phenomenon, we need to enlarge the gaming population," he said.
Iwata said he wanted to expand the usage of the Wii beyond the home and into the online world.
The Wii has far outsold Sony's PS3 since the two consoles were launched late last year as Nintendo's strategy to offer easy-to-play but innovative games expanded the gaming population beyond young males to women and the elderly.
"This is our most important product for this coming year-end," Nintendo President Satoru Iwata told a news conference. "With 'Wii Fit', we will be aiming to expand the definition of videogames as well as our user base."
Sony has packed its cutting-edge technology such as a Blu-ray high-definition DVD player in the PS3, enabling lifelike graphics.
But the advanced functions have driven up manufacturing costs and made it difficult and time-consuming for software creators to develop PS3 games.
Nintendo said "Wii Fit" will be launched in overseas markets in 2008.